There're certain factors that make a plasma cutter so special that everyone would fancy having one, regardless of the number of times they want to use it or the extent they want to go to with plasma cutting. Is it all about the cut thickness and speed or the duty cycle? Most people would emphasize on these matters.
What if you're going to need something of a super drag cutting machine? Sure, there're more models than you can try in a week or a month. But, your options will come down to one or two when you want all of the above great things plus the convenience of perfect drag cutting.
This is where Hypertherm Powermax 65 Plasma System takes the center of one's attention as it lets you handle drag cutting at full output using a patented shield cup that hinders dross buildup and ensures smooth cuts.
This Hypertherm Powermax 65 review reveals everything that you might have wanted to know about this drag cutting beast.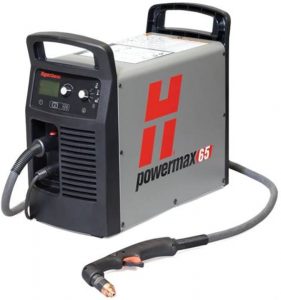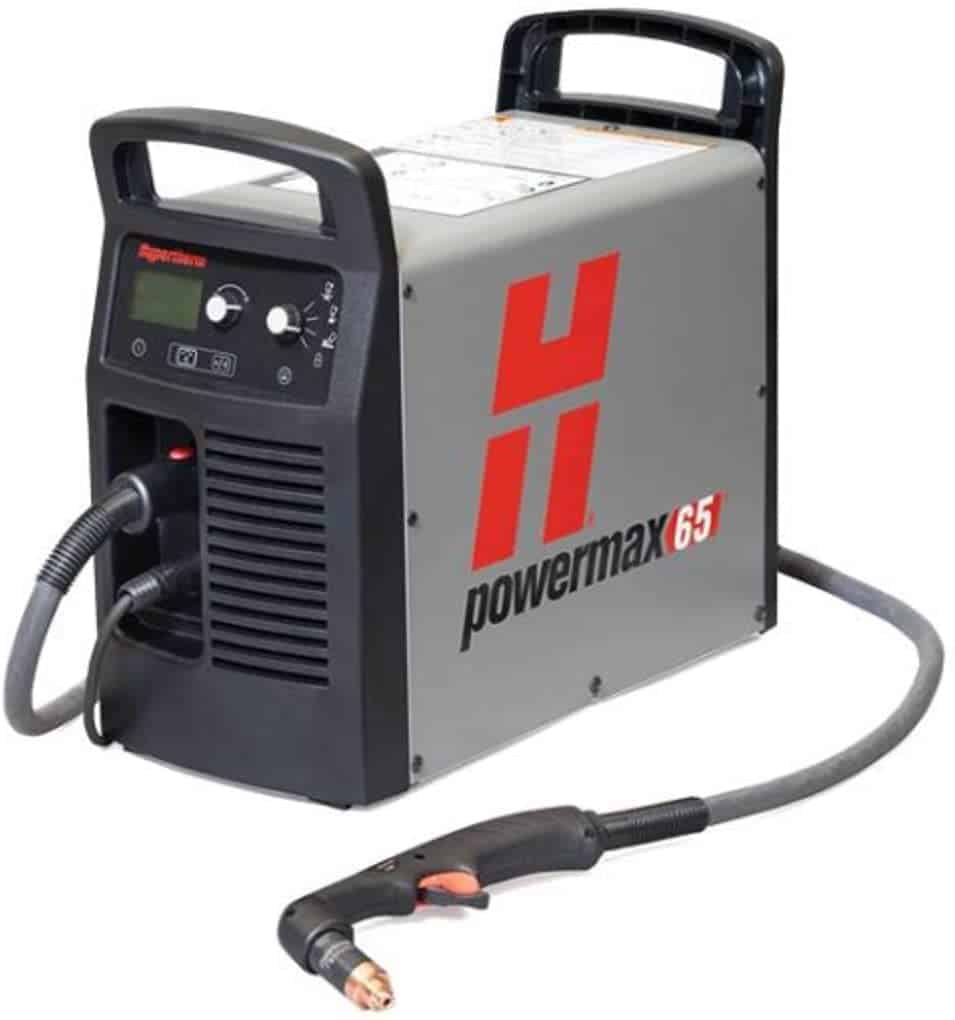 Check Price & Reviews on Amazon
Additional Read: Hypertherm Plasma Cutter Reviews
Introducing Powermax 65 Plasma System
Product Features
Recommended Cut Thickness: 3/4"
Maximum Cut Thickness: 1"
Severance Cut Thickness: 1-1/4"
The Powermax 65 delivers faster cut speeds, improved cut quality, and longer consumable life
As an Amazon Associate I earn from qualifying purchases
Hypertherm 65 Plasma System is a hand system machine with 20-65 A in power output and maximum cut thickness up to 1″ or 25 mm at 10 inches or 250 mm per minute. Featuring an extended duty cycle of 100% @ 46 A and 50% 65 A, the unit incorporates a few smart technologies to ensure consistent cutting performance and precision under challenging environments.
Except for the lower amperage and price, Powermax 65 is very close to Powermax 85 Hand System. Cut capacities and speeds are the same, and so is the duty cycle. It is also quite upgraded than the Powermax 45 XP.
Who Is Powermax 65 Hand System for?
As long as your metalworking project demands serious cut thickness and enhanced capacities, the machine does what it claims. Its robust build and thoughtful engineering make it suitable for small to medium fabrication and restoration shop and auto body repair professionals. Under the right circumstances, commercial projects can also be handled.
Problems You Might Face
Being careful about a few things helps the user get along with a plasma machine's usability. For Powermax65, you need to be informed of the size of an air compressor, compatibility with a CNC machine, and the ability to cut through thin material.
Choosing an Air Compressor for the Plasma System
As the manufacturer suggests, an ideal air compressor should be 7.5 cfm at 90psi with the tank capacity being 60 gallons for any length of cuts. You may choose a smaller unit, but it may work at short intervals and be drained much quicker than you want. A 2 HP unit with 20-Gallon Vertical, 5.5 CFM is an example of the smallest compressor for this particular plasma system.
Using the Unit with a CNC Machine
For a plasma machine to be connected to a CNC machine, electrical ports are essential. Powermax 65 includes the required CPC ports. If you need to cut 14-gauge material by using the unit on a CNC machine, you have to lower the amperage settings to reduce heat.
Cutting Through Thin Material
You'll have little doubt about the machine's ability to cut through thick materials. For 16-gauge materials as thin as 1/2″, it should be fine. If you're relying on hand cuts, try to do it fast. You can get a precision cutting tip to narrow the cut thickness. However, you want a smaller machine for anything as thin as 1/8 ".
Check Price & Reviews on Amazon
Pros
Increased Cut thickness (1″) and Severance Thickness (1-1/4″) at super speeds up to 10 ipm and 5 ipm respectively
Versatile cutting applications, such as drag, fine feature, extended reach, and flush cutting, and gouging
Extended duty cycle with impressive power factor for prolonged and consistent operations
Smart Sense technology for automatic air pressure settings
SpringStart technology for consistent arc starting and reliable torch actions
Impact and heat-resistant torch with Hypertherm Certified™ reliability for optimal performance in tough surroundings
Cons
Very expensive
Heftier than the majority of plasma machines
Check Price & Reviews on Amazon
Hypertherm Powermax 65 Review: Features and Benefits
Since it's not an ordinary plasma cutter, expectations from it are likely to be more. Key features and specs have been discussed below for a better understanding of its worth.
Cut Thickness and Capacities
You can choose any of the three cut thickness measurements, such as maximum clean cuts through 1-inch material, severance through 1-1/4-inch material, and the recommended cut thickness is 3/4 inch. The cutting speeds are 20 ipm, 5 ipm, and 10 ipm respectively.
Some would say that these numbers are just good enough for this machine to be called a professional's companion. However, that's true as long as your plasma cutting project involves 3/4-inch metals. Otherwise, the cuts may not be as precise or clean as you want.
Smart Sense™ Technology
Regulating the air pressure for bringing perfection to the airflow is always challenging when things are done manually. An automatic regulation system can be a huge plus for beginners and experienced workers as well. Thanks to the Smart Sense system that makes it certain that the air pressure has been set appropriately.
SpringStart™ Technology and Duramax™ Torch
Resistant to impacts and heat, the 75° hand torch is itself a comfortable tool to work with. With the SpringStart system, you have no worries about the consistency in the arc starting method. Moreover, the torch performance is reliable. So, you don't have to bother about rigorous maintenance.
Duty Cycle and Power Factor
The duty cycle of Powermax 65 is one of the two reasons why avid professionals can give it a try. Look at the list below.
50% @ 65 A, 230 V – 600 V
40% @ 65 A, 200 V – 208 V
100% @ 46 A, 230 V – 600 V
The power factor is nearly perfect, 0.99 which leads to greater power efficiency and thereby reduced energy consumption.
Check Price & Reviews on Amazon
Final Words
It should be noted that the longer you concentrate on Powermax 65, the further you're moving away from getting a budget-friendly plasma cutter. With this comes great attention toward the model's overall performance.
Let's start with drag cutting. You won't have to pay a second of thought for having a steady hand while dragging the torch on the metal, and the output can be as good as precise metal cuts.
Average metalworking projects involve metal thickness from 1/2″ to 1″. Unless you're too inclined to reach the maximum cut thickness and duty cycle, the unit should work up to your expectations. So, what's it you're waiting for?
Click here to check the latest price of Powermax 65!