Not all plasma systems can do what their labels say, and this is particularly obvious when factors like cut thickness, speed, and overall efficiency are considered.
Let's say you need a plasma machine that cuts through 1/2-inch material. Plenty of options are out there with the claim to cut even thicker and faster. Sadly, reality is often quite contrary to what the product advertisements reveal.
You might already have guessed so, but Powermax30 XP stands out as a plasma system with real power to give you 1/2″ clean cuts leaving little dross and narrow kerfs. Feeling not convinced? Okay, it sounds about right!
In this Hypertherm Powermax 30 XP review, every small detail about the product will be discussed, so you can get the whole truth about it.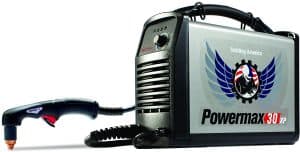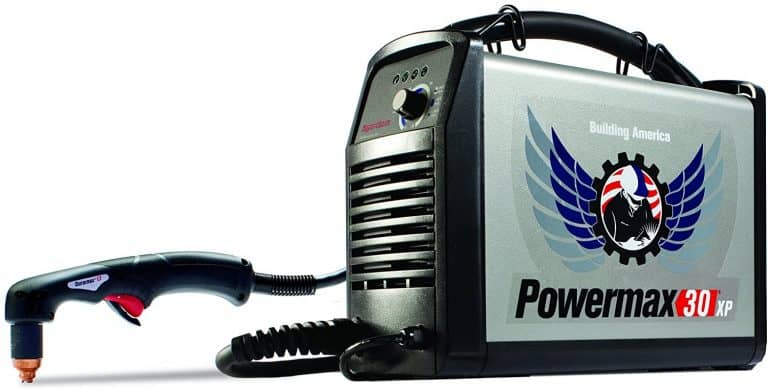 Check Price & Reviews on Amazon
Introducing Hypertherm Powermax30 XP
Product Features
Auto-voltage automatically adapts to 110 V - 240 V input power. Plug adapters included.
Comes with hard carry case, eye shields, gloves, shoulder strap, standard consumables and Fine Cut consumables.
Duramax LT torch design provides a sure, comfortable grip made from heat and impact resistant material.
Auto-voltage automaticvally adapts to 110 V - 240 V input power. Plug adapters included.
Comes with hard carry case, ehe shields, gloves, shoulder strap, standard consumables and FineCut consumables.
As an Amazon Associate I earn from qualifying purchases
Hypertherm 088079 is a 30 A plasma machine offering maximum cut and severance thickness up to 1/2″ and 5/8″ respectively through aluminum, steel, and copper.
With impressive cutting speed but average duty cycle, this Hypertherm plasma system allows for drag, fine feature and extended reach plasma applications with very limited scope for gouging tasks.
Powermax30 XP is a distinct variant of Powermax30 AIR which comes with a built-in air compressor. Hence, the price is higher. 30 XP provides higher cut thickness, the severance thickness with other technical specs remains the same for both models.
Who Is Hypertherm 30 XP for?
This machine is technically strong enough to meet the demands of independent contractors who often handle metalworking projects at home or a small workshop. It's pretty solid for a plasma unit that serves both beginners and professionals with limited needs.
With proper precaution and settings, auto body shops may benefit from it too. For more frequent needs and greater cut capacities, you might want to look for a higher-end model.
Check Price & Reviews on Amazon
Problems You Might Face
Hypertherm's plasma machines don't usually come with a lot of shortcomings. However, you may need to know a little more about doing gouging applications and getting an external air compressor.
Gouging with the Unit
There've been controversies regarding the use of the machine for gouging applications. Many users say they can't gouge with it while the owner's manual says otherwise.
In practice, the unit is good as long as the gouging applications are not very demanding. For example, you can remove or tack some spot welds.
Choosing the Right Air Compressor
The recommended airflow for the unit is 4 scfm at 80 PSI. You might be tempted to get a small, portable compressor which may be good only if you can use a water separator.
Since small compressors involve the buildup of a lot of water, a filter (preferably from the manufacturer) is essential to protect the consumables from wearing fast. If you think that's a big deal, a large air compressor that provides 4 scfm at 80 PSI will be okay.
Pros
Satisfactory cut and severance thickness with speedy operation
IGBT Inverter system for efficient power supply and plasma cutting works
Auto-Voltage™ technology to deal with fluctuation and ensure consistency and safety
FineCut consumables for thin metal cutting with precision and a narrow kerf and clean edge
Consumable kit (both regular and FineCut items included) and other essentials in a lightweight package to ensure great portability
Cons
Check Price & Reviews on Amazon
Hypertherm Powermax 30 XP Review: Features and Benefits
The price of this unit is not its only factor to define its potentiality. Thorough explanations of all its important features have been provided below.
Cut Thickness and Capacities
Rated maximum thickness is 1/2″ and severance thickness is 5/8″. With this capacity, the machine can deliver clean cuts at 250 mm/min or 10 ipm and severance cut at 125 mm/min or 5 ipm. Three different cutting variations can be achieved.
Drag cutting for enhanced control over the cutting action
Extended reach cutting to allow greater accessibility and visibility while cutting in tight spaces
Fine feature cutting to maintain narrow kerf, less dross, and the smallest heat-affected zone
Two-in-One Design
The design is based on the combination of power and accessories. It means high-power plasma actions ensure clean cuts through thick metal, the FineCut® consumables are good when you want to cut thin metal maintaining some details. Thus, the two-in-one design gets to be utilized.
Duramax LT torch
The build and quality of the torch require a little bit of explanation which is mostly about its usability. The grip feels comfortable under the palm as you hold it by the hand. The materials used in its making are not only heat-resistant but also ready to withstand impacts.
Duty Cycle and Power Supply
It's the only part which most users wish could be different. With such a premium plasma machine, you can't help expecting at least 50%. But, 30 XP provides up to 35% using 240 V and 20% using 120 V.
Despite the average duty cycle, the IGBT Inverter system makes it up to user's satisfaction by adding efficiency to the mechanical part.
Auto-Voltage™ Technology
High/low or fluctuating voltages can bring disappointment to your plasma cutting project. Manual control systems may not be easy to come by. So, an automatic voltage regulator is desirable.
The Auto-Voltage™ system incorporated into the unit regulates voltages automatically. It turns fluctuating voltage into a constant level so that the machine runs smoothly and safely.
Check Price & Reviews on Amazon
Final Words
So, what's the big deal when you're trying to choose between Hypertherm Powermax 30 XP and any other plasma machine? It's expensive, no doubt. It cuts quite capably without affecting the material roughly, and few users have told otherwise.
Similarly, you'll find the duty cycle barely enough for a special project on the weekend. The speed it cuts through thick metals isn't ordinary, a huge plus for anyone trying to get the job done quickly and efficiently.
Allowing different cutting styles, the unit lets you go beyond the basic plasma cutting actions. All the more reasons to put the concerns about duty cycle aside and become inclined to consider a premium model like this!
Click here to check the latest price.