Hypertherm is known for bringing some of the most sophisticated and expensive plasma systems designed to perform as flawlessly and consistently as money can ensure. The Powermax 30 AIR is one such unit that packs a lot of features to make plasma cutting a convenient job.
What's so special about it? Mere performance and durability can't be enough unless it solves any particular problem which the majority of plasma operators want to get rid of. Well, there are two of them.
The hassles of getting an external air compressor
Quality cuts maintaining exact thickness variables (1/4″, 5/16″, 3/8″, 5/8″, 1/9″, etc.)
Still, there's much to explain, and here goes the Hypertherm Powermax 30 AIR review so that you can make up your mind decisively on picking up the product.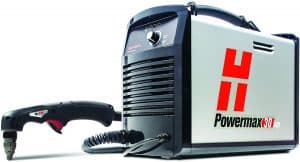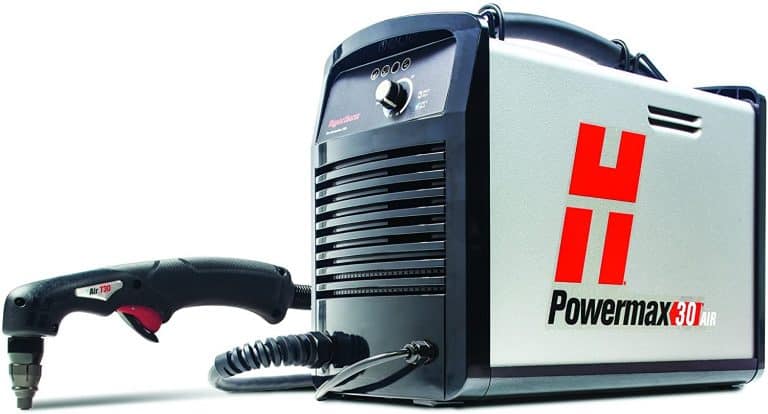 Check Price & Reviews on Amazon
Additional Read: Hypertherm Plasma Cutter Reviews
Introducing Powermax30 AIR Plasma System
Product Features
Operate it anywhere with the internal air compressor
Plug into any 120 or 240 V power with Auto-Voltage technology and included plug adapters
Highly portable. The smallest, lightest weight system in its class
New AIR T30 torch is rugged and designed to withstand the toughest environments
Do more in less time. Fast cutting speeds and superior cut quality result in less secondary operations
As an Amazon Associate I earn from qualifying purchases
Small yet sturdy, it's a handheld, lightweight plasma cutter offering 5/8 inch in cut thickness for metals like mild and stainless steel, aluminum, expanded metal, etc.
Including essential consumables, plug adapters, and work clamp, this particular unit is a costlier yet less versatile iteration of Powermax30 XP which is a little lighter too.
Powermax30 boasts heavy-duty performance under extremely demanding situations, and the claim seems to command a little explanation considering its functional capabilities in terms of cut quality and consistency.
Who Is Powermax30 for?
It's specially built for personal projects and small metal fabrication workshops. While it can be considered for some particularly demanding applications, drag cutting is the only special application.
So, the unit is suitable for any project that requires drag cutting, even at the extensive level. Given the standard build and safety features, both professionals and new metal workers can have their way around it.
Check Price & Reviews on Amazon
Downsides to the Plasma System
Before you happen to get some experience with this plasma system, please keep these limitations in mind.
Don't use the same electrode and nozzle over and over again. You need to replace them at a time, not separately. Under usual circumstances, you can expect 1-2 hour(s) of uses with the actual arc.
Try to stay protected against the noise pollution, no matter how protective the product claims to be. Don't forget to use proper hearing protection.
You need to maintain recommended altitudes (7,500 feet or less above the sea level) to ensure that the air compressor delivers as it should.
Pros
Variable cut thickness measurements for meeting diverse needs
Built-in air compressor in a lightweight model for saving the cost of an external device
Rugged design for suitability in extreme environments
Good power factor for minimizing power losses
Auto Voltage technology for proper management of voltage
Safety catch for preventing accidental firings
Cons
It's more expensive than others with similar features.
The duty cycle could be higher.
Check Price & Reviews on Amazon
Hypertherm Powermax 30 AIR Review: Features and Benefits
In this section, you'll learn how exactly you can get benefits from the many features and build quality of Powermax30 AIR.
Cut Capacities
The variable cut capacities that this machine provides are one of its appreciable benefits. Using 120 V input power, it cuts
3 mm (10-Gauge Metal) at 762 mm/min (30 inches per minute)
6 mm (1/4 inch) at 355 mm/min (14 inches per minute)
8 mm (5/16 inch) at 500 mm/ min (20 inches per minute)
10 mm (3/8 inch) at 125 mm/min (5 inches per minute)
16 mm (5/8 inch) at 125 mm/ min (5 inches per minute)
Please note that the above cut capacities are expected with 20 A output power. Also, the information may vary depending on your project and its requirements.
Internal Air Compressor
You may not hear much about an air compressor while trying to have a plasma cutter because it's one thing that doesn't usually come as a built-in feature. However, Hypertherm has made a little difference by combining an internal air compression system that adds to your convenience by saving the cost of an external unit and filter.
Also, the only big concern associated with an internal compressor – enhanced weight of the entire unit has been taken care of too. Having an internal air compressor doesn't break its selling point because the unit still is a lightweight and portable plasma cutter that aids in all your field applications.
Check Price & Reviews on Amazon
Consumable Kit
Don't just let your eyes get all but squinty seeing the status 'patent pending' on the consumable. If helping shape the arc and thereby the cut quality is all the consumables of a plasma system are meant for, each of these items that you'll have with the unit is driven toward the consistency of plasma cutting operations.
Designed to optimize the airflow coming from the compressor, the consumables don't lack the concentricity and dimensional accuracy you would expect from such a high-end plasma system.
Duty Cycle, Power Factor, and Voltage System
The duty cycle is rated at 35% using 240 V and at 20% using 120 V. This particular spec might be the one you would wish were greater than what the machine comes with.
The power factor is 0.99-0.97 which ensures that the current-carrying capacity of the machine is good, and so is the voltage to equipment. So, power losses can be minimized, and utility bills reduced.
Not essentially a substitute to the 'average' duty cycle, the Auto-Voltage™ technology clearly makes an appealing case by handling the fluctuation of voltage in a way that the machine operates using exactly the amount it requires and of course without requiring your efforts.
Continuous Pilot Arc
If there's anything to ensure that the arc transfers to the work material quickly and properly, few alternatives are there to beat the consistency of the pilot arc. It keeps burning through just about any surface flaws; rust, paints, masking elements, metal grates, or anything that comes in its way without needing to be retriggered.
Safety Catch
Accidental firings are common as long as plasma cutting is concerned. The torch includes a safety catch that helps your stay away from unforeseeable firings. Just flip the catch toward the head of the torch and pull the trigger (red switch) as you're about to use the torch.
Check Price & Reviews on Amazon
Final Words
You're right to believe that the cost of the product can't remain unjustified, especially when the duty cycle is so much for a machine like Powermax30 AIR. However, a top-of-the-line plasma cutter must live up to certain expectations and aid you in the job.
With only a little experience and focus on the activity, you won't fail to make clean cuts. Moreover, carrying an air compressor or setting it perfectly won't be a problem anymore. Now, you see that these trade-offs are relevant in your case, don't you?
Well, click here to check the latest price of the plasma cutter.