CNC plasma cutters have revolutionized the world of cutting technology, providing users with unparalleled precision, efficiency, and versatility. These powerful machines, leveraging Computer Numerical Control (CNC), have transformed various industries, including manufacturing, automotive, and aerospace. In this article, we'll delve into the numerous advantages of using CNC plasma cutters and explore how they can benefit your projects.
Advantages of CNC Plasma Cutters
Precision and Accuracy
CNC plasma cutters boast exceptional precision, delivering high-quality cuts with tight tolerances. This level of accuracy ensures that your finished products are not only visually appealing but also meet stringent quality standards. Moreover, the reduced material waste resulting from these precise cuts translates into cost savings and a more sustainable production process.
Speed and Efficiency
One of the most significant benefits of CNC plasma cutters is their speed and efficiency. These machines can cut materials at a faster rate than their manual counterparts, leading to reduced production time and increased productivity. This time-saving aspect is particularly crucial in industries where deadlines are tight and large-scale projects require swift execution.
Versatility
CNC plasma cutters are remarkably versatile, capable of cutting a wide range of materials, including metals (such as steel, aluminum, and copper) and non-metals (like acrylic and wood). This flexibility makes them indispensable in various applications, from sheet metal fabrication to automotive and aerospace industries. They're even employed in artistic and decorative fields, enabling intricate designs to come to life.
Automation and Ease of Use
Another advantage of CNC plasma cutters is their automation capabilities. These machines are equipped with user-friendly software that allows for minimal operator intervention, reducing the likelihood of human error. By automating the cutting process, you can achieve consistent results and maintain high-quality output.
Enhanced Safety
CNC plasma cutters also contribute to improved safety in the workplace. The automation of these machines reduces the risk of accidents, while their remote operation capabilities ensure that operators can maintain a safe distance during the cutting process. This heightened safety standard promotes a healthier work environment and helps protect employees from potential hazards.
CNC Brands, Software, And Process
To gain a comprehensive understanding of CNC plasma cutters, it's essential to familiarize yourself with the key players, software, and processes involved in this cutting technology.
CNC Plasma Cutter Brands
Hypertherm – A leading manufacturer of plasma cutting systems, Hypertherm is renowned for its high-quality equipment and innovative solutions.
Miller Electric – Miller Electric offers a wide range of cutting and welding equipment, including reliable and efficient CNC plasma cutters.
ESAB – With a reputation for durability and performance, ESAB's plasma cutting machines are trusted by professionals worldwide.
Lincoln Electric – Lincoln Electric provides an extensive selection of cutting and welding products, including user-friendly CNC plasma cutting systems.
CNC Plasma Cutting Software
Autodesk Fusion 360 – A powerful, cloud-based software that offers CAD, CAM, and CAE capabilities, Fusion 360 is ideal for designing and programming CNC plasma cutters.
SheetCAM – SheetCAM is a robust CAM software that specializes in 2D and 2.5D cutting applications, making it a popular choice for CNC plasma cutting projects.
Mach3 – As a widely used CNC control software, Mach3 allows users to control their plasma cutter with ease and precision.
Torchmate CAD/CAM – Torchmate CAD/CAM is a comprehensive software suite designed specifically for plasma cutting, offering a seamless experience for CNC plasma cutter operators.
Plasma Cutting Processes
Conventional Plasma Cutting – The traditional method of plasma cutting, involving the use of a high-velocity jet of ionized gas to melt and remove material. It's cost-effective but may have slightly lower cut quality compared to other processes.
High-Definition Plasma Cutting – This advanced process uses a more focused and controlled plasma arc, resulting in cleaner cuts, reduced dross, and narrower kerf widths. It's ideal for applications where precision is crucial.
Laser-Assisted Plasma Cutting – By combining laser and plasma cutting technologies, this process offers increased cutting speeds, improved accuracy, and the ability to cut thicker materials.
Plasma Cutting Gases
Oxygen – Oxygen is commonly used for cutting mild steel, as it provides a clean and precise cut with minimal dross.
Nitrogen – Ideal for cutting stainless steel and aluminum, nitrogen produces a clean, oxide-free edge with minimal distortion.
Argon – Argon is typically used in combination with other gases for cutting non-ferrous metals, providing a stable and consistent cut.
Compressed Air – A cost-effective option for cutting a variety of materials, compressed air is readily available and can achieve satisfactory cut quality in many applications.
Maintenance and Troubleshooting of CNC Plasma Cutters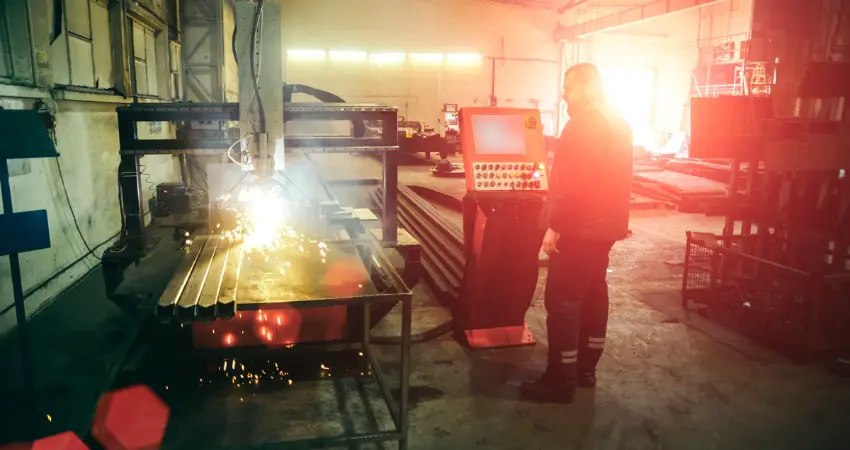 CNC plasma cutters require regular maintenance to ensure optimal performance and a long service life. Here are some essential maintenance practices and common troubleshooting issues.
Regular Maintenance Practices
Cleaning – Regular cleaning of your CNC plasma cutter is crucial for preventing the buildup of debris and ensuring smooth operation.
Lubrication – Lubricate moving parts to minimize wear and tear and maintain smooth motion.
Consumable Replacement – Monitor and replace consumables, such as nozzles and electrodes, as needed to prevent degradation in cut quality.
Common Troubleshooting Issues
Poor Cut Quality – If you're experiencing subpar cut quality, check the consumables for wear and ensure that the cutting parameters are set correctly for the material being cut.
Dross Formation – Excessive dross may indicate incorrect cutting speed, worn consumables, or improper gas selection. Adjust the settings accordingly to resolve the issue.
Arc Instability – Unstable arcs can be caused by low gas pressure, incorrect gas flow, or worn consumables. Address these factors to achieve a stable cutting arc.
Tips for Extending the Life of a CNC Plasma Cutter
Regularly inspect and maintain your machine.
Keep your work area clean and organized.
Train operators to use the equipment correctly and safely.
Follow the manufacturer's recommended maintenance schedule.
Conclusion
CNC plasma cutters offer numerous advantages, from exceptional precision and efficiency to unparalleled versatility and enhanced safety. As technology continues to advance, we can expect further integration with robotics, automation, and software developments, making CNC plasma cutting an even more valuable asset in various industries. By understanding and utilizing the benefits of CNC plasma cutters, you can optimize your cutting processes and achieve superior results for your projects.