Miller is one of the most renowned names in the welding industry and the Miller Maxstar 161 is a superb creation by them. TIG welding is a more sophisticated welding process and you require an industrial-grade machine to efficiently do the job.
The Miller Maxstar 161 is everything you can ask for in a welder and even more. If you're looking for a compact and reliable TIG welder then this baby is a match made in heaven for you. Let's read through our Miller Maxstar 161 review and know more about this amazing product.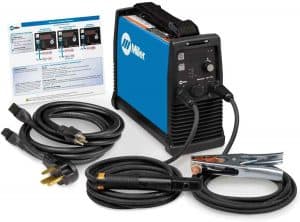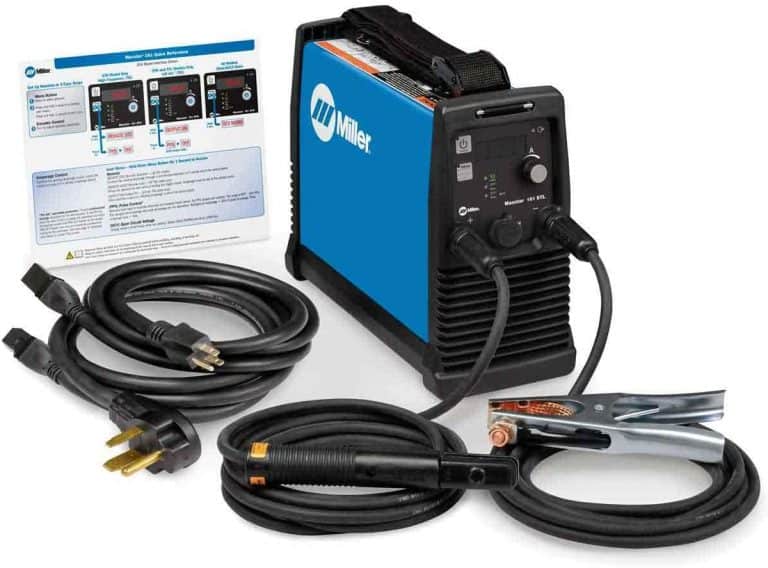 Check Price & Reviews on Amazon
Things to Consider before Buying a Welder
You need to consider multiple factors to get the optimum service from the welder. Make sure you weigh out the factors before making the final purchase decision.
Portability
Having a portable welder will give you the flexibility to move the welder from one workstation to another without any hassle. We recommend you to opt for a welder that offers versatility along with portability to get the best result from your welding sessions.
Duty Cycle
The duty cycle of the machine is one of the most crucial factors that you should consider before buying a welder. It's a rating given by the manufacturer so that the operator has a clear idea of how efficient the machine will be for prolonged use.
Stick Welding
A TIG welder with a stick welding mechanism is like a cherry on top. It will save you time on metal cutting procedures while ensuring an excellent finish. With the best of both worlds, you'll be able to pass any welding project with flying colors.
Additional Read: Best 110V Stick Welder Reviews
Quality Arc
A quality arc on the welder will ensure you have an optimum amount of stability and control. As TIG welders are meant from professional use, the welding outcome must be neat and precise. Hence, a high-quality arc is a must for TIG welders.
Why Should I get the Miller Maxstar 161?
As an Amazon Associate I earn from qualifying purchases
The Miller Maxstar 161 offers TIG and stick welding options. It's suitable for a variety of industries such as automobiles, food, pipe, and even for DIY enthusiasts.
With this machine, you'll get a DC TIG up to 130 amps and DC stick up to 90 amps at 120V power input. Also, DC TIG and DC stick up to 160 amps at 240V input.
You can perform heavy-duty industrial works and use it for tons of different applications. The price of the machine a bit on the steeper side. However, who got gold with nickel, right?
Pros
Suitable for advanced welding works
Offers TIG and Stick welding options
Plenty of accessories
Long power cord
Easy to operate
Comes with a reference guide
Compact and durable
Cons
Not suitable novice welders
Expensive
Miller Maxstar 161 Review: The Features
Miller needs an introduction when it comes to welding machines. They're one of the pioneers in the industry. This welding machine is suitable for several types of welding works and industries.
If you're for a compact and versatile product then do give this one a go. We assure you that you'll not be disappointed. It's raved by many professional welders as well. ( https://forum.millerwelds.com/forum/welding-discussions/573991-new-maxstar-161 )
Ease of Use
Even though TIG welding is hard to master, with this baby in hand, you'll be able to get the best result every time. This machine offers easy usage procedures without any tricky procedures.
All you need to do is to turn on the power, select the process and the amperage rating to start the welding process. Sounds like a charm, right?
Portability
In terms of portability, the Miller Maxstar 161 is an absolute winner. It weighs 26-pounds with a dimension of 16 x 12.4 x 12.4 inches. You can easily carry it around the workstations without any hassle.
The welder comes with an easy to hold handle for better portability. It also includes a shoulder strap for transportable facilities.
Control
The welder offers excellent control over all kinds of materials. It incorporates a digital meter that provides better control while setting up the welding amperage. Also, innovative Lift-Arc technology enables TIG initiation without using high frequency.
Duty Cycle
The long duty cycle is one of the most prominent features of the Maxstar 161. You'll get to experience the full potential of the machine while welding with ultimate efficiency.
The device also has thermal overload protection which refrains any internal damage due to excess temperature rise.
Power
When it comes to power, the Miller Maxstar is an absolute beast. Don't be fooled by its compact size, it can perform heavy-duty industrial works with the finest finish.
It comes with a 5 Amp TIG capability that ensures excellent quality even for thin materials. Also, there are two separate power cords for 120V and 240V power outlets. Therefore, you can use the device on most household power outlets.
Performance
The Miller Maxstar 161 will leave you no room for complaint with its top of the line performance. It features Miller's Hot Start adaptive control that ensures a positive arc start without sticking.
It also has thermal overload protection that prevents damage even if you exceed the duty cycle. It has a low OVC stick design that reduces the need for add-on voltage reducers.
Warranty
No matter how good a product is, the warranty gives you mental satisfaction and lets you have the full use of the product.  It comes with a 3-years official warranty by Miller that lets you use the machine with the utmost flexibility.
Within the given period, if you face any issues with the welder, you can ask for a refund or replacement from the manufacturer.
Wrapping Up
TIG welding can be quite tricky and the result may not be satisfactory if you use a subpar welding machine. There are tons of welding machines out there. However, the Miller Maxstar 161 stands out in the crowd with its superior quality and performance.
If you're into TIG and stick welding then do this model a try. However, if you're a novice or into MIG welding then this might not be a good match for you. Take a look at the welder here.