The moment one figures out that a plasma cutter is a must-have appliance, thoughts about its features and functional capabilities follow, and so does the cost which may vary from a few hundred dollars to thousands.
Small budgets are no good when the features are to be on par with those of a professional-grade unit. Again with a very limited needs in mind, you don't have to jump into unthoughtful expenses.
So, budget plasma cutters aren't useless either, but good ones are always scarce, especially when you're interested in putting only a fraction of a thousand bucks.
Lotos LT3500 Plasma Cutter presents itself as a great solution to the problem as it includes all essentials plus a satisfactory price-performance ratio. In this Lotos LT3500 review, you'll get every detail about the product prior to getting it.
To know more about other options from Lotos check the Lotos Plasma Cutter Review article where we have compared 8 best selling units from the same brand.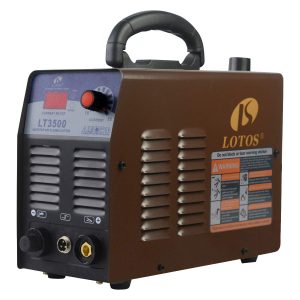 Check Price & Reviews on Amazon
Introducing Lotos LT3500 35Amp Air Plasma Cutter
Product Features
★ PORTABLE but POWERFUL--the Lotos LT3500 can easily cut up to 2/5"(10 mm) metal under maximum output with ultimate portability weighing only 18lbs; The LT3500 is an excellent choice for home DIY jobs and light duty small business projects.
★ QUICK Setup--the per installed Air filter Regulator with NPT 1/4" industry type D plug allows you to quick connect to your air compressor by using the stand coupler existing on your air compressor. The 110V input design allows the machine can easily connected to your existing 110v wall outlet. The whole machine can be setup quickly within 1 mins.
★ INPUT & OUTPUT--110V-125V, 1PH, 50/60Hz @ 40 A input, Minimum Circuit Breaker Size Requirement: 40 AMP at fully output(35AMP/3/8inch cut); Automatic dual frequency (50/60Hz); 12-35 A DC output, 2/5" ideal clean cut and 1/2" maximum severance cut
★ INPUT & OUTPUT--110V-125V, 1PH, 50/60Hz @ 40 A input, Minimum Circuit Breaker Size Requirement: 40 AMP at fully output(35AMP/3/8inch cut); Automatic dual frequency (50/60Hz); 12-35 A DC output, 2/5" ideal clean cut and 1/2" maximum severance cut
★ BUY WITH CONFIDENCE: We offer 30 days refund and a 3-YEARS Limited Warranty: include 1 Year NEW Replacement Warranty. ★ US BASED CUSTOMER CARE & SUPPORT TEAM: please feel free to contact us by phone or email, we always stand Back on Our Products. Please submit the registration form on our website.
As an Amazon Associate I earn from qualifying purchases
Lotos LT3500 Air Plasma Cutter is a 35 A entry-level plasma cutter designed to meet the variable demands of DIY metal workers and enthusiasts who need their plasma cutter once or twice in a while.
Considering the price and specs, you can't expect too much. But, Lotos LT3500 rises above the saying "you-get-what-you-pay-for". It's a more compact and affordable alternative to Lotos LT5000D Dual Voltage which comes with higher amperage, cut thickness, and duty cycle.
Who Is LT3500 Air Plasma Cutter for?
The ideal group of users is the one that takes the cost of buying a plasma cutter quite seriously. So, LT3500 Plasma Cutter is a wonderful pick for DIY hobbyists and professionals handling small projects.
You definitely need a more advanced and expensive unit for higher cutting capacities and mechanical performance as required by metal fabrication workshops.
Problems You Might Face
Certain questions might come up as you attempt to use this Air plasma machine. Look at the discussion below for the answers.
Understanding the Air PSI-Thickness Ratio
The answer can't be very straightforward. For some ideas about the ratio, you can try and think about this example. Since the machine's output is 35 A, you need to set 45-55 PSI for cutting 3/8″ using 110V.
Calculating the Right CFM for an External Air Compressor
Assuming that you want the machine to cut through 1/4″, the psi has to be 70-80 on a consistent basis. Some users have reported to enjoy working with 55 psi having a tank that holds 26 gallons. According to the manufacturer, you should maintain at least 4.0 scfm at 70 PSI.
Understanding 'Inverter' and 'Air' for This Plasma Cutter
This unit uses 'Inverter' as its electrical part which is responsible for allowing the plasma cutting actions to take place. The 'Air' blows the metal bring cut away.
Beware of Using Shielding Gas
If it were an oxyacetelene cutter, you would think of using some shielding gas. But for this unit, clean air that is free of any kind of oil or moisture is the only choice for best performance, and that has to be delivered through an external air compressor.
Check Price & Reviews on Amazon
Pros
A highly affordable plasma unit for cutting a variety of materials including copper, steel, and aluminum
Standard clean-cut and severance thickness for the price
Pilot arc with HF start for fast and precise cutting quality
A lightweight unit with easy setup procedure for ultimate portability
A functional cooling system to ensure the proper utilization of the duty cycle
Cons
Check Price & Reviews on Amazon
Lotos LT3500 Review: Features and Benefits
Except the arc system and HF start, the product comes with nothing like advanced technologies. Reasonable cutting capacities, power factor, and moderate efficiency are all you can expect.
Cut Thickness and Capacities
It cuts through three different metal types, such as mild steel, aluminum, and stainless steel. Maximum cut thickness is 2/5 inch and severance thickness is 3/5.
In practice, you may experience some compromise on the thickness measurement unless you aren't adept at drag cutting or maintaining a steady hand during plasma cutting.
Inverter System
Inverter machines are no longer a surprise these days. When a desirable design such as this one comes at a highly affordable price, anyone may question its efficiency.
As in a top-of-the-line unit, this particular technology has an impact on the design and efficiency of this model. It's not only lightweight but also draws only as much power as a small electronic appliance does.
Pilot Arc and HF Start
As an essential part of modern plasma systems, pilot arc is known for its ability to allow users to cut clean material without affecting the lifespan of the consumables unnecessarily. You would like an edge in drag cutting, relying on the pilot arc won't hurt.
If you're about to work on old metals with a lot of crap on its surface, the arc system makes it easy for you to get rid of the rust, dirt, and unwanted buildups. Having this feature at your disposal means you can save yourself some prep time.
The HF start may not be of much use on most occasions except for cutting aluminum in which case, you'll benefit from the touch-less method.
Duty Cycle and Cooling System
You'll have 35% at the full output. Nothing exclusive, you see! Here comes the built-in cooling system which is good enough to ensure that you won't miss a bit of its duty cycle.
Check Price & Reviews on Amazon
Final Words
Speaking of a budget plasma cutter, you see that each factor on the list of Lotos LT3500 specs comes with a compromise from those of a more expensive model. Then, why is it still worth your money?
It comes at a price which is the smallest you can expect. Moving forward, you want to check on the functional features, such as cutting thickness, duty cycle, arc system, and design.
Despite being on the entry point of everything, the specifications aren't useless at all when beginners and hobbyists want to get their hands busy doing light plasma cutting works on occasions. Now that you know when to think about a plasma system such as this one, your buying decision can't be easier.
Click here to check the latest price.