These days, TIG welders are getting popular every day. They offer a lot of exclusive features that traditional welders fail to provide. However, choosing a good TIG welder can prove to be quite difficult.
When I was looking for a reliable TIG welder a few months back, I was surprised to see so many welders with no automatic configuration feature. Also, most of the welders failed to reach the penetration depth that I wanted.
Fortunately, after thorough research, I found out a TIG welder that offers everything I want in a welder. It offers various exclusive features including automatic configuration, fixed hot start, fixed arc force, lift arc tag, etc.
In this ESAB 161LTS review, we will be providing an in-depth understanding of this welder. We will also discuss the various features, pros, cons and provide other miscellaneous information so that you fully understand your investment.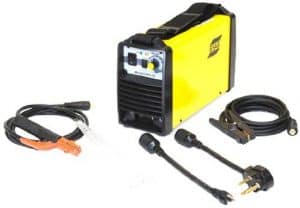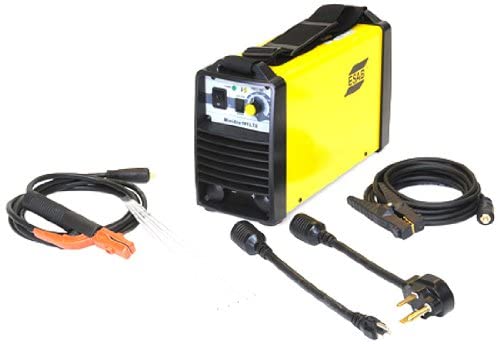 Check Price & Reviews on Amazon
Things to Consider Before Buying a Welder
As I have mentioned before, welders are an expensive investment. So, before buying a machine that will cost you a few thousand dollars, you need to make sure that it fulfills your personal and work requirements.
Here are a few simple things that you should keep in mind before buying a welder:
Type of welder: There are about three types of welders. TIG, MIG and Stick welders. You have to first choose the welder type that best suits you according to your work needs and level of skill.
For example, the TIG welding can be used with most metals but it requires a lot of skill to operate. On the other hand, the MIG and Stick welders can be easy to master but are limited in the amount of material they can weld.
Duty cycle: This determines how long you can work with the welder and how long it needs to cool down on a 10-minute work time. For example, if a welder has a duty cycle of 70%, then it means that it can be used for 7 minutes and needs to cool down for 3 minutes after use.
Features: Look into the features of the welder. The more features your welder supports, the better your work experience will be. For example, some of the features of the ESAB 161LTS are compact design, multiple operation modes (TIG/STICK), 3-year warranty, etc.
Additional Read: Best 110V Stick Welder
Value: When buying a welder, it is important that you strike a good balance between price and performance. You simply should not go for the priciest one in the market. Also, you shouldn't go for the cheapest either and risk lackluster performance.
Presenting ESAB 161LTS
Product Features
Automatic Primary Select operates on either 115V or 230V and automatically configures to the primary input supplied
Able to use cellulosic 6010 electrodes with ease
13.6 kg (18 lbs.) weight with adjustable shoulder strap and carrying case makes this unit portable and easy to carry directly to the job
5A to 160A current range for DC welding
Hot Start, Arc Force and Lift Arc TIG are standard on all models
As an Amazon Associate I earn from qualifying purchases
The ESAB 161LTS is an excellent lightweight welder that is great for people who are looking for some extra versatility. One of its unique features is that you can jump between TIG and STICK operation modes.
This means you can work with types of metals that a standard STICK welder would not be able to handle. Of course, it does not come with a TIG torch but the addition is well appreciated.
On top of that, ESAB 161LTS is a very affordable piece of equipment. So, you are basically getting two welders for the price of one.
Another thing that is really attractive about this welder is its lightweight body. It weighs only about 18 lbs. which makes it a bliss to carry around. This makes it especially great for DIY craftsmen.
This welder is great for HVAC, automotive, light fabrication, repair, maintenance, etc. Included in the box are –
ESAB 161 LTS welder
10 feet power cord
115 or 230V input power adapter
10 feet heavy-duty ground cable and clamp
10 feet heavy-duty electrode holder and cable.
Victor HRF1425-580 Regulator
TIG accessories
Pros:
Dual Operations (TIG/STICK)
Portable size
Lightweight
Great versatility
Adjustable voltage 115v or 250v
Automatic input detection
Great customer feedback
3-year long warranty
100-day 100% money back if unsatisfied
Cons:
Does not have TIG torch or regulator
ESAB 161LTS Review: Features & Benefits
Dual operation
The ESAB 161LTS can switch between TIG/STICK operation that widens its range of workability. Just pair the machine with a TIG torch and you can chew through materials that wouldn't be possible with just a standard STICK welder.
Portable size
The ESAB 161LTS has a very compact design and weighs only 18 lbs. which makes it more portable than most other welders in the market. This makes it great for DIY craftsmen who need their welders to travel along.
Automatic input detection
The ESAB 161LTS can automatically detect electrical input and adjust the working voltage between 115 volts and 250 volts. This means it can work with thicker and stronger metals and save power when the extra juice is not necessary.
Long power cord
The 10 feet power cord allows enhanced flexibility of use. A long power cord is a blessing for any electric product in use. And the ESAB 161LTS does not fall short by a bit.
3-year warranty
ESAB provides 3 years long warranty for the ESAB 161LTS. Machine defects are not that uncommon. Especially for power tools such as welders. And for tools like these where efficiency is a requirement, this 3-year warranty is a stamp of reliability.
100-day 100% satisfaction or money back
Just when a 3-year long warranty wasn't enough ESAB also walks the extra mile and provide their customer with a 100-day 100% satisfaction guarantee.
If you are unsatisfied with the welder and if the ESAB team can't fix it for you then ESAB will pay you back in full. If that doesn't spark your interest, I don't know what will.
Final Words
Most welders these days don't offer the necessary penetration depth that a professional may need. Also, lack of automatic configuration feature can also be really frustrating to beginners as well as advanced users. ESAB 161LTS solvers them all.
Firstly, the welder can provide a deeper penetration without even sticking the electrode to the plate. Also, the welder can automatically configure itself depending on the supplied primary input, which is a big deal for newbies.
Secondly, ESAB offers something that other companies lack. And this is customer support. Their 100-day 100% satisfaction guarantee is a clear indication of that. This is why their welders are top of the line and offer the best quality and performance.
The ESAB 161LTS excels in about every aspect whether it be performance, features or reliability making it an excellent choice for anyone looking to bring home a brand-new welder. So, if you are interested then click here and check the latest price on Amazon.