Welding is one of the challenging occupations, if not the most arduous type. The US Bureau of Labor Statistics reveals that 724 and 793 people died in the country by slips, trips, and falls in 2013 and 2014 respectively. Can't it be reason enough for welders to look for protective footwear?
The Occupational Safety and Health Administration (OSHA) states 80% of footwear injuries at the workplace come from objects falling directly on workers causing them to have lacerations, crushed feet, and bruises. Concerned experts have opined that the use of footwear that meets the safety standards could have been a viable solution.
This recommendation puts manufacturers at a serious competition, and the outcome is the availability of hundreds of welding boots. How can you find the best welding work boots for daily jobsite uses? This article answers this burning question in detail.
Best Welding Work Boots: 12 Welding Boots Compared
Before I start reviewing each product, I think a comparison table can be a quick reference to all your questions about these work boots.
| | | | | | |
| --- | --- | --- | --- | --- | --- |
| Products | Style | Material | Sole | Waterproofing | Weight (Pounds) |
| Timberland PRO 53530 Steel-Toe Boot | Steel Toe, Lace-up | 100% Full-Grain Leather | Rubber | Yes | 4 |
| Dr. Martens Ironbridge Met Guard Industry Work Boots | Steel Toe, Lace-up | 100% Full-Grain Leather | Synthetic | Yes | 4.93 |
| ROCKROOSTER Composite/Soft/Steel Toe Work Boots | Steel/ Composite Toe, Lace-up | Tumbled, Full-Grain Leather | Rubber | Yes | 4.05 |
| Timberland PRO 40000 Met Guard Steel Toe Boot | Steel Toe, Lace-up | Full-Grain Leather | Synthetic | Yes | 2.3 |
| Iron Age Men's Groundbreaker IA5016 Work Boot | Steel Toe, Lace-up | Full-Grain Leather | Synthetic | No | 5 |
| Michelin HydroEdge Steel Toe Work Boot | Steel Toe, Lace-up | Full-Grain Leather | Rubber | Not much | 5 |
| Timberland PRO Boondock Composite Toe Work Boots | Steel Toe, Lace-up | Full-Grain Leather | Synthetic | Yes | 5 |
| Irish Setter 83907 Steel Toe Work Boot | Steel Toe, Pull-on | Full-Grain Leather | Rubber | Yes | 5.36 |
| Caterpillar Revolver Pull-On Work Boot | Steel Toe, Pull-on | Full-Grain Leather | Rubber | Not much | 4.96 |
| Dr. Martens Icon 2295 Steel Toe Boots | Steel Toe, Pull-on | Full-Grain Leather | Polyvinyl Chloride | Yes | 5.41 |
| Timberland PRO Men's Powerwelt Wellington Boot | Steel Toe, Pull-on | Full-Grain Leather | Rubber | Yes | 5 |
| Ariat Sierra Wide Square Toe Steel Toe Work Boot | Steel Toe, Pull-on | Leather | Synthetic | Not much | 4.81 |
I know the above information only serves you up to your curiosity, and you need the whole picture before reaching a buying decision. The rest of the article does exactly that.
Best Steel Toe Welding Boots
Welding work boots are primarily chosen for their safety features among which a steel toe cap is the most preferable to all other options because of its ability to protect the toe. Let me talk about all the steel toe boots I've found better than most others in the market.
1. Timberland PRO 53530 – Overall Best Welding Boots with Steel-Toe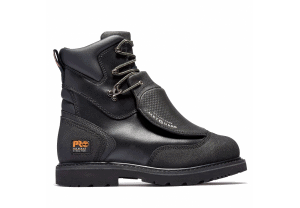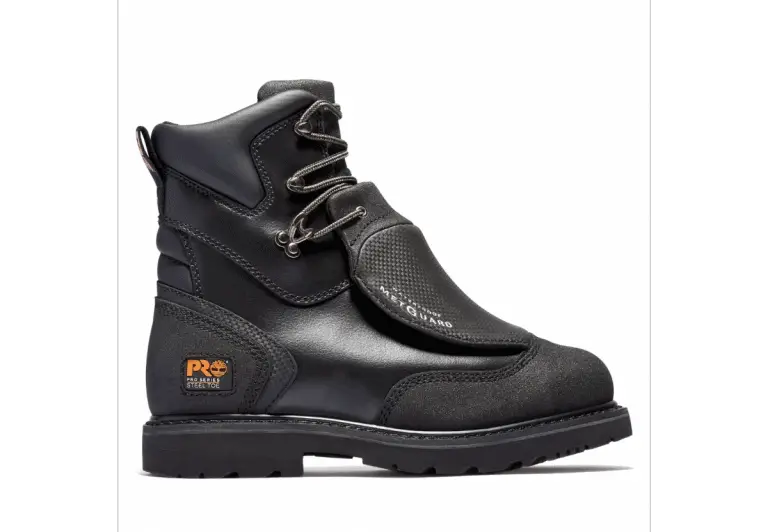 Timberland work boots may appear to be a little archetypal for their lack of what contemporary styles look like, but they don't come short of anything that makes desirable work boots with safety features. Timberland PRO 53530 is no exception to this very trend that the manufacturer follows.
Boot Construction
When your footwear is made of full-grain leather, you can rest assured that it's going to be water-resistant and durable. The Ever-Guard leather is filled with polyurethane making itself resistant to water and heat up to 364°F.
The top collar is padded with leather which is a sure thing. The fabric lining that goes by the name of Cambrelle has antimicrobial efficacy which is treated by antibacterial agents. The top hooks use cast metal for enhanced durability. The shank is made with steel to provide excellent structural support.
The protective thread comes strengthened with DuPont Kevlar which is an aramid synthetic fiber that provides support to the welt and the upper making them heat resistant and durable.
Toe Construction
The steel toe has an asymmetrical cap, and it meets the safety standards of both the USA and Canada. With ASTM F2412-11 as well as ASTM F2413-11, these boots are regarded as footwear with protective toes to reduce specific foot injuries in severity and frequency.
Met Guards/ Metatarsal Guards
The ABS metatarsal guard has an asymmetrical shape and is externally hinged to ensure protection against impacts and water but not at the expense of comfort. This design and material add to its being beneficial to those who need to do a lot of squatting on a daily basis.
Outsole
The outsole is a compound type made of solid, high-quality rubber with good resistance to heat and oil plus other liquid agents. Using EN ISO 20344:2004 8.7 standard, it has been tested at 572°F or 300°C.
Running around the outsole perimeter is a strip of durable leather called Goodyear welt that contributes to the making of a strong mechanical bond.
Waterproofing System
The ASTM F1671 – 07 Test Method indicates its resistance against the penetration of blood-borne pathogens. The test method is undoubtedly the most reliable one in its category which includes a set of rigorous processes and treatments.
Comfort and Other Features
The polyurethane footbed comes contoured and in a single-density with open-cell design. Complemented with an antimicrobial cover, the boots are breathable having an active system for odor control. Added to this is the Ever-Guard leather that retains the characteristics needed for adequate flexibility and breathability.
Can you remain cautious against live electrical conductors, apparatus, circuits, and parts while working inside a welding shop where there are a lot of ways to get electrical shocks and injuries? Well, these boots feature underfoot protection that is tested with established standards including ASTM F2412-11, ASTM F2892-11, and ASTM F2413-11.
Pros
High-quality material used for making the boots ready to withstand wear and tear (Not ideal for workers engaged in drywall construction, though)
All safety standards including electrical hazard protection met for users' peace of mind
Breathable, comfortable, and conducive to health
Durable (except for the seam and stitching)
Lightweight for steel-toe boots (only 1092 grams or 2.41 pounds)
Available in a wide range of shoe sizes from 7 medium to 15 wide
Cons
So much for the work of stitching and seam construction
2. Dr Martens Ironbridge Met Guard Industry Work Boots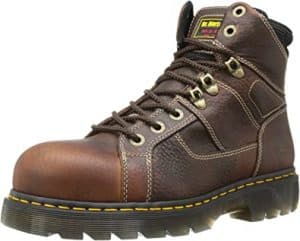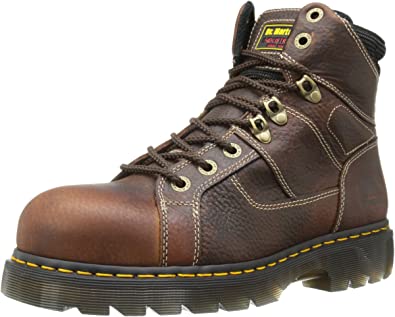 The manufacturer calls it industry work boots which might give you the notion that these boots are among the toughest and most reliable ones. You never know if they really are unless a little bit of reading.
Boot Construction
Oiled and tumbled, the leather used by the boots is somewhat dissimilar to smooth leather in its characteristics that oiled leather provides a little shine yet a softer feel. In addition, the use of oil makes it resistant to moisture and enhances its durability.
Tumbling also adds to its softness through a special treatment administered in a drum, so the grain becomes more evident and the surface smoother.
The footbed features a welted construction offering some sort of stability needed by those who wear boots in industrial workplaces. Both the collar and the tongue come padded with soft material.
Toe Construction
I see nothing fancy here, but it still has a steel toe cap which helps prevent not only injuries from sharp objects but also others likely to occur at a welding workshop.
Met Guards/ Metatarsal Guard
The steel metatarsal guard is rigid enough to protect the safety toe up to the joints of the ankles. It is just a typical way of work boots to protect the users' metatarsal area and ankles.
Insole and Outsole
The insole contains antibacterial properties and synthetic materials. The PVC sole comes with air-cushioning and resistance to alkali, fat, oil, petrol, and slip.
Safety Standards
These boots have all the standard specs for footwear with protective steel toe cap to meet performance requirements. Ideal for men, women, and children, these boots provide impact and compression resistance (rated at 75).
It also has additional insulation and other properties to protect your feet against electrical hazards and accidental contacts with electrical charges.
Comfort and Other Features
The insole construction accounts for excellent breathability. The moisture-wicking lining is above average in terms of quality. The heel measures ~1.5″. The opening of the boot measures 14″ and doesn't allow your heel to rub against its back or pop out of your boots.
Pros
High-quality, oiled leather for a rich look
Flexible opening and convenient heel measurement
Strong met-guard with an appropriately designed toecap
All safety standards met with electrical hazard protection
More affordable than many other boots in this category
Easy to clean and care
Cons
So much for the lightweight construction (heavier than many other pairs here)
3. ROCKROOSTER Composite/Soft /Steel Toe Work Boots for Men – Best Affordable Welding Work Boots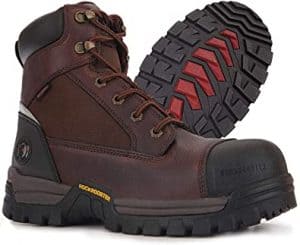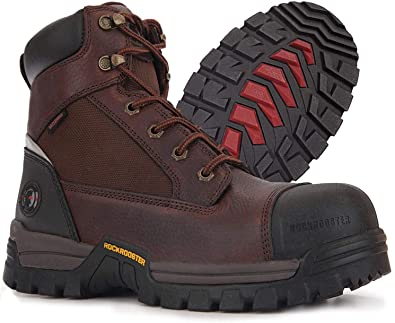 Not many of the work boot pairs are very suitable for uses in jobsite and for hiking purposes. But you can expect a fair amount of support from these ROCKROOSTER boots, thanks to the cool 'COOLMAX' technology.
Boot Construction and Comfort
The relatively wide profile of these boots may seem a poor choice for those with narrow feet. On the contrary, the shape actually suits variable foot profiles minimizing the likelihood of pain in the forefoot. So, you won't see very long break-in periods on your way to comfort.
The dual-density PU footbed massages the feet and promotes blood flow to reduce fatigue as the user walks. That is all about the NANO technology. The padded collar provides ankle support allowing you to not have a stiff heel.
Speaking of impact absorption, a combination of PORON (Microban technology) and urethane provides excellent cushioning as well as shock absorption to protect your heel and the ball of your foot, reducing fatigue on the back, feet, and legs.
Using COOLMAX technology, the fabric is good at moisture management moving your perspiration away from your body and then out through the high-quality fabric only to accelerate its evaporation.
The Toecap
The soft toe cap, according to the manufacturer, is lightweight, but I think the statement is a bit exaggerated. The composite toecap uses carbon fiber. Steel toe cap is available too. It means you have more than one option to choose from.
Midsole and Outsole
The dual-density PU-injected outsole is antistatic with a fair level of abrasion and slip resistance. The midsole also uses PU and is soft yet capable of providing comfort and absorbing impact.
Safety Features
Meeting the standard occupation safety specs, these boots have strict compliance with AS/NZS 2210.3 and CSA Z195. So, insulation and resistance to alkali, water, puncture, and oil are kind of typical rather than exceptional properties. Protection against electrical hazards is also included.
Pros
Ideal for uses as both work and hiking boots (better choices are available for the latter purpose, though)
Special attention to comfort and fit
A lot of bells and whistles including the availability of both steel and composite toecaps
Affordable and easy to clean
Relevant safety standards met with electrical hazard protection
Cons
Better metatarsal guard expected
4. Timberland PRO 40000 Met Guard Steel Toe Boot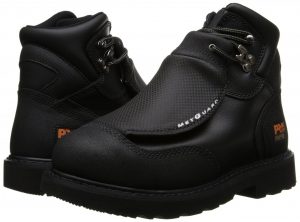 If you want to compare the PRO 40000 model to the PRO 53530 without an in-depth look into both, the only difference you'll see is in their height. This one measures 2 inches shorter than the PRO 53530 boot. So, did Timberland have any special intent for bringing two different welding boots? Here is the reason.
Boot Construction
At the core of the Ever-Guard leather is full-grain leather with polyurethane filling to make a waterproof and heat resistant pair of work boots for welders. The padded leather top collar with 'antimicrobial fabric lining' brings comfort and keeps odor away.
The cast metal hooks and the steel shank are proof that Timberland doesn't compromise on the quality of materials. Like its 8-inch version, this 6-inch boot has the same protective thread and aramid fiber.
Toe and Met Guards
The steel toe boot is compliant with "ASTM F2412-11" and "ASTM F2413-11". The asymmetrical shape of the ABS metatarsal guard provides a great degree of protection against possible impacts at the workplace but without you losing the comfort.
Outsole
The outsole has been tested at 300°C or 572°F to be heat resistant. It is also resistant to water and any liquid available in a welding jobsite.
Waterproofing System
The ASTM F1671 – 07 Test Method indicates its resistance against the penetration of blood-borne pathogens. The test method is undoubtedly the most reliable one in its category which includes a set of rigorous processes and treatments.
Comfort and Safety
The PU footbed has a contoured design with open-cell style. The antimicrobial cover helps activate the boot's odor control. Speaking of underfoot protection, these boots are compliant with "ASTM F2412-11", "ASTM F2892-11", and "ASTM F2413-11".
Pros
High-quality materials used
Compliant with all safety standards
Breathable and healthy for those who work all day
Lightweight and affordable
Reliable metatarsal guard
Cons
Poor work of stitching and seaming
5. Iron Age Men's Groundbreaker IA5016 – Best Welding Boots On The Budget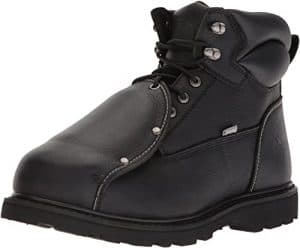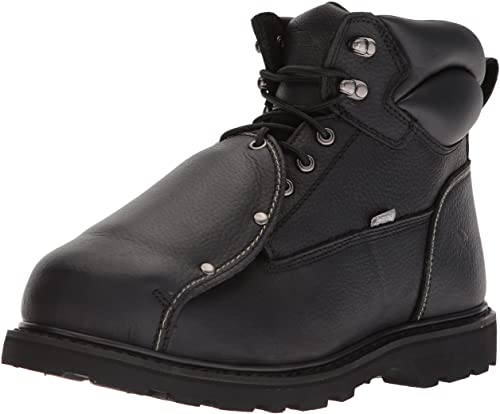 This Groundbreaker boot doesn't make you feel like standing away too far from the ground. Its shaft stays 6.75 inches from the arch, and the heel's thickness is 1.5 inches. The platform stands just 1 inch from the ground.
Boot Construction
The upper uses full-grain leather. Its Aramid stitching is almost a hallmark when it comes to durability. Then, there is the Goodyear welt. The Kevlar stitching done on laces is tough too. This lace-up boot allows for quick entry, thanks to the "back pull loop" system. The lining uses nylon mesh containing moisture-wicking properties.
Toe Construction
I think you need no technical explanation for the steel toe for it is quite traditional and comes with compliance to the standards.
Met Guard/ Metatarsal Guard
The Metatarsal Guard is positioned conveniently to ensure added protection to your feet against heavy items and debris. Unlike a few pairs here, this one has a noticeable guard.
Outsole
Rubber outsoles are typical, and for these boots, I find it rather traditional with resistance to slip and heat. What makes it slightly exclusive is the placement of rubber lugs that bring traction underneath while you're moving on different surfaces.
Comfort and Other Features
The EVA footbed is removable and has proper cushioning support under the feet. The rubber heel feels spongy, but it is capable of shock absorption. Although Iron Age claims that the boot feels like your second skin, I think it is just a very good protector when you get in contact with live electrical circuits.
Pros
Thoughtful design to keep close contact between your feet and the ground for comfortable movement around the jobsite
Enhanced breathability and traction
Compliant with the required standards (including electrical hazard protection)
Easy entry and maintenance
Secure fit with comfortable cushioning
Cons
The steel toe cap is susceptible to unwanted flexing.
6. Michelin HydroEdge Steel Toe Boot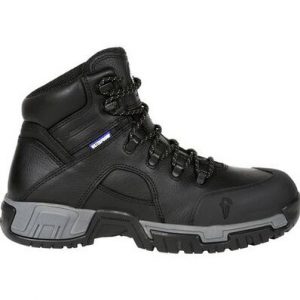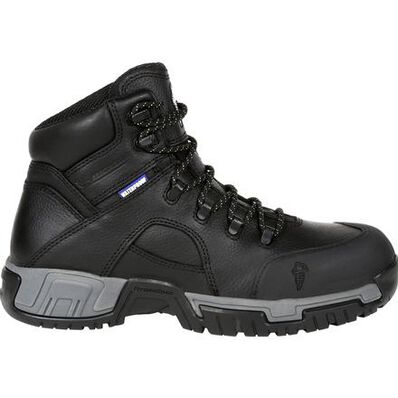 This 6-inch welding work boot may not be the best one among the best, but it has features worth our attention. Take a look at the details below.
Boot Construction
Needless to say, full-grain leather is undebatable for work boot materials. The use of ARS or Advanced Rear Suspension technology gives the boots its ability to absorb shock as you strike the heel. Each boot includes a thermoplastic ankle wrap to enable users to walk on rough terrains (within your jobsite) with stability.
Toe Construction
The protective toe has been put to both impact testing and compression testing for its resistance to force delivered through a wide range of foot pounds and static pressure respectively.
Outsole
Michelin's HydroEdge technology makes this non-marking outsole highly resistant to slip and oil. I didn't find a lot of information about this technology, but it is no less reliable than other processes undertaken by other brands. I'm telling this on the basis of what I learned from dozens of customers.
Comfort and Safety
The nail-free construction helps you get insulated from your ground, so the conduction of electricity becomes slow. Oh, the boots have met the ASTM standards! There is a steel plate embedded in the boot's insole. Its job is to minimize the risks of foot injuries from sharp nails, glass, and other metals.
Pros
Typical yet high-quality full-grain leather
Good shock-absorption and ankle support
Very strong protective toe
Sturdy steel plate to keep up its resistance to puncture
Non-marking outsole for movements with small and harmless impacts on the surface
Cons
Not the best waterproofing features
Best Welding Boots with Composite Toe
I guess I wanted to present you a comprehensive review article on welding work boots, which wouldn't be actually a complete one without a pair of boots having composite toes. Well, here goes my favorite boot with composite toes.
1. Timberland PRO Boondock 6″ – Best Welding Boots With Composite Toe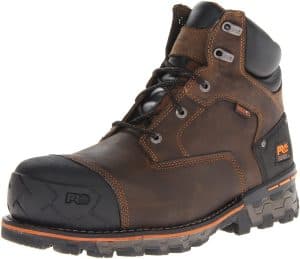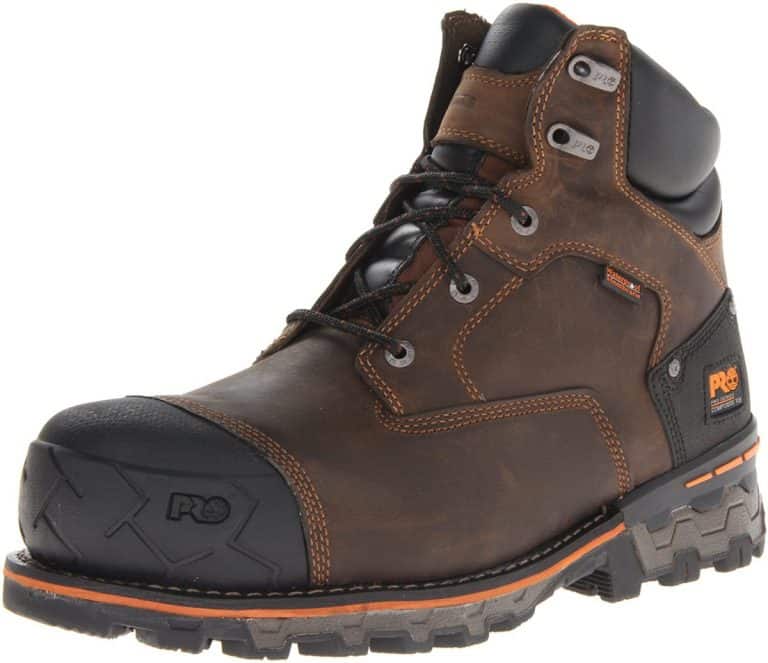 All of the Timberland work boots are similar in some way except for the fact that some pairs have a few features while others have slightly different ones. These Boondock Composite Toe boots and the Powerwelt Wellington Boot have a lot in common despite their dissimilar styles.
Boot Construction
The heel comes with three parts of Goodyear welt and one part of cement in its construction. This compound formation somehow weakens the chances of you being able to resole them.
Full-grain leather is abrasion resistant and suitable for rugged conditions. The fiberglass shank provides structural support, not top-notch though. The top collar comes padded, and the heel cup is externally positioned to offer lateral stability. Lacing hardware is top-mounted to allow for instant customization of the laces.
Toe Construction
This composite toe delivers protection with a non-metallic system, and the toe protector, made of rubber, adds to the toe's durability and resistance to abrasion.
Outsole
This component uses thermoplastic urethane which is why it is called a dual-density TPU outsole. Its deep lugs enhance traction as you walk on frosted or wet grounds and make the outsole resistant to oil and slips.
Waterproofing System
The leather boots have waterproof and are engineered through the manufacturer's Ever-Guard system to keep your feet dry through breathable membrane and away from pathogens (blood-borne), and the bottom protected against abrasion.
Comfort and Other Features
The comfort system in this boot is the result of geometrical technology, shock-absorption properties, and an anti-fatigue process where energy is sent back to your foot quickly, so you can enjoy comfort throughout the day. The boots are treated with antimicrobial chemicals to control odors.
Pros
High-quality leather with breathable membrane
Proven technologies to ensure comfort and safety
Ideal outsole for all seasons
Compliant with all standards
Safe lacing system
Cons
Stiffness felt in the leather despite adequate break-in time allowed
Best Pull on Welding Boots
I've reviewed 7 different work boots so far with all of them having laces and either steel or composite toe. Now, I think a few pull-on style boots should also be mentioned just in case you prefer this to their laced counterparts.
1. Irish Setter 83907 Steel Toe Work Boot – Best Pull On Welding Boots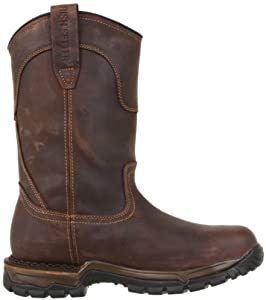 The Irish Setter 83907 is neither cheaply made nor what one can call an average steel-toe work boot. Everything has been taken into account, from the boot and sole construction to waterproofing and other safety features.
Boot Construction
The principal material is nubuck which is a top-grain leather obtained from cattle and buffed or sanded outside to bring in a velvet-like finish, making it resistant to normal wear.
The cemented welt is another factor to notice. The dual-construction method produces a welted and strong heel to ensure added stability and flexibility. However, you cannot resole the boots when the original one wears off.
Toe Construction
With the safety toe of this boot, you needn't worry about the workplace hazards anymore as it meets the appropriate safety standards for compression and impacts, known as ASTM F2413-11, I/75C/75.
Sole Construction
The sole has been produced and tested to withstand the heat of common surfaces at a welding workshop. Check its HRO identification to know that it is designed to resist up to 475º Fahrenheit of heat.
The Vibram outsoles are the property of Irish Setter claiming to deliver abrasion resistance and traction to a considerable level. Though beginners would find it difficult to understand, the process and materials used in the making are beyond debates.
Waterproofing System
Here, we'll talk about another patented technology named UltraDry that works based on the combination of some waterproof components with a moisture lining. The objective of this particular tech is to ensure that water and other liquids don't just penetrate the sole.
Comfort and Safety
It won't be too much for you to believe if I say this boot is all about patented technologies including the one named StableFlex which is specific to comfort and safety. A stable platform has been provided for the heel to add flexibility to the forefoot.
The waterproofing system discussed above also makes users feel dry yet comfortable, no matter how long they have the boots on. The sole is also protective of electrical hazards coming from electrically charged components.
Pros
Good value for the money (considering the materials)
A patented tech for each part of the boot for maximized usability
Comfortable and durable sole
Strong welt construction
Fairly long shaft and wide boot opening
Cons
Not much of a lightweight pair of work boots
2. Caterpillar Revolver Pull-On Work Boot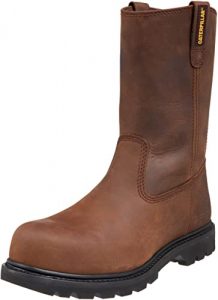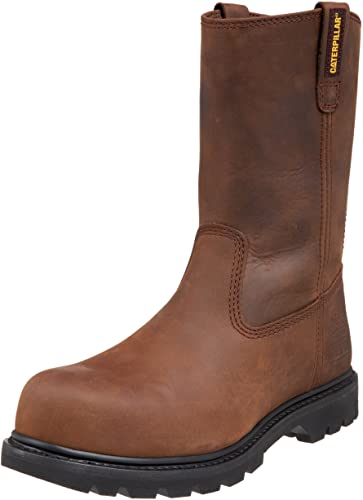 These work boots got a similar look to that of Icon 2295 ST and a price tag that is pretty close. Nonetheless, they are from different manufacturers, and hence, there are differences.
Boot Construction
Just like every pair reviewed in this article, these Caterpillar welding boots are made with full-grain leather. You'll have two pull handles with the logo patch. The shaft stretches all the way from the mid-calf to the arch.
Toe Construction
The steel toe cap is slightly distressed. I think the manufacturer has created the design intentionally to bring an aged appearance which is not essentially a bad thing, but an embodiment of classic work boot style.
Sole Construction
Rubber sole is nothing new to those who wear work boots. This pair has a PVC Midsole and a T3 Outsole which provides excellent slip resistance and thus optimal traction with the ground as you walk or move in it.
Comfort and Safety
The nylon mesh Taibrelle lining is actually a type of synthetic fabric that wicks moisture to keep the feet dry all day long and make the user feel comfortable. The polyurethane sock liner which I would call the insole, is the soft foam in a layer that touches the feet as you rest them on it inside the boots.
Pros
Full-grain leather with distressed toe making up a classic look
Reliable insole and outsole
Lightweight and easy to use
Affordable for all that leather with PU and PVC soles
Compliant with safety standards
Cons
Sizing issues (from size #10 to #12)
3. Dr. Martens Icon 2295 Steel Toe Boots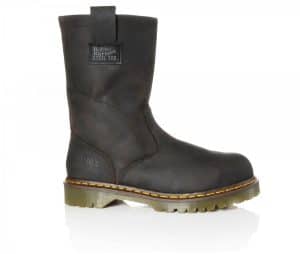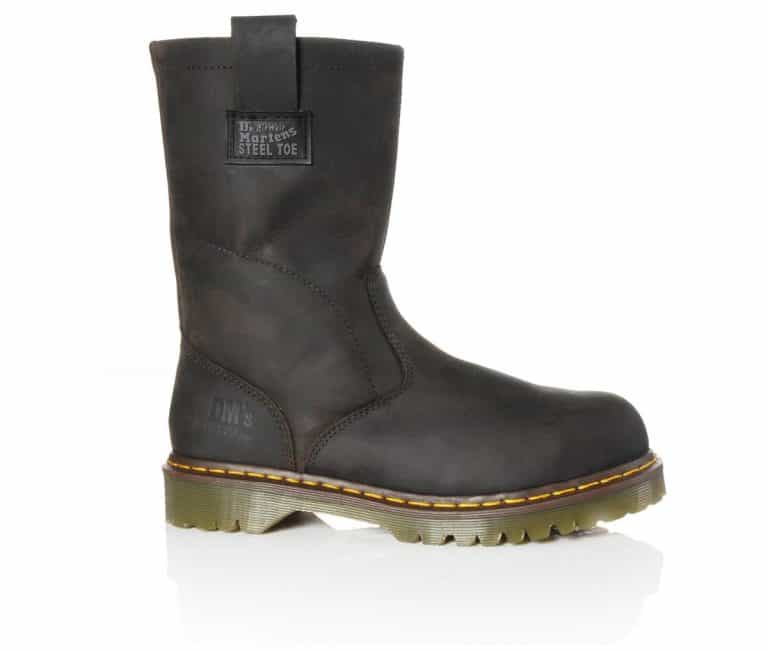 This Wellington boot reminds us of an iconic pull-on style that once used to be limited to military personnel and is now good for anyone wishing to have waterproof work boots.
Boot Construction
Using 100% natural leather, the boots have a waxy surface. The subtle finish looks a little worn, but that is not out of the trends. Tumbled leather has always been a desirable material for work boot uppers.
These boots have a welted footbed with features to lend stability. Worried about the durability? Well, you need not. The EVA footbed is coupled with comfortable padding for ankle support.
Many pull-on boots pose difficulty for users as they try to put their feet inside. The opening of this pair is 15″ around, meaning that you won't have a hard time wearing it or taking it off.
Sole Construction
The sole uses polyvinyl chloride which gives it the required abrasion resistance and flexing. The slip-resistant sole has an additional layer of insulation to protect your feet against an electrical charge or an unintended contact with similar things.
Look at the complete standard ratings that say "ASTM F2413-11 MI/75 C/75 EH". The PVC sole is air-cushioned and treated to be resistant to alkali, oil, fat, and other liquids.
Pros
Quick and comfortable entry and comfortable fit
Natural leather with waxy finish for a classic look
Sufficient cushioning and padding, abrasion resistant
Safety standards met with electrical hazard protection
Affordable and easy to clean
Cons
Heavy for a pair of work boots for regular use
4. Timberland PRO Men's Powerwelt Wellington Boot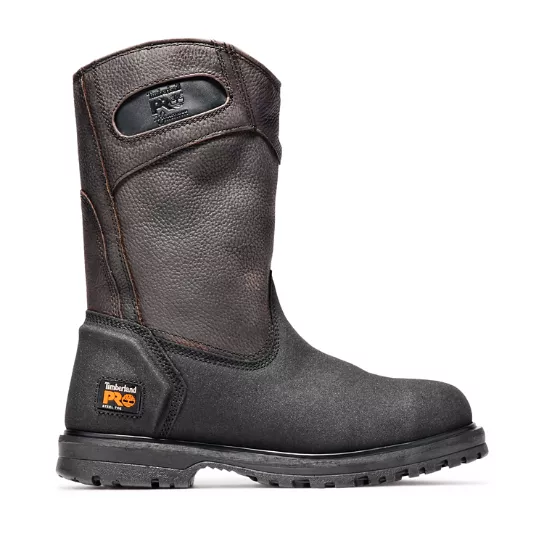 This Powerwelt Wellington work boot has a lot to offer, but what seems exclusive to me is its 30-day guarantee which is something we don't see in many pairs.
Durability is one thing that cannot be justified in a day. But comfort is something that becomes obvious in just a few hours after you start working with the boots on. With the guarantee, it is evident that Timberland has been upfront to make customers feel the peace of mind.
Boot Construction
Full-grain leather complemented with abrasion resistant properties makes a solid pair of work boots for demanding jobsite conditions. For great structural support, a steel shank has been included. The fabric lining that goes by the name Cambrelle incorporates antimicrobial treatment, a process that helps control the odor.
Toe Construction
Timberland chooses a special TiTAN shape for the steel toe which is asymmetrically designed and tested to meet the standards for "compression and impact resistance" such as "ASTM F2412-11", "ASTM F2413-11 I/75", and "C/75".
Outsole
The outsole uses dual-density PU with a tread design and "Ladder Lock" radius having the right properties for resistance to slip and fall. The non-marking sole is good enough to resist the penetration of oil. The Goodyear Welt accounts for a durable bond between the mechanical and chemical properties.
Comfort and Other Features
You may not have seen any other manufacturer claiming anything like the "fingergrip" feature to allow an easy entry. This boot has it, but I don't see anything special other than simple pull-on functionality.
The PowerFit comfort feature combines elements in a way that they work ergonomically to ease users' movement and offer them support with comfort. The contoured tongue helps relieve the lace pressure. The open-cell PU footbed also comes in a contoured design for breathability and dry feel.
Pros
High-quality leather with efficient structural support
Special approaches and treatments to ensure comfort, safety, and usability
Industry standards met
Fairly lightweight for pull-on work boots
Affordable with 30-day guarantee for comfort
Cons
Waterproofing system not on par with the standards of the same category
5. Ariat Sierra Wide Square Toe Steel Toe Work Boot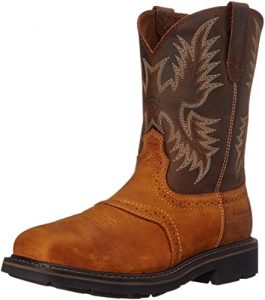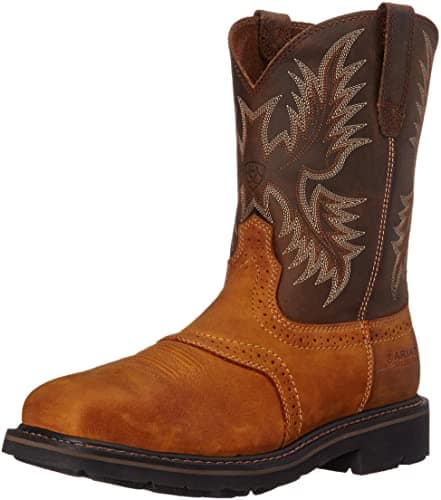 Choosing the cowboy style for these work boots, Ariat has demonstrated an example of boldness in style. We don't see a lot of iterations of this design inspiration, but here is one for those who stick to the trends based on stability and comfort.
Boot Construction
These pull-on boots come with a U-Turn entry to make it easy for people with any foot size to use or take off. Made for work areas where abrasions and heat are high, these leather boots fit both wide/narrow feet and high/low arches nicely.
The fork shank is made of composite to be lightweight. Its ergonomic design is set to improve stability. The outsoles cover the needs of the user during a wide variety of applications.
Comfort, Stability, and Safety
The ATS technology is the key selling point of these boots. They say it is revolutionary. Let's see how the mid-level technology contributes to the excellence of the boots.
ATS stands for 'Advanced Torque Stability' that cushions and supports your feet during your movement. Its goal is to improve your posture while reducing fatigue. Can't you work for hours if you don't have to feel the fatigue?
The gel-cushioned footbed uses moisture-wicking materials to keep your feet cool and dry. I believe comfort comes when your feet stay dry without you feeling the heat.
Pros
Easy entry and good fit
High-quality leather with synthetic sole, abrasion resistant
Moisture-wicking footbed to allow for prolonged work hours
Thick soles with good grip
Easy to clean and maintain
Cons
Somewhat stiff
A lot of unnecessary variations in sizes
Why Do You Need Proper Welding Boots?
There are obvious reasons for welders to wish to have a pair of welding boots to cover their feet. One of the key reasons is the work environment that involves risks of getting burns and fire injuries from uncontrolled or unforeseeable welding sparks.
Sometimes, welding professionals have to work in areas where harmful elements like dirt, dust, grease, oil, and other chemicals are quite common. More dangerous than these are large appliances and sharp pieces of steel lying unnoticed. On some occasions, they have to walk on unsafe concrete and steel surfaces too.
All these factors are specific to a typical welding environment where the operators have every chance to get hurt by a sharp object or a heavy appliance falling down on the feet of workers without them noticing.
With the above dangers, every welding operator should have a pair of shoes, not just any type, but exactly the one designed for welding and fabrication shops. An ideal pair of welding work boots provide protection from,
Accidental collision with tools and sharp edges
Slipping on liquids, dust, and mud
Falling objects or appliances
Burns from sparks and fires
you can get a compression on the toe area by a forklift or a truck
Ankle sprains and other foot injuries
Is that enough? No, I think a good pair of welding boots should have the following features too.
Good protection against the infiltration of oil, liquid, and mud (Water-Resistant)
Quality build to stay protective against cuts likely to be caused by steel pieces
Perforation or tear of the sole
What Are the OSHA Welding Footwear Requirements?
Like people in all occupations, welding and fabrication workers must abide by certain regulations and the safety gear they are supposed to use must meet the specifications recommended by the OSHA.
According to OSHA subpart #1910.136(b)(1)(i), foot protection gear must go through the 'Standard Test Methods' called ASTM F-2412-2005. Also, the footwear must meet performance requirements specified by ASTM F-2413-2005. Also, 'proper' welding boots should have a compliance mark inside them. What are those requirements and specifications? Let's see.
Leather boots with steel toe cap and high-topped shape must be in a good condition before use.
Leather spats or boot protectors with fire-resistant properties need to be strapped around the welder's boot tops and the legs of the pants where there are slag and sparks.
The bottom of the worker's pants should be worn over the boot tops.
Pants with a cuff are not recommended.
The legs of pants shouldn't be tucked into the boots.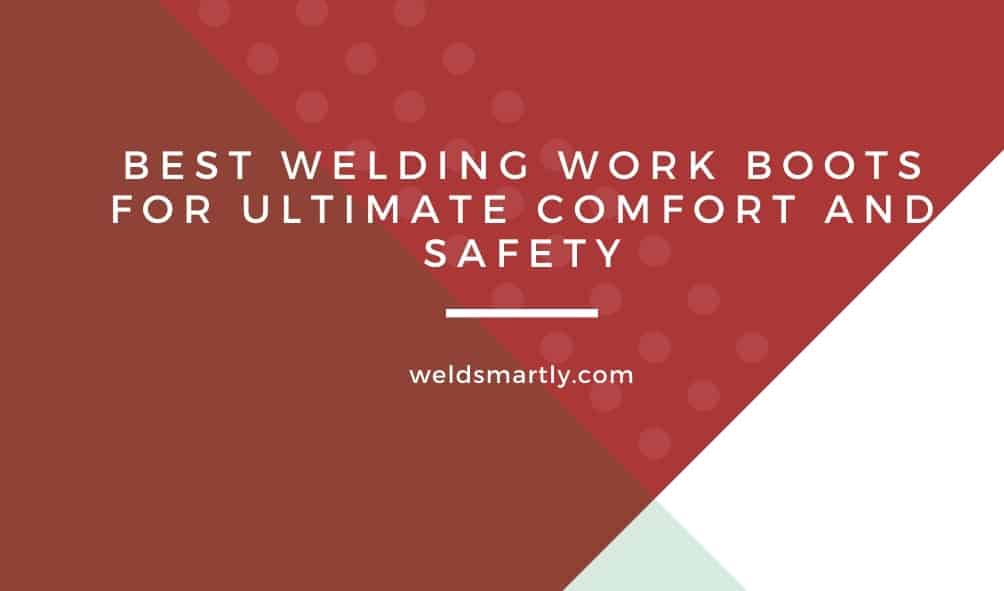 How To Choose the Best Welding Boots
So, you know how an appropriate pair of welding boots can be. You might have learned about several pairs with the above requirements fulfilled. Isn't that a way for you to get confused? Don't worry. Now, I'm going to share with you a complete guide to choosing the most suitable welding boots for your needs.
Heat and Burn Resistance
The job of welding is not without heat and fire. So, the footwear you want to wear should be resistant to fire and heat. The outsole has to be able to resist around 300℃ for 1 minute or 60 seconds. Welding boots often come with insulation that holds against 150℃ for up to 30 minutes.
Check the specifications of your desired welding boots to see if they include HRO or 'Heat-Resistant Outsole' and HI or 'Insulation against Heat'.
Material and Footwear Construction
The build or construction of welding boots involves quite a number of considerations which are explained one by one here.
Construction
Three construction methods come into mind such as Goodyear, Blake, and cementing where the Goodyear method is the most reliable, labor-intensive, and oldest one. This construction allows the user to resole their boots when the soles come apart.
Cemented boots may not be known for evoking style and luxury, but they are strong, resilient, and convenient. You cannot resole these boots, a good reason for their shorter lifespan.
Though this method once used to be meant for Italian footwear, it is now popular due to its 'close cut sole' style. The cut sole lends an exquisite and sleek look. Blake construction doesn't offer the waterproofing features. Even if some pairs do, you won't find that very helpful.
Lace or no Lace Options (Kevlar Laces, Tofl Leather Boot Laces)
Whether or not your boots should have laces is actually a matter of understanding the risks and options. Common sense says laces are likely to burn while in contact with fire, especially when they are untied. Also, you may trip over them and fall eventually. However, laces are known for providing a flexible and comfortable fit.
So, you can look for ways to minimize risks from both of the above situations. It could be minimized if you know which laces to choose and how to manage them while working. Practically, you have two choices around this such as Kevlar laces and TOFL leather laces.
Kevlar laces are made to be resistant to chemical aggression, fire, and breaks, making themselves good for welders and firefighters. If your boots are 8 inches, the length of the laces should be 72 inches.
TOFL leather laces are also chosen by many as these laces are made of tanned cowhide leather and strong enough to withstand welding sparks. These shoelaces are passed through a rigorous chemical process, which makes them tough and virtually unbreakable. Besides strength, these laces stay tied as you keep working.
Oh, I didn't tell you how to fasten the laces properly, did I? You can fasten them securely and tucked them away. If you think you don't want to bother about it, you must buy a pair with metatarsal guards which are attached to the boots' uppers in a way that they cover all your laced sections.
Waterproofing
Welding boots manufactured these days often come in a seam-sealed style having a waterproof covering. Typically, the boot upper is the part that uses leather, full-grain actually because it is undoubtedly the most reliable of all materials.
Using the strongest segment of animal hide, full grain adds to the durability and properties of water-resistance of the products that use it.
But don't expect your full-grain leather boots to remain waterproof for a decade without putting any effort to its maintenance. You can treat the leather (boots) with a spray or wax which can improve its properties that make it waterproof.
You can check if your welding boots are water-resistant. Have you ever heard of terms like S2 or S4 or O2? Here is a quick note on each of these terms.
S2 denotes that the boots have all features of S1 and a waterproof exterior to allow absorption in its upper and prevent any instance of water penetration.
S4 denotes that the boots include everything from S1 except for a rubber or moulded polymer upper to make them leak-proof and waterproof.
O2 denotes that the boots have all O1 features along with a water-resistant upper that keeps them protected against water for up to 60 minutes.
Steel Toe Top
Welding work boots with a steel toe cap have a piece of hard steel put in their toe area with the aim to protect the users' toes from different hazards that might occur during work.
Besides providing protection from falling items or objects that cause injuries, steel toe tops help you keep away from other injuries such as cuts, burns, lacerations, punctures, and the ones from falls and slips.
While choosing the material for toe caps, you'll have two different choices such as steel and composite. Steel toe boots are known to offer more and better flat protection and handle heavier objects than composite caps.
Metatarsal Guards
Metatarsal guards are designed to protect your foot top from heavy objects that might drop, fall, or roll onto your foot. Materials including steel, composites, aluminum, and other synthetic types are used.
Like a steel toe cap, metatarsal guards are also required according to the law by OSHA. Employers can use metatarsal protection with their welding work boots if the environment at the workplace demands so. Even, it is the duty of the employer to pay for it if wearing metatarsal boots is mandatory inside their workplaces.
Sole Construction and Durability
The soles of your work boots have a critical role in their durability. The insole of work boots contains materials inside the boots contacting your feet as you wear them. Those materials are usually comfortable and soft.
The outsole is, I think, more about safety and durability. It is the part that uses certain materials to make the sole's bottom and exterior. Since the outsole is meant to be in contact with what lies beneath your feet or on the ground, there is no exception to its being strong plus well-treaded to ensure adequate traction.
Speaking of durability, there are more areas rather than just the soles. Full-grain leather goes on top of any other material for welding boots. Being cut and made from the strongest part of the hide, full-grain leather lasts long without compromising the aesthetics.
Boot Comfort and Support
Comfort is one of the prerequisites for a pair of boots to become suitable for welders or other professionals in the industry. Apart from the comfort provided by leather construction, upper, and insole, these boots must be breathable with moisture-wicking components.
Welding work boots should have adequate cushioning and high-quality footbed in which case polyurethane is the choice due to its shock absorption and added support to protect your foot and heel from fatigue and strains.
The weight of your work boots has also something to do with comfort. Welding work boots usually weigh anywhere between 3.8 pounds and 5 pounds. Some pairs might weigh more than this range. Lightweight work boots with all the safety and comfort included are what you should be looking for.
Style & Size
Welding boots are put into some categories based on their toe construction and lace style. As I discussed the 'toe cap' part above, I guess I can give you a brief account on the latter consideration that includes two distinct styles such as pull-on and laced boots.
Pull-on welding work boots don't come with laces. In fact, that is what I learned after a lot of digging. The absence of laces makes them easy to use (take off and wear). If you are like those welders who are to pull their boots on and off quite frequently throughout the work day, the pull-on style is the most favorable choice for you.
Lace-up boots include laces to allow users to adjust their fit and make the grip on their feet more convenient. Some might say 'welding boots with laces are not work boots at all'. I think that is a bit rude to people who want to benefit from the ankle support and snug fit.
While pull-on boots are better at providing traction and foot protection, lace-up shoes provide ankle support and the comfort of securing the shoes around your feet as you feel appropriate.
Welding work boots usually come in three sizes such as 6, 8, and 11 inches. These numbers actually refer to the height of the shoes. I advise you to consult the sizing guide properly while buying a pair of boots.
Do Welders Need Non-Conductive Boots? (Shock-Resistance)
Welding is a job with chances of getting injured from shocks produced by electrical equipment. Conductive materials and static discharges are pretty common in a welding workplace making shock-resistant work boots almost a staple. Boots with outsoles containing non-conductive properties are ideal. The boots should offer protection against 600 volts.
Some materials used in common footwear may over insulate your body and cause the electrical charge to hold. The static charge may rush from the body to something you touch, which can cause a spark followed by an uncomfortable shock.
The solution is to use antistatic footwear that may reduce the effect to some degree, if not fully. So, you should choose boots with Electro-Static Protection or ESD.
Frequently Asked Questions
I know you may want to ask a few more things. Even if you don't, I would like you to take a look at these questions because welders often ask them out of curiosity and the need for references.
What kind of boots are best for welding?
I could say that the above welding boots are the best of all others. Instead, I should mention the qualities and properties that make a pair of welding boots really great.
In short, the boots that meet OSHA requirements are the right ones. Broadly speaking, you need something comfortable with all safety features included. Resistance to slip, liquids, static charges, punctures, and other problems is an essential quality.
How much do welding boots cost?
Although the welding work boots I've reviewed here are well under $300, there are models with prices going upwards of $500 and even $1,000. The materials, build, and brand are some of the factors that decide how much a pair is going to cost you. Welding work boots on my list cost from $69 to $357.
Why do I need special boots for welding?
The job that welders do and the environment they are exposed to are the reasons why they need welding work boots that are specially engineered and treated. Welders have to deal with all kinds of problems from fire, electricity, chemicals, and heavy equipment. So, their work boots should be durable, comfortable, and most of all protective.
Do welders need steel-toed boots?
Yes, they do. If your welding boots don't have a steel toe cap, you should have one that has it. The only reason which is also an inevitable one is that wearing protective footwear with steel toe caps is one of the OSHA requirements as I explained above.
The administration has set standards for protective footwear making it mandatory for all professionals engaged in jobs that involve risks of injuries from fire, electrical hazards, falling, slipping, and other accidents.
How long should a good pair of welding boots last?
In theory, welding boots last for years, but in practice, you shouldn't use a pair for longer than 6-7 months. Look for signs like worn and damaged soles and midsoles, holes, separated uppers, and damages which tell you when to replace the existing work boots and get a new pair.
The quality of the leather being used and other components is always crucial to the durability of welding boots. However, you can maximize the lifespan of your boots by following a few tips.
1. Keeping an extra pair and use that one every now and then
2. Not wearing the boots when you're not working (get an appropriate pair of shoes for hiking)
3. Keeping the footwear clean and follow the rules of maintenance as suggested by the manufacturer
Should welding boots always feature steel toe caps?
While steel toe caps are preferable to any other option, some boots come with aluminum and composite caps. Thicker than steel, aluminum provides a lightweight toe cap. Composite caps are ideal for those who work in a metal-free environment.
Made of carbon plastic, Kevlar, or carbon fiber, composite toes cannot transfer cold and heat, which is why they can be a good alternative to steel despite not being as much strong.
Final Verdict
After all these details and observations, you might find some straightforward answers to be really useful. Well, I won't make this a long section. I'll only put a few lines to wrap it up for you.
ROCKROOSTER Work Boots are the cheapest pair followed by Caterpillar Men's Revolver and Iron Age Men's IA5016 Work Boot. Dr. Martens Icon 2295 and Ironbridge boots are the best budget options here because the other three have not much of a reliable waterproofing system.
If you are fond of Timberland boots, I think the PRO Men's 53530 is the best of all considering the features and value for the money. The Irish Setter 83907 could be the strongest contender only if you are a fan of the pull-on style.
That is pretty much of my original review of the best welding work boots for the money. I understand you could use further help with the purchase. Well, I am reachable via email. Feel free to say hi.