When something made of plastic breaks, what do you usually do? Well, I used to toss those out and get a new one. It's pretty evident if the item isn't so expensive. But, what if it's something expensive? Like a part of your car? What to do then? Do you still throw it out? You can't!
Using glue might be a temporary solution, but not the best one. It's messy, and it doesn't look good after it dries up. Also, the bond can break away anytime, and you won't even know it. If the car parts are separated that you glued together, one of them could be coming off while you drive, and you won't even know it!
This is why plastic welders are necessary. It's the most cost-effective solution to fix any plastic items around the house, including car parts. It'll save you time, money, and effort. But, finding the best plastic welder in the market isn't an easy task.
That's why, we've brought a list of the 10 best welders for plastic and a buying guide to help you out with your purchase.
So without further ado, let's get started with a thorough comparison first!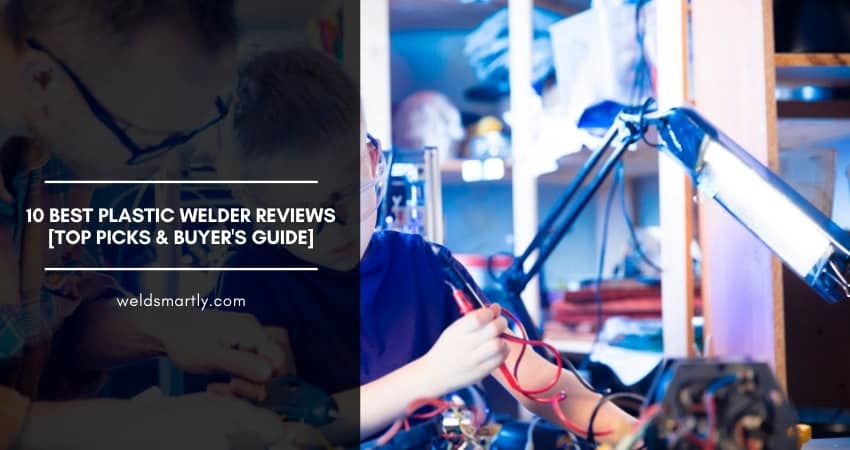 Best Plastic Welders: Quick Comparison
| | | | |
| --- | --- | --- | --- |
| Products | Wattage | Type | Weight (lbs.) |
| Polyvance 5700HT | 200 | Airless Gun | 5.21 |
| Beyondlife | 1600 | Hot Air Gun | 3.9 |
| Votoer Go2Home 1600-watt | 1600 | Hot Air Gun | 7.13 |
| Weldy | 1600 | Hot Blast Torch | 1 |
| Steinel | 1600 | Heat Gun | 5 |
| Astro 7600 | 1300 | Hot Staple Gun | 4 |
| Master Appliance ProHeat | 1300 | Temp Heat Gun | 1.2 |
| Hobie KC Welder Pro | 80 | Rod Stock | 0.28 |
| RainFlo Poly Welder Pro | 200 | Welding Iron | 1.1 |
| Bondic | N/A | LED UV | 3 |
Now that we have the specifications of these 10 plastic welders, let's dive into their detailed reviews to make an informed decision.
10 Best Plastic Welders Reviews
1. Polyvance 5700HT – Best Airless Plastic Welder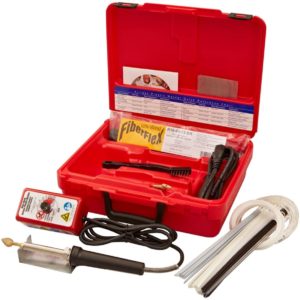 Plastic welders are quite convenient devices to have around the house or a workshop. And the Polyvance 5700 HT is among the list of the best of them for its comfortable design and easy usage. From amateurs to pro welders, anyone can use this device without any trouble.
Why We Selected It in Our Top List
Airless Design with 200-watt Power
The Polyvance 5700HT is a complete package as a plastic welding kit. It has an airless design that allows you to use it just like a soldering iron. It's perfect for light to medium welding with maximum precision.
It runs with 200-watt power and can work with rigid plastic as well using its precise melting points. Its ease of use makes it a must-have welding kit for plastic welding.
QR Sheet
One of the unique features of this plastic welding kit is that it comes with a QR sheet that'll lead you to instructional videos. You can quickly learn everything about using this device from the videos and can even find out the solutions if you're facing any trouble.
Easy-to-Swap Tips
Polyvance 5700HT comes with eight welding rods and two welding tips. You can use different welding rods depending on the type of plastic you're melting. The tips are easily swappable and work precisely with plastic. You can use this device for any kind of plastic, including polypropylene and TPO.
Pros
Comes with a temperature control feature
Welding tips are easy to swap
Offers pinpoint and precise usage
Suitable for both beginners and professionals
Cons
Welding rods can only work as fillers
2. Beyondlife Plastic Hot Air Welder Heating Gun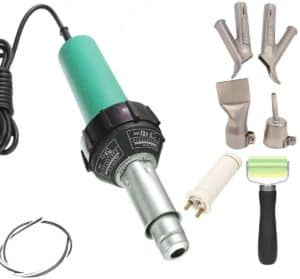 Talking about a complete plastic welding package, the Beyondlife 1600-watt offers everything you'd need for plastic welding and more in its welding kit. It's a welding gun that works with a hot air feature and can melt any plastic.
Why We Selected It in Our Top List
1600-watt Power and Precise Tips
Beyondlife is certainly a smart pick within an affordable price range in terms of power and precision. It runs on 1600-watt power, which ensures that it can create enough heat to melt any plastic, no matter how rigid it is. It comes with tips including pencil tip nozzle, flat slit nozzle, triangle nozzle, and pressure silicon roller.
Versatile Uses
All the features of this plastic welding kit make it a versatile welding kit for plastic welding. You can use it to fix bumpers, water tanks, vinyl flooring, curtains of trucks, swimming pool linings, kayaks, etc. The extra heating core adds value to the package and makes it worth buying!
Adjustable Settings
Easy usability is another significant feature of the Beyondlife plastic welder. You can adjust the temperature and power depending on the type of welding you're doing. It makes the welder suitable for all kinds of welding around the house or garage. The hot air jet that softens the plastic and the filler rod makes it a convenient professional plastic welding kit for everyone.
Pros
Adjustable power and temperature settings
Compact and lightweight build quality
High-quality and professional operation
Comes with a vast range of additional accessories
Cons
Takes a bit longer to heat up
3. Votoer Go2Home 1600W – Best Hot Air Gun For Plastic Welding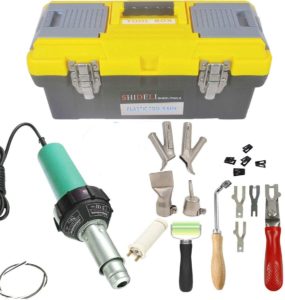 If you don't like those bulky welding kit boxes that look like a suitcase, then the Votoer Go2Home 1600-watt would be a perfect fit for you. It comes in a case that looks just like a toolbox.
The box also features a tray that you can lift out without any hassle. It's also large enough to store everything you'd need for plastic welding.
Why We Selected It in Our Top List
Hot Air Gun with Adjustable Temperature
The 1600-watt hot air gun can produce enough output for medium to heavy plastic welding work. You can adjust the temperature on this easy-to-use device depending on the type of plastic you're melting. From 30°C to 700°C, you can choose any temperature and perform a top-notch welding job.
Lightweight and Compact Design
Other than coming with a compact design, the lighter weight makes it a convenient tool for plastic welding. It creates a very slight vibration which will help you to get a precise welding job. Also, your hands won't feel numb even after using it for a long time. The welder is easy to control and maneuver with minimal effort.
Long Power Cord with Additional Accessories
Unlike many other plastic welders, Votoer didn't include a short power cord with their 1600-watt plastic welder. Even if the electric outlet isn't close to the place of your work, the long power cord that it comes with solves your issue. The welding kit includes 20mm and 40mm slot nozzles, an extra core, and a silicone roller.
Pros
Adjustable temperature setting
Lightweight and easy controllability
Prevents damage against overheating
Can be used to weld inside air ducts
Cons
Heating time is a bit longer
4. Weldy 1600W – Best Hot Blast Torch For Plastic Welding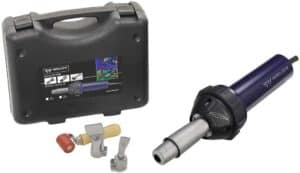 This 1600-watt plastic welder from Weldy is perfect for professional welders. It's durable and robust with cost-effective performance. You can even use it for industrial-grade tasks with roof sealing as well. It's perfect for using with TPO membranes and PVC materials.
Why We Selected It in Our Top List
Adjustable Temperature from 40°C to 700°C
This hot air welder comes with a temperature adjustment feature. Depending on the welding job, you can set the heat to anything from 40°C to 700°C as per your need. The hot blast torch ensures that you get solid and precise welding with any plastic material.
Comfortable Design with Heat Tube Protection
As it's built for professional purposes, the device is equipped with everything you'd need for longer welding sessions. The lower part's grip helps you hold it with comfort for as long as you need. It comes with heat tube protection that'll save you from any professional hazards during welding.
Built with Swiss Technology
Weldy maintains its equipment's quality by meeting the requirements of the customers as best as they can. The 1600-watt plastic welding kit is built with Swiss technology that ensures longevity, precision, and power saving. This plastic welding kit comes with the blast torch, 20mm and 40mm slot nozzles, and a silicone roller. With everything that it offers, this is the best plastic welder for professionals.
Pros
Robust build quality with comfortable design
Easy to control and comes with a reusable filter
Cost-effective operation with heat tube protection
Swiss technology ensures maximum precision
5. Steinel Heat Gun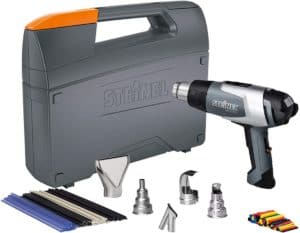 If you need a plastic welder that offers the most reliable and precise work, Steinel could be a suitable option for you. Steinel is well-known for producing robust welding guns and accessories. Their plastic welding kit comes with a heat gun that'll last for a long time and will offer excellent performance throughout the years.
Why We Selected It in Our Top List
Microprocessor for Efficient Performance
Steinel heat gun is equipped with a microprocessor that helps to improve the quality of welding tasks. It ensures smooth performance and can offer an output of 1600 watts. The microprocessor will allow you to set the temperature to anything you need for welding all types of plastic.
LCD Panel for Extra Convenience
This plastic welder from Steinel has an LCD panel where you can see the readings. It'll help you to identify the exact temperature you're working with for added precision. The control knob will allow you to adjust the temperature in an increment of 10°F, which you can observe on the LCD panel.
DuraTherm Technology with Additional Accessories
Steinel plastic welder is built with DuraTherm technology that ensures maximum longevity. It also ensures that you're getting the same heat and performance even after years of purchasing it. Along with the heat gun, shrink tubes, and welding nozzle, you're getting 75mm, 14mm, and 9mm nozzles as well.
Pros
Ensures smooth performance and precise welding
LCD panel for added convenience
Maximum longevity and performance quality
Equipped with DuraTherm technology providing increased coil life
Cons
The temperature setting responds a bit slowly
6. Astro 7600 – Best Heavy Duty Plastic Welder For Instant Bond
You've indeed used a stapler to staple a bunch of papers. See how instantly they work to attach the documents with just a single punch? Hot staple guns work in almost similar ways to create a strong bond for mending a crack. The Astro 7600 hot staple gun is one of the best in this category that works efficiently to repair plastic items.
Why We Selected It in Our Top List
Strong Bond with Precision
Astro 7600 is built with advanced technology that ensures the strongest bond with precise points. You can mend split, broken, damaged, or ripped plastic items without any hassle in minutes. The hot staple gun works with unique staples that can be adjusted to fit into any plastic item after being heated. These staples offer a powerful bond that lasts a long time.
Versatile Uses
The staples can be used to fix any plastic material. No matter how robust or soft the item is, the Astro 7600 can fix everything. You can use it to repair things like headlight fittings, tabs, bumpers, panel clips, etc. The staples are dust and water-resistant, which makes them even more durable.
Neat Toolbox
If you often lose your welding accessories, consider the toolbox of the Astro 7600 as your rescuer. It comes with slots for all types of welding equipment so that you don't lose them and can access them whenever you want. The welding kit weighs only 4 lbs., which makes it suitable to carry anywhere you want.
Pros
CSA-approved and easy to operate
Versatile uses with maximum precision
Compact and highly portable
Suitable for motorcycles, toys, boats, etc.
Cons
The price could be a bit lower
7. Master Appliance ProHeat – Best Versatile Plastic Welder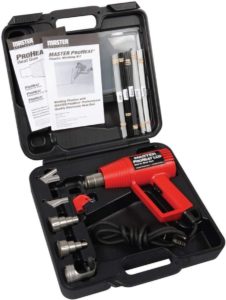 If you're looking for a reliable plastic welder that offers the most versatile uses, then the ProHeat from Master Appliance is the perfect fit for you. Built with advanced technology, this plastic welder provides maximum precision and professional welding performance. It comes with a compact case that'll help you to carry the welding kit anywhere you want.
Why We Selected It in Our Top List
Adjustable Settings
With a controller of dial-in feature, you can adjust the temperature from 130°F to 1000°F. It comes with an LCD panel where you can monitor the settings that you're adjusting. The airflow is customizable, which will let you control the output power as per your need. Its magnetic key is made with an innovative design that is effective for top-notch welding work.
USA-Engineered High-Powered Heat Gun
The ProHeat from Master Appliance is engineered in the USA that ensures quality and performance. Its heat gun can produce 1300W output power that can work effectively with any plastic materials. You can even repair any flooring items or bumpers with this heavy-duty heat gun.
Convenient Design with Additional Accessories
ProHeat is equipped with an innovative design that offers maximum comfort during welding. The pistol-sized heat gun provides a comfortable grip for holding it without any trouble for a long time. With the PH-1400 heat gun, five different tips, and rod assortment, this is one of the best deals you'd get in this price range.
Pros
Compact and lightweight design
Airflow and temperature is adjustable
Comes with a magnetic lock-in feature
Built with high-quality USA engineering
Cons
The airflow rate could be higher
8. Hobie KC Welder Pro – Best Cheap Plastic Welder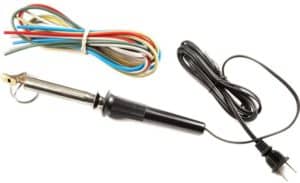 If you're performing light or small plastic welding tasks at home, there's no point in buying expensive plastic welder built for heavyweight projects. KC Welder Pro from Hobie is the best plastic welder for small welding tasks that comes in an affordable price range with moderate performance.
Why We Selected It in Our Top List
80W Output Power with Lightweight Design
Compared to the ones with 1300W or 1600W, 80W sounds too minimal. But, we've already mentioned that the Hobie KC Welder Pro is for small welding jobs. Its lightweight and compact design makes it perfect for sitting in the corner of your drawer. The 80W output power might not sound too much, but it's enough for getting light welding jobs around the house.
Holes and Crack Repairing
Don't roll your eyes seeing the lightweight design! This small plastic welder can get some crucial welding tasks done with ease. You can use it for repairing any cracks or holes in the surface by placing the welder against the crack or hole. It can efficiently work with polyethylene materials or any other light plastic items.
Colored Welding Rods with Long Cord
Hobie KC Welder Pro offers something that a lot of the other plastic welders don't. It comes with a set of colored welding rods that you can use depending on what you like. It comes with a flat tip and a hole for inserting the rod. The power cord is long enough to make your welding jobs convenient. Overall, it's a good purchase for small welding jobs considering the price range.
Pros
Comes in an affordable price range
Suitable for repairing cracks and holes in the surface
Various colored welding rods
Lightweight and easy to operate
Cons
Settings can't be adjusted
9. RainFlo Poly Welder Pro – Best Plastic Welder On The Budget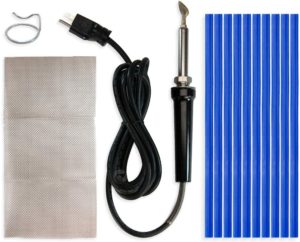 This is yet another addition of lightweight plastic welder to our list. The RainFlo Poly Welder Pro does more than it should with its 200W welding iron. You can use it for any light to medium range of plastic repairing work with this heavy-duty iron. If you've got anything that's broken and made of polyethylene, the Poly Welder Pro can fix it!
Why We Selected It in Our Top List
Versatile Uses
Poly Welder Pro is not only able to perform lightweight plastic repairing. You can use it for fixing canoes and kayaks as well. As most of these boats are made of polyethylene, Poly Welder Pro can easily take care of any holes or cracks in them. You can also use this plastic welder to repair any plastic tank with ease.
Durable Build Quality
The compact design and durable build quality can compete with any medium to heavyweight plastic welder. You can create a solid and precise plastic bond with this cost-effective plastic welder. The welding kit comes with a reinforced stainless steel mess that increases the welding performance.
Welding Stand and Strips
As additional accessories other than the stainless steel mesh, you're also getting a welding stand with the iron. When you're done with a welding job, you can rest the iron in the stand to let it cool down. You'll also get 10 feet of polyethylene welding strips that you can use for a long time. The Poly Welder Pro is suitable for performing LDPE and HDPE welding as well.
Pros
200W high-quality heating element
Lightweight and comfortable design
Comes with a welding stand and welding strips
It can be used to repair plastic tanks and boats
Cons
The wattage could be higher considering the purpose
10. Bondic LED UV – Best Plastic Welder For Instant Bond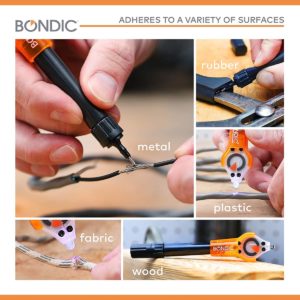 We can't end the review without adding the name Bondic in it. This LED UV liquid plastic welder can fix anything made with metal, plastic, leather, PVC, wood, ceramic, Kevlar, polypropylene, etc. It can create a solid and durable bond within seconds with its quick adhesive feature.
Why We Selected It in Our Top List
Resistant to Heat and Water
With LED UV feature, Bondic produces strong welding of liquid plastic that turns into hard material within seconds. It's waterproof and resistant to heat which makes it long-lasting. You can even use it to fix any outdoor furniture without any hassle. To get a perfect finish, it can be sanded after getting hard.
Liquid Plastic with LED UV
Now, don't confuse the adhesive feature with glue. The liquid plastic that Bondic uses is not any glue at all. The benefit of it not being glue is that it'll never go hard in the container. The formula is free of any solvent, which allows it to work only under UV light. A solid and durable bond is created within seconds after the liquid plastic is brought to UV light.
Quick and Versatile Fix
After putting UV light on the liquid, plastic takes only 4 seconds to turn into a permanent bond. Polish it with sandpaper as you like after the plastic is hard. The welding kit can be used to fix any cracks or holes, including wooden items. The liquid plastic doesn't contain any harmful material so that you can use it without any worry!
Pros
Creates a permanent bond instantly
Can be used to fix a wide range of items
Easy to operate with press button
Waterproof and resistant to heat
Cons
Not suitable for fixing large cracks
How To Choose The Best Plastic Welders?
Now that you know about the finest plastic welders available in the market, it's time for you to make a decision. To choose the best plastic welder, you need to know the factors you have to consider before purchasing.
Type of the Welder
Depending on the purposes, you have to choose the plastic welder with a suitable type of welding. You have the option to select from airless guns, heat guns, LED UV guns, etc.
Airless guns are perfect for creating a thin bond. They come with metal tips that melt the plastic after the tip is hot. It's not suitable for fixing structural integrity as the bond isn't thick enough.
Heat guns create hot blasts of air that softens the plastic and creates a strong bond. Most of them come with microprocessors that ensure precise welding. The hot blasts can make the plastic soft, allowing you to fix the structural integrity.
Lastly, you have the UV gun that works with liquid plastic as adhesive. When you put UV light on the liquid plastic, it gets hot and creates a strong bond instantly. You can use these for wooden materials as well, along with plastic items. Also, the hardened adhesive can be polished with sandpaper.
So, each of the plastic welders is suitable for a distinctive type of welding. You have to choose the best one depending on your purpose.
Temperature and Airflow Settings
Plastic welder offers several types of functions. Some of them come with an adjustable setting feature, while some have fixed settings. Which one you should get mainly depends on your need and preference.
But, to make sure you're getting the most out of your plastic welder, it's always best to go for the one that comes with an adjustable setting feature. In such devices, you can adjust the temperature and airflow depending on the welding task you're doing.
Some of them might also come with an LCD panel as an added benefit. With the LCD, you can monitor the adjustments you're making.
Wattage
It defines the amount of power your plastic welder can generate. The more wattage it comes with, the more power it can produce. If you're buying a plastic welder for heavyweight works, you have to go for the 1300W or 1600W plastic welders. 200W plastic welders will be suitable for lightweight to medium range of welding tasks.
Portability
Most of the plastic welders don't weigh much. But, if you're going to use it for a long welding session, you have to keep the weight in mind. If you choose something too heavy, your hands will go numb after a while, and there's also a chance of getting less precise welding work.
Moreover, if you need to perform any task outdoors, you'll have to carry the whole kit with you. So, if the kit weighs a lot, you can't carry it easily as you want.
Price Range
If you're on a budget, price is the most significant factor that you have to consider. Even if you're not, you shouldn't invest in something that's not going to serve you properly for a long time. Good quality plastic welders last for years. So, invest in something that's durable and performs well.
The finest plastic welders will surely cost a bit more than the average ones. But, that doesn't mean that you'll have to spend a fortune to buy one. A lot of the excellent plastic welders are available within an affordable price range. Make your pick, and buy the one you need.
Frequently Asked Questions
Can a plastic welder create a strong bond?
Don't get confused with the name plastic in it. Plastic welders can create a permanent and solid bond with their unique features. You can fix almost all types of plastic materials with them. Some of the plastic welders are even capable of fixing metal items.
Which one is stronger between plastic welding and glue?
While strong glue can provide you a solid bond, plastic welding creates a stronger one that lasts for a long time. Also, using glue is messy, and it takes a long time to dry up. On the other hand, plastic welding creates an instant bond and doesn't take much time to get hard.
What wattage should I go for while buying a plastic welder?
If you're a professional, you have to buy the most powerful plastic welder within your price range. Just don't get anything below 200W for professional welding. For DIY works, anything from 80W to 200W would suffice.
At what temperature should I set my welder to for plastic welding?
It would be best if you did some research on the materials of the item you're repairing. Different plastic materials have different melting temperatures.
For example, polypropylene can be welded at 575°F, polyethylene can be welded at 550°F, and PVC can be welded at 525°F.
Final Verdict
Plastic welders are excellent devices for repairing stuff with ease. As they're available in a wide range of features, you have the option to choose the best plastic welder depending on your need.
If you're looking for a powerful plastic welder, you can try Weldy, Steinel, or Votoer. The ProHeat from Master Appliance is the best option for versatile uses. If you're on a budget, you can try RanFlo Poly Welder or Hobie KC Welder Pro.
Bondic LED UV is the perfect option for getting instant bonds. And the Astro 7600 is another option for instant bond, but for heavier welding works.
Lastly, the plastic welder you choose should meet all your requirements and last for a long time. So, consider all the factors and choose wisely.
Happy welding!