If you have enough experience in welding, you must know the hazards occurring during the process. You must equip yourself with the necessary gears, among which a welding lens is one. A perfect welding lens will shield you from health and eye problems that you can potentially suffer from due to welding.
Using the wrong and low-quality welding lens may save you some money in the short term. But in the long run, it will not only affect your health but also lower the quality of your work.
Then how will you know which one is the best passive welding lens? Each of their shades, purposes, prices differ from one another. So, I will introduce some of the best of them to you today.
Later, when you visit online or offline shops searching for a lens, the reviews will help you assess the products and find the best among them.
So, let's get down to it!
7 Best Passive Welding Lens Reviews
1. Forney 57061 Lens Replacement Gold Welding Filter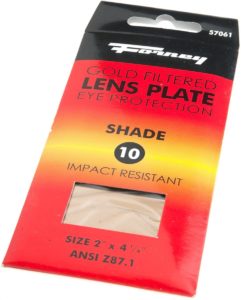 If you are a lover of puddle color and true flame arcs, Forney has it there for you. At the same time, if you need a lens to serve you during prolonged periods, this gold filter will surprise you with its performance. That is precisely what makes it the best passive welding lens.
It will reflect 90% of the radiated heat. So, the operation will become much comfortable for you, minimizing eye fatigue. The product weighs no more than 1.41 ounces and features a shade 10. You will have to follow tig-welding as its installation method.
The filter lens is gold-coated, made of durable glass. It will last you really long. The size is 4.25 inches x 2 inches. It will provide you 99.9% protection from UV and IR radiation, not to mention impact, weld spatter, or dust. Plus, it maintains all the safety standards of ANSI Z87.1.
There is a three-month warranty available with the Forney Replacement Gold Welding Filter if you find any defect in the manufacturing. And the price is impressively affordable.
Pros
Quality construction at a reasonable price
Complete protection from radiation
Dust- and impact-resistant
Reduction of eye fatigue
Suitable for long periods
Three-month warranty
Cons
The shade should have been more developed.
2. 3M 56317-case Speedglas Welding Lens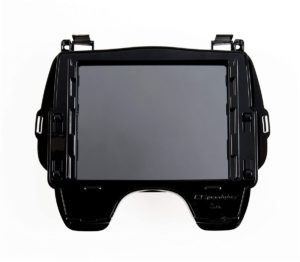 If you do tack welds or weld in wet conditions, I am afraid the 3M will not suit you well. But if your work requires you to weld continuously for a long time, I am confident you would want to check it out.
This full passive lens is ideal for a large viewing area extending to 2.8 inches x 4.2 inches. The shade of the lens is a 10. However, unless its packaging mentions it, you are to use it only at your workplace. Do not use it at home, schools, or anywhere not suggested by the manufacturer. Besides, it weighs more than 8 ounces. That might be a matter of concern for some users.
The lens is high-priced. But if you consider that it comes with additional equipment like replacement parts, it seems alright.
Pros
Capable of performing for long hours
Large viewing area
Inclusion of extra accessories
Universal fit
A fine shade 10
3. TW Supply Welding Hood Lens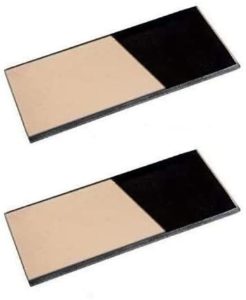 The TW lenses resemble the Forney 57061 shade a lot, but they have differences. The first ones' material is glass, and the latter, plastic. You can use them with any goggles and helmets that adjust with the size. The glass-made lenses weigh 2.39 ounces.
They are the best for stick and tig welding. It will amaze you how clear their visibility is. With zero tints of blue, green, or orange, it will be as natural as it gets.
How long can you work wearing the lens? All-day! Without seeing any spot! And the cost is considerably lower compared to the others in the market with the same quality.
The shades work well for Pipeliners. Since it is glass construction, it is more convenient to clean them. And the gold-plated glass will prevent heat, sustaining the lenses to last longer. So, if you think you are more comfortable with glass and would like to buy more than one lens at a winning bid, I suggest you take a look at this pair.
Pros
Two shades as a package
Usable with any helmet
Perfect for tig and stick welding
High visibility
Workable for long periods
Easy maintenance
Cons
One of them is too flashy for a shade 10.
4. 3M 9000 Speedglas Welding Lens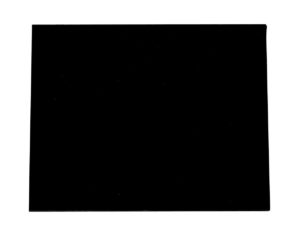 The shade-10 Speedglas lens comes from a reputed brand named Philips. The company makes the most reliable welding accessories. The gold coating of this lens works prominently and provides noticeable results. Along with that, there is visibility. You will know you have got yourself the best passive welding lens when you see how clear a view Speedglas offers you.
It has a shade of 13. That means it would be fitting if you do stick and TIG welding. It is a replacement lens and will come with additional components.
The product weighs more than 7 ounces. So, before you make your mind up about it, think if it is too much for you or not. And the price is not "not affordable," especially if you consider its gold plate quality and viewing visibility. But as a replacement lens, I felt that it could charge a little lower.
Pros
Suitable for stick and TIG welding
Smooth and no scratches
Tremendously clear view
Replacement parts included
A flawless 13 shade
Cons
Presence of a slightly blue tint
5. Forney 57053 Replacement Lens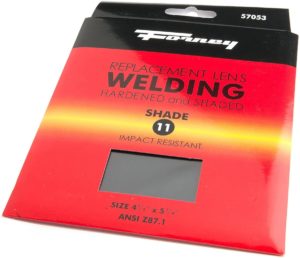 Another Forney product makes it to my list because the brand always succeeds in producing quality welding accessories. This lens has a 5.25" x 4.5" dimension, and it will fit every helmet that accepts it. If you have any helmets from Forney with the size of 55684, 55686, 55669, or 55672, then get this lens without thinking twice to get a combined flawless performance.
There are some differences between the first Forney lens and this one in terms of dimensions, shade level, material, and quality. This one is made of hardened glass, and it has an 11 shade. So, it is darker and more lasting. If your work (particularly flux-core MIG welding) needs a notch of more darkness, this can be your one. But check if your helmet fits the lens aptly before purchasing it.
All Forney lenses offer complete protection from radiation and complete prevention from dust and weld spatters. The 57053 one is no exception. And just like the other products, it also comes in a budget-friendly range and a 90-day warranty period.
Pros
Hardened glass materials
Best results for flux-core MIG welding
Usable with different Forney helmets and others with compatibility
Full protection from radiation
Dust- and spatter-resistant
Cons
It may not be the best one for beginners since its glass construction needs careful handling.
6. Save Phace 3010233 EFP Passive Lens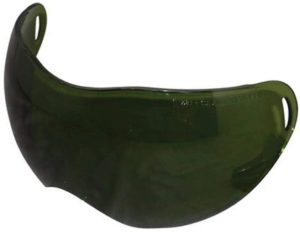 One of the common complaints about lenses from their users is that they fog up during work. And that is a terrible annoyance, yes. I am here to tell you to forget all of that and put your faith in the Save Phace Passive Lens because it will not fog up.
Why is that? Because along with its UV and anti-scratch coating, the brand refined with anti-fog coating too!
When you use it for a windshield for fishing, it will keep the rain off your face. It can also become cold to adjust to the temperature in the water. It is the best passive welding lens with a lower shade number to work underwater for hobbyists.
The lens weighs 4 ounces and fits snap-on helmets just fine. And by the way, if you are curious about its standards, it is ANSI compliant and has approvals from ASTM and CE.
Pros
Anti-fog, anti-scratch, UV-coated
Compatible with snap-on helmets
Compliance with high safety standards
Overall satisfactory performance
Value for money
Cons
It may not fit some of the Save Phace helmets.
7. ArcOne 03IP-1 (SSIP-1) Passive Shade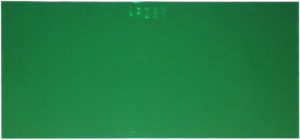 The ArcOne 031P-1, a plastic-made passive welding lens, used to be ArcOne SSIP-1 previously. Although they weigh less than glass-made lenses, they are less scratch-resistant. This shade 1 makes the best passive welding lens for professionals and other users looking to bring changes and make updates to their current welding equipment.
If you decide to buy it, remember that you must not use it as some stand-alone filter. You can use it to cut and braze or update your current auto-darkening lens.
The lens is two inches high and four inches wide. You can install it into any welding helmet with compatibility for this size. Besides, the lens will be there with an included passive shade one upgrade for 4"x2" helmets.
It is almost weightless. You won't feel the 0.81 ounces when you have it on. And about the price? Let's just say you won't leave the shop or its website without ordering it after seeing the deal.
Pros
Very lightweight and economical
Usable with any helmet compatible with the lens size
Upgrade for auto-darkening lenses
Suitable for professionals
Applicable for cutting and brazing
Cons
Not suited to be used as a stand-alone lens
How To Buy The Best Passive Welding Lens?
A relief about buying a passive welding lens is that you do not need to think much before proceeding with the purchase. Nonetheless, we should not leave some things at the chance. Arc eyes can be very painful, which you can catch by using the wrong lens.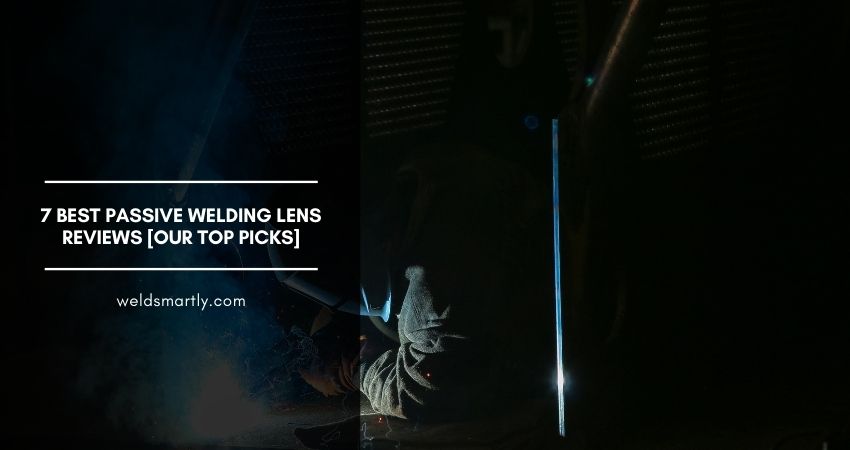 You can follow the following steps while making the buying decision to avoid that.
The Welding Type
The welding types make various arcs because of different brightness levels. So, take your time to think about what utility of a lens you need the most. Apart from that, amperage is also pivotal in determining the darkness of your lens.
Here are some hints to help you out. MIG welding will require you to use a lens with a shade of 10, 11, 12, or 13. If it is TIG welding, the lens will be an eight below 50A, a ten if the amp ranges from 50A to 150A. If it is higher, you should go with a 12. Choose one from 7 to 11 in the case of arc welding, based on the type of operation.
The Lens Size
The lens size will come down to your choices and preferences. Some welders like larger ones, while others look for smaller ones to view narrow areas. My recommendation would be to try some lenses of different sizes to understand which one serves you best.
If you already have one welding helmet but do not know what lens size it will accommodate, you can take the lens out to measure it. Then you can select a lens as per your welding helmet's compatibility.
Comfort
Do not underestimate the necessity of optimal comfort. You should always use a lens that feels easy when you wear it. You can test different lenses to examine their comfortability.
Another point to remember is the weight of the lens. If it is not lightweight, it will give you nose and neck stress sooner than you could guess.
Coats And Tints
Passive welding lenses often have different color tints. They may also have gold plating. As for the lens size, it is up to you, too. You can try some lenses before purchasing one. If you don't, you will not know if the green tint disturbs you. Whatever lens it is, you should ensure that you can use it for extended periods.
The Lens Cover
Manufacturing companies cover their lenses to protect them. A cover lowers the vulnerability of a lens to damages. That said, you have to see to it that the lens cover is thick and sturdy enough to handle collisions.
Frequently Asked Questions
Since there is always a chance I might not have covered all the areas, I picked some of the most asked questions and answered them to back that up.
What is the perfect shade for doing MIG welding?
The general recommendation is that you go with any shade between 10 and 13. Forney 57053 would be a good option. It will help you prevent eye burns. The higher you go, the darker shade you will get.
What is a welding lens?
Lenses protect your eyes from sparks, flying debris, and sparks. A welding lens, fitting into a welding helmet's opening, acts as its window. It is a substantial gear to save your face and eyes.
How many shades are available for passive welding lenses?
From nine to fourteen, all shades are available for passive welding lenses. Manufacturers usually release a set of passive shades where one lens is there for each level of shades. You might find lower ranges, but in rare cases.
Is a passive welding lens essential for cutting plasma?
Well, you would need a welding lens to cut plasma anyway. Using a passive one will offer you shades from 9 to 14. But in most cases, you will not need that high darkening for the process. So, while I would not use the word essential, I think you might need it if your work requires it, depending on its amp.
What advantage will I get if I use a passive welding lens instead of an auto-darkening lens?
In that case, you will get a clearer view. Passive lenses give you a broader and more transparent view than auto-darkening ones. In addition, they are less costly. Another plus point is that using a passive lens will relieve you from the concern of its reaction time.
What is the use of the highest number of shades in welding?
The highest number is 14, and it is apt for tolerating sunlight at work and carbon arc welding.
Can I weld with a shade 5?
You can if the work is light. However, you should not use it if the work includes arcs like TIG or MIG. It will not be sufficiently dark to protect your eyes and block the arc's bright light.
How long does a welding lens last?
Depending on how much you use your lens, the lifespan will vary from 7 to 10 years. You should replace it within this time.
Why are the lenses green?
You will see a pinch of green tint in everything you see through a welding lens. It can either be infrared or ultraviolet. While the lens will keep you safe from them, it also has to let the greenish light pass through to help you see.
Will my eyes face any consequences resulting from welding?
They might if you do not maintain the recommendations regarding eye protection.
Can a welding arc be brighter than sunlight?
Never. It may be extremely bright when you get close to the arc, but in no way can it compete with the sun's brightness level.
Which factor should I bet first on my decision?
It is the viewing size. If you buy a lens with an opening too small to let you see suitably, it will ruin the entire reason for using the lens.
How do I clean my passive welding lens?
You can clean your passive welding lens like how you clean anything. Use some soft cloth to remove the lens's dust. Do not use something rough because that may scratch the lens surface, causing harmful rays to pass through and eventually cause eye damage.
Additional Read: Best Gold Welding Lens
Final Words
So, you have read the reviews, their pros and cons, the buying guide, and the answers to the most frequently asked questions. To help you gather your thoughts for one last time, I will summarize what I think about the products from different aspects.
In terms of durability, I like the Forney 57061 and Save Phace lenses the most. Their material is first-rate, and their weight is very manageable.
If you want to start with low-priced ones with satisfying quality, you can try Forney 57053 or ArcOne 03IP-1. Some of you might specialize in TIG welding. If that is so, TW Supply and 3M have the best lenses ready for you.
But before finalizing one product, go through the buying guide again and check if you have picked the appropriate one that suits your work, helmet, comfort level, and other criteria.
That's all. You can still knock me for further queries.
Happy Shopping!