One of the things to be concerned about for welders is their eye protection. Being one of the safety priorities, it will reduce your eye fatigue. Gold-coated lenses are tremendously helpful in this regard. Protecting your eyes from radiation and visible light, they keep your eyes safe and healthy.
Then again, who wants to put effort into researching which one is the best gold welding lens? I know! So I did that for you. I dug into lots of gold-coated lenses, found the best bunch from them, and decided to review their performance.
Other than their reviews, you will also find a buying guide, answers to frequent queries, and a final verdict summarizing the best products. Hopefully, they will contribute to your purchase decision.
7 Best Gold Welding Lens Reviews
1. TW Supply Welding Hood Lens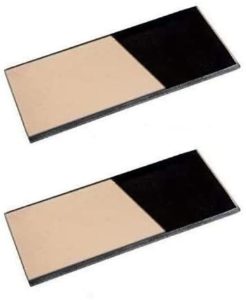 Some welders prefer glass-made welding lenses. If you are one of them, check out the lens from TW Supply. It is usable with any helmets and goggles complying with its size. They weigh less than 2.50 ounces.
They generate the best outcome for tig welding and stick welding purposes. You will love their visibility. It is natural with no hints of orange, green, or blue.
How long do you think you will be able to work with the lens on? How does all-day sound? That too, without ever noticing a single spot! In addition, when compared to similar products on the market, the price is significantly lower.
For Pipeliners, the shades perform really well. It is easier to clean them because they are glass. Furthermore, the gold-coated glass will keep the lenses cool, allowing them to last longer. So, if you prefer glass and want to acquire more than one lens at a winning bid, I recommend looking at this combination.
On the ending note, you can get the lens in shades no. 10 and 11. I mean, if you love the features, but your work requires darker shades, you can get either of the mentioned two. You can utilize them for stick, TIG, and argon MIG welding.
Reasons to get
Two shades in one package
Usable with goggles and helmets accepting the size
High visibility and capable of working for hours without giving headaches or eyestrains
Easy maintenance
Best for stick and tig welding
Reasons to avoid
One lens is too bright as a shade 10.
2. Forney 57061 Lens Replacement Gold Welding Filter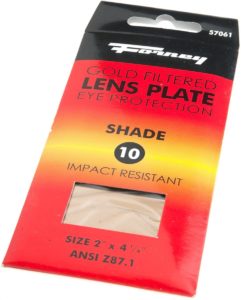 For those enjoying flame arcs and puddle color, Forney has you covered. Besides, if you require a lens that will serve you for an extended amount of time, this Forney gold filter will impress you a lot with its capabilities. That is what distinguishes it as the best gold welding lens.
It will absorb 90% of radiation. As a result, the procedure will be considerably more comfortable for you, reducing eye fatigue. The item is 1.41 ounces in weight and comes in shade 10. You must use tig-welding to install it.
If you ever uncover a manufacturing issue with the Forney Gold Welding Lens, it comes with a ninety-day warranty. And it is all for a very reasonable price.
The gold-coated filter lens is composed of strong glass, assuring you of its durability. The dimensions are 4.25 x 2 inches. It will protect you from UV, IR, impact, dust, weld spatter to the point of 99.9%. It also meets all of ANSI Z87.1's safety requirements.
Reasons to get
Quality build at a budget-friendly range
Protection from dust, impact, radiation, etc.
Comfortable for the eyes
Suitable for extended periods
90-day warranty available for any manufacturing issue
Fulfillment of safety standards
Reasons to avoid
The shade has room for improvement.
3. US Forge Gold Welding Lens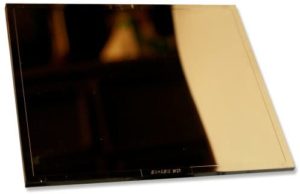 If you're searching for a broad, high-quality replacement lens at a fair price, the US Forge is an excellent choice. It has compatibility with a wide range of welding goggles with 4.5 x 4.25-inch lenses.
The gold coating absorbs heat, keeping the surface cooler. It filters yellow light and transmits the welding arc's blue light. And the shielding your eyes from radiation is also there. Of course, the lens improves the user's capacity to discern the puddle.
The hardened glass construction, in particular, makes it exceptionally durable. Although this item features a shade 10, the same design is generally available in shades 11 and 9.
The warranty period extends to the first three months. And the weight is less than half an ounce, meaning you will not feel it when you wear it!
Reasons to get
Remarkable performance and durability
Availability in different shades
Quality materials and visibility
Heat absorption and cooler surface
Almost weightless
Reasons to avoid
The packaging should have been better.
4. Phillips Gold-Coated Green Welding Filter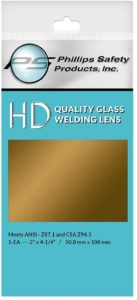 This gold welding lens is a superior quality product with HD-quality German Schott glass to enhance the lens's sturdiness. There are no bubbles, striations, color variations, etc., usually found in typical welding glasses.
The view of the shade 11 lens is topnotch. The gold-coated surface will provide you with excellent visibility in the puddles.
More notably, it resists heat and safeguards the user against every type of radiation. It will not give you eyestrain. Instead, it will comfort you while you are at work.
The green lens has a dimension of 2" x 4.25" and a weight of 2.4 ounces. It will fit every helmet of standard size. If you previously used plastic lenses and are now switching to gold ones, this one will feel heavy.
The price is not out of your reach. Let's just say it requires you to loosen your purse strings a little.
Reasons to get
Mirror coating for heat resistance
Sturdy build with high visibility
Flawless performance with an amazing shade 11
Reasons to avoid
Not the most budget-friendly price range
5. House Gold Welding Hood Lens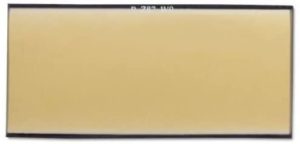 If you have two or more helmets and want to use a single lens for all of them, give House Gold Welding Hood Lens a shot. It has a standard size of 2" x 4.25". The manufacturing company used tempered glass for the product, which is heavy but very tough.
The lens is available with a 12 shade. You can use it suitably for high amp welding activities. If your work requires another shade number, look for this model coming with shades from 8 to 13.
Compared to its performance, the price is acceptable. But some welders found damaged lenses in their delivered packages. If yours is the same, you can contact the company and ask for a replacement or refund.
Reasons to get
Capable of working with different helmets
Available in the same model with various shade numbers
Resilient materials, sturdy performance
Replacement or refund opportunities
Highly affordable
6. Weldflame Gold-Coated Glass Filter Lens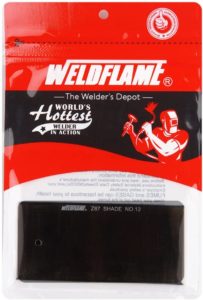 Weldflame refined its gold-coated glass lens to accompany you during the extended periods to see puddle color and flame arc.
The coating will reflect at least 90% of the radiation, making your operation cooler and your eyes less stressed. Besides, you will get strong protection from IR and UV because the product meets all the ANSI standards.
1.38 ounces is the weight of the lens, and currently, there is no warranty with it.
Reasons to get
12 hours of continuous operation with no problems
Compliance with safety standards
Protection from harmful radiation
Less stress on the eyes
Reasons to avoid
Vulnerability to scratches
7. Getway Safety Gold-Coated Welding Lens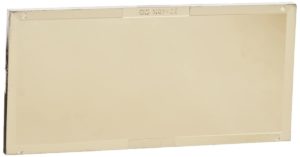 People who want more assurance about safety compliance will get satisfied with the Gateway Safety Gold-Coated Welding Lens. Like its name, it abides by all the regulations of ANSI and CSA both.
It will provide you with high heat deflection, causing better vision. The shade you will get with this is an 11.
The weight and the material of the lens are 1.76 ounces and polycarbonate. And about the clarity, you will love it when you see what you have got within such an economical budget!
Reasons to get
Absolutely safe and secured
Exceptionally high heat deflection
Remarkable clarity of vision
Cost-efficient and durable construction
Reasons to avoid
Tendency to get scratched
How To Buy The Best Gold Welding Lens?
A vital reason many welders end up buying the wrong welding lens is their lack of sufficient knowledge regarding what to look for while buying the best old welding lens. Although they are not rocket science, they make a considerable impact on your buying decisions.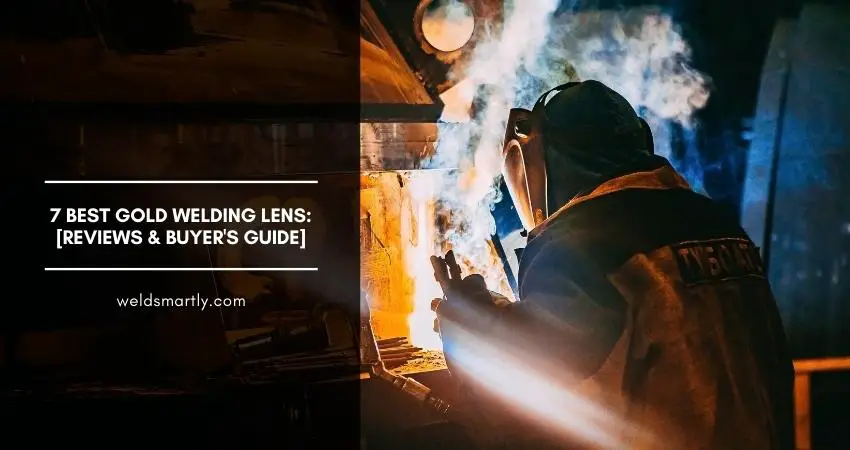 So here are the most important ones described for you.
The Type Of Work
The first thing to do is to consider the type of your work. Decide if you need it for stick, MIG, or TIG welding. You know that different welding types generate different arcs varying in brightness and wavelength. So the which gold lens you need depends heavily on your work type.
Weight
Do not forget to think about the lens weight. It might seem negligible, but it is not. The slightest difference among the models can make a notable change.
A heavy lens will cause neck strain when you keep using it for long periods. So, it is wise to consider the working hours when you have to put it on and decide on the weight.
Selecting The Shade Number
There are seven different shades for gold welding lenses, from 8 to 14. The higher you go, the darker it will get.
The shades vary with welding applications. Some require lighter or darker shades based on precision and safety levels. Choosing the appropriate shade number will keep your eyes from getting burned by welding flash.
For example, MIG welding works with either of the four shades from ten to thirteen. But if you do stick or TIG welding, you can notch it down to nine. Doing MIG welding with a shade nine will not give you the desired output, making your eyes pay the price as well.
Lens Cover
Lens cover helps you keep the lens protected from damage. Look for a lens that comes with a resilient cover to prevent collisions.
Frequently Asked Questions
There is a bright chance that the reviews left you with some questions while giving you loads of information. So I tried to bring the most asked ones here and answer them.
Which is the perfect size for a gold welding lens?
There is no rule of thumb for the perfect size of a gold welding lens. It depends on your helmet size. If you have a helmet, see its size before purchasing the lens. If you buy the lens first, get a helmet that can support the lens size.
Which shade suits TIG welding the best?
Go with the lower ones. They serve better when it comes to some welding processes with a lower amp-like TIG welding.
How do I clean my gold welding lens?
Welding lenses gather dust, oil, and dirt over time if not cleaned regularly. Then they start to lose the clarity of their view. So you should do the maintenance work sincerely, and it is a simple process.
Just wipe the dust away with some dry and clean microfiber cloth. If there is still dust, you can get some damp cloth to wipe again. Remember not to use ammonia, abrasive solution, or anything mentioned by the manufacturer that can damage the lens and its gold coating.
How do I protect my lens from getting damaged?
Use a strong lens cover. Find one that can resist painting stripper, acid, and moisture.
What is the shade number range for gold welding lenses?
Gold lenses come in different shade numbers, and they are within the levels from eight to fourteen.
Is a heavy lens that bad?
That is if you use the lens with your hands. You should install it on your helmet. Then the weight would become ignorable.
Is a shade ten good for a gold-coated lens?
I would put it this way – it is not bad. The shade levels range from eight to fourteen. So ten would be the average.
Relevant Articles:
Final Verdict
Does finding the best gold welding lens seem as overwhelming as it did before you had started reading the article? I hope not! To make it even easier for you, I am summing up the review section as per my opinions.
From an overall point of view, the lens from TW Supply is the best. The bargain is good, the performance is sound, the construction is resilient, and the pros outweigh the cons by a great margin. Plus, there are other shades of the same model, if you need that.
If you are exclusively into lenses to support you during long hours, Forney is the right one for you. It also comes at a moderate price range.
And for welders seeking a replacement lens, I think the US Forge would do you justice. The quality is fantastic, there are three shades of the lens, and the weight is minimal.
So that's that. Thanks for reading, and happy purchasing!