6013 rods are a great option to begin your welding career with as it operates easily regardless of the current source.  Most beginners and amateurs start their welding careers with the E6013 rods. The material of this rod is mild steel and it is a rutile-based rod. Even though this rod can't be used for everything, it can be used for all basic welding tasks.
In this article, you will get to know about the uses of 6013 rods and I will answer all the other questions you might have in your mind regarding this welding rod. For example, why's the name 6013? Let's start with that.
What's the meaning of E6013?
6013 rods are also known as "Sheet metal rods", "Easy rods", and "Beginner's rods". You might know there are different kinds of welding rods available with different number patterns. Ever wondered why they are named like this? Well, the reason is simple. Welding rods are classified based on different characteristics and the numbers and letters indicate different characteristics.
All the SWAW electrodes certified by AWS SFA 5.1 have unique numbers. Here's what they mean:
E means Electrode for SMAW
60 indicates the tensile strength in KSI.
1 indicates the positions that you can weld. A rod with 1 can weld in all positions like flat, overhead, horizontal, and vertical.
The last digit indicates which polarity should be used. 3 means that it can be welded in AC, DCEN, and DCEP polarity.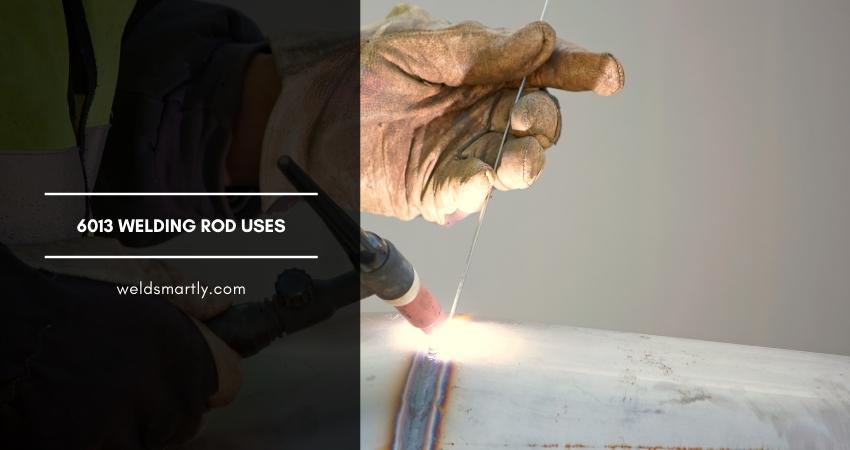 Why should you begin with 6013 welding rods
E6013 rods offer tons of features and as a beginner, you can't ask for more. Though 6013 rods were designed to repair and fix things, you can produce super clean welds, galvanize and even paint surfaces with 6013 rods. These rods are mostly seen in the fabrication and construction industries.
6013 rods are super famous to beginners as their arc striking properties are very helpful for them. Hence,  most people in the welding industry have started their journey with this rod. Beginners get the best welds while using 6013 rods without having to worry about spatter and slags.
Common uses of 6013 welding rods
To be precise, 6013 welding rods are mostly used to weld sheet metals. As these rods have higher titanic electrode coats, they perform better by providing shallow penetration while dealing with thin metal sheets.
The common applications of 6013 rods include light or medium penetration, fitting poor joints, welding thin metals, etc. You can also weld any polarity, carbon steel, mild steel, stainless steel, and low alloy using 6013 rods.
The most advantageous feature of 6013 is that it produces fewer slags and these are removable as well. So beginners can use these rods to weld worn-out sheets, shipbuilding, repair, etc. Even multi-pass welding is possible as well with these rods.
The welds you get with 6013 rods are very stable, convenient, and can adjust to exceptional positions. However, let's name some of the common applications now:
Ship repair and building
Highly damaged machines
Thin metal sheets
Light fabrication
Mild steel
Vehicle welding
Shaft buildup
Things To Know Before You Start Welding With 6013 Rods
Now that you know about the different features of 6013, don't start welding right away before knowing a few things. Sure you can weld without knowing them, but to produce the best quality welds with 6013, you must know these.
1. Setting and polarity
To get the best welds, you need to make sure you use the adequate setting and polarity. 6013 electrodes work on both AC and DC supply. This implies that it can work on both reverse and straight polarity.
The recommended range of current to work with DC components is 60-90 to 160-220. And you should follow a diameter range of 2.6mm to 5.0 mm. And the length should be 350mm to 450mm.
2. Strength
As I have mentioned earlier, you can use 6013 electrodes to weld in almost every position. However, the tensile strength varies from sixty thousand psi to a max of one hundred and twenty thousand psi.
And the yield strength varies from fifty thousand psi to one hundred and seven thousand psi. It varies depending on the material you are going to weld. Simply put, if you are going to weld thinner metal, the size of the electrode needs to be a bit thicker than the sheet. If the plate you choose to weld is 2.0 mm thick, your 6013 rods should be 2.5mm thick.
3. Necessary precautions
Apart from the aforementioned facts, there are a few things you should be careful about. Ultimately, when it comes down to welding, it's a risky business no matter which welding rod you are using. And since most beginners and amateurs use 6013 rods, it's better to take these precautions:
You need to make sure the equipment is properly earthed. To make sure of that, double the earthing power. You should also be careful about not leaving your welding machine unattended at any given moment, especially if the current supply is on.
The power terminal box of your machine should always be kept in a safe place. Never make the mistake of taking it out of the designated cover. Same goes for the electrode holder.
Ensure to redry the 6013 rods at 80° C for at least an hour before you start using them.
Don't forget to select the appropriate polarity setting according to the electrode grade. For the 6013 electrodes, you need to use DC (-)
You should use a long cable and keep the power source at a safe distance.
Will E6013 be the right choice for you?
Though you can use 6012 rods for a variety of purposes, it obviously won't deliver you the best results in every case. You will have to clean up heavy slags if you use these rods to weld thick metals. The welding won't be that strong in the case of thick metals as these rods can't penetrate very deep.
If you think you have nothing to worry about and your main concern is to weld thin metal sheets, you can choose 6013 rods.
Frequently asked questions
What is the difference between a 6013 and 6011 welding rod?
The 6013 electrodes are used for light to medium penetration while dealing with thin metal. On the other hand, 6011 rods are used to weld thicker metals.
Are 6013 rods any good?
Undoubtedly 6013 rods are amazing for beginners. But if we talk about welding any type of metal, 6013 rods might leave a huge amount of slags if you are welding thick metals. And this is obviously not a good sign.
Can 6013 be used to weld stainless steel?
You can use 6013 to weld stainless steel but obviously, you won't get the best result.
Is 6013 easy to weld?
6013 electrodes are super easy to use in fact most beginners start their welding career using this rod.
Can I weld aluminum with 6013?
It won't be a good idea to weld aluminum with 6013 since it might ruin the quality of the aluminum you are going to weld.
Conclusion
There are so many varieties of electrodes available and they all have different applications and properties. Hopefully, you have learned about the 6013 welding rod uses after reading this article. And don't forget to take the necessary precautions that we have mentioned before you start welding. Happy Welding!