For any beginner in the welding industry, the whole career is about learning & implementing the project. However, people don't know much about welding rods until they're an expert, which is a shame. For example, most people believe that 6010 and 6011 are the same rods, but there is a difference between them.
Both of these rods can do deep penetration, are excellent for working on rusty plus dirty metals, and weld from different positions. Nevertheless, the most crucial difference between these two rods is polarity.
In this article, I will share with you the details. And let's see what the 6010 vs 6011 welding rods look like!
6010 vs 6011 welding rod : Let's check out the difference
If you don't want to screw up your project yonce you start welding, you should be acquainted with both 6010 and 6011 electrodes.
Without a question, knowing the specifics will increase your productivity. So, in the next, we'll check the difference between these two welding rods…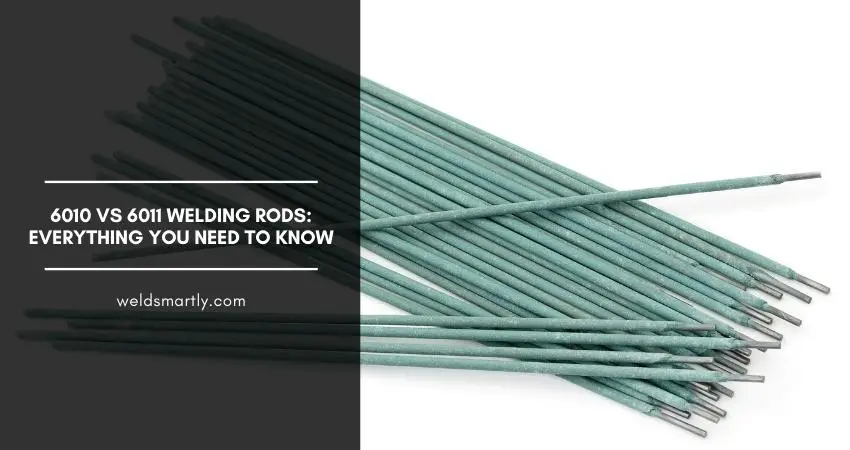 6010 Welding Rod
In the below part, I will briefly explain to you the characteristics like the built in material, welding position, strength of the 6010 welding rod etc.
Composition and penetration level
Due to the high cellulose sodium compound, the 6010 rod can perform deep penetration and spray arc, etc. Moreover, the high penetration attribute makes it the right pick for welding on dirty surfaces and rusty metals.
Storage system
When it comes to storing the 6010 welding rods you don't have to keep them inside the oven under high temperatures. As long as the welding rod is not getting wet, you can store them under normal room temperature.
Polarity
In terms of polarity, the 6010 welding rod is suitable for use with DC. You will find the arc smoother compare to the 6011 welding rod. Make sure you do not connect this rod to an AC-powered welding machine.
Welding position and suitable industry
You can use the 6010 welding rod for welding in different positions like horizontal, overhead welding, and vertical. These rods are highly suitable for welding projects like construction sites, shipyards, steel castings, pipe welding, car repairing, etc.
Tensile strength & slag
The 6010 weld has the same tensile strength as the 6011 welding rod, which is 60,000 psi. Additionally, this electrode does not produce a lot of slag, which makes cleaning after welding quite simple.
Appropriate metal
You can't use the 6010 for thin sheet metal welding because of the high amperage. In contrast, if the welder is working on mild steel, this specific stick electrode might be suitable.
Arc characteristics
It burns quickly, which makes it ideal for welding metal joints at tight angles and downhill passes. Unfortunately, beginner welders will find it extremely hard to control the 6010 during welding.
6011 Welding Rod
The following will give you an overview of 6011 welding rods and help you see the fundamental differences between 6010 and 6011.
Storage system
A significant number of welding rods easily become unusable if they get in contact with moisture of the air & you have to store them at 250 degrees temperature. Moreover, this amazing rod can provide a very strong and durable weld.
But the 6011 welding rod is awesome & you can keep and store it at the normal room temperature without any problem. Despite this, it won't work if it comes into contact with water.
Polarity
The 6011 welding rods are pretty flexible when it comes to polarity. You can use it for both AC and DC which is great!
Penetration level and suitable industry
With its smooth arc and deep penetration, it is excellent for welding tasks such as farm equipment making, ship building, car repairs, and pipe welding. Another good point about this rod does not leave much slag after welding is complete.
Due to the flux material, you can do welding with 6011 rod on rusty metal, oily metal, & contaminated metal surfaces. You can also use this rod to fill gaps on any metal.
Welding position
Thankfully, you can use the rod from any angle without any issue. One downside though, the 6011 produces rough beads after welding, so if you are looking for a good-looking bead this is not the right option for you.
Arc characteristics and appropriate metal
Newbies in the welding industry will find it hard to control the 6011 rods. You must keep in mind that these rods are not appropriate for welding substances like stainless steel, carbon steel, and other types of non-ferrous metal surfaces.
In addition to that, they don't make a very good choice for welding thinner sheets. Because 6011 has low heat dissipation.
For your convenience, I am adding a table where you can see the difference & similarities of the 6010 & 6011 rods at a glance.
6010 vs 6011: Quick Comparison And Differences
| | | |
| --- | --- | --- |
|   | 6010 Welding Rod | 6011 Welding Rod |
| Tensile strength | 60,000 psi | 60,000 psi |
| Welding position | Suitable for all positions | Suitable for all positions |
| Flux material | Cellulose sodium | Cellulose potassium |
| Penetration level | Deep | Deep |
| Polarity | AC, DC+, DC – | DC+ |
| Material | Mild steel | Mild steel |
| Arc pattern | Very strong | Very strong |
Let's learn about these welding rods' numbers
Let me explain the number of this rod to you first. Please let me explain to you how this rod is numbered. These numbers indicate the specific characteristics of the welding rod.
You can get an idea of the tensile strength of the welding rod by looking at the first 2 digits. A 6011 welding rod, for example, has the first digit "60," which means that it will have the same strength as a 6010 welding rod, which is 60,000 pounds.
So, when it comes to a 6011 welding rod you can see the first digit is ''60'' which means the weld will generally have the capacity of 60,000 pounds which is the same as the 6010 welding rod.
The 3rd digit of the welding rod gives you an idea about the welding position you can use during the weld. In the case of both 6011 & 6010 rods, the 3rd digit is ''1'' which means you can do both horizontal plus vertical welding using these rods.
And from the last 2 digits of the welding electrode, you get to know what kind of flux materials are present. Which has similarities among the 6010 & 6011 but with a slight difference.
Important Welding Tips
If you don't want to burn through your base metal, make sure your arc blow is speedy. This method is applicable for both 6011 & 6010 welding rods.
Never use the 6011 welding rods to a welding machine that runs on AC current. If you are a beginner you should avoid using this electrode for welding tasks.
Final Verdict
Both stick welding rods will perform well during the welding process if you use them properly.
I have outlined the features of both electrodes in this article. In my opinion, when it comes to 6010 vs 6011 welding rods, the 6011 is a bit better because you can use it on both AC or DC running welding machines.