An auto-darkening welding helmet is an essential piece of equipment having a very particular purpose – protecting the eyes while the arc is on and allowing you to see the puddle as well as the weld in progress. Knowing about the safety features alone should be enough for one to choose a good helmet.
However, with helmets like Lincoln 3350 and Miller Digital Elite, the debate is always on because both products stay above the line of what we call average in terms of performance and price. Today, I'm going to share my understanding and information about these helmets, so you don't fail to choose the better one.
Lincoln Viking 3350 Vs Miller Digital Elite: Quick Comparison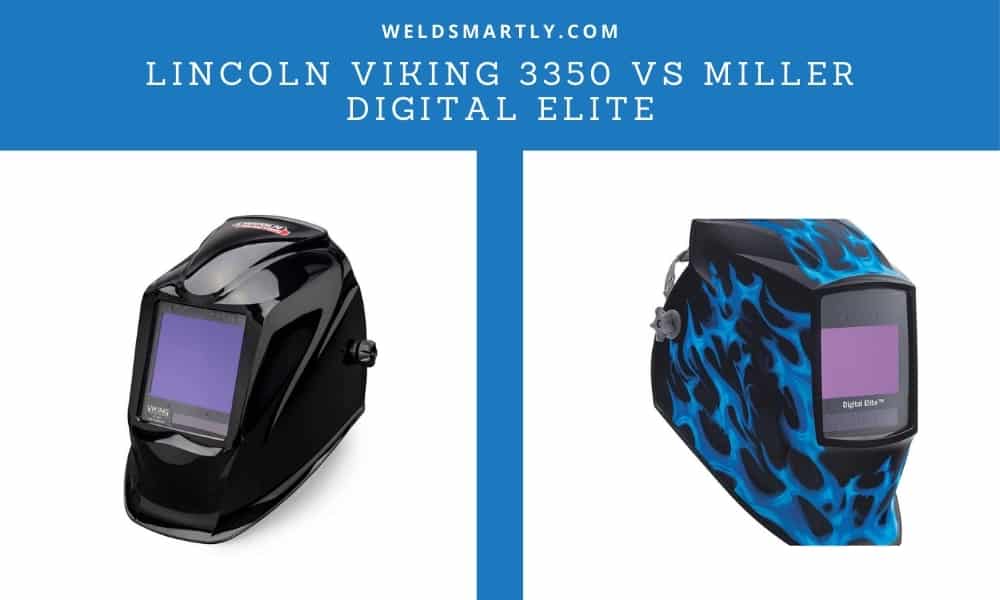 Before putting a detailed, comparative discussion, I think you could use the following table, especially if you are like those who are already aware of the fundamentals.
| | | |
| --- | --- | --- |
| Features and Specs | Lincoln Viking 3350 | Miller Digital Elite |
| Number of Sensors | 4 | 4 |
| Number of Variable Shade | #5 – #13 (Internal) | #5 – #13 |
| Grind Mode | Yes | Yes |
| Switch Speed (Second) | 1/25,000 | 1/20,000 |
| Delay Control | Yes (0.1-1.0) | N/A |
| TIG Rating | > 2 Amps | ≤ 5 Amps |
| Sensitivity Control | Yes (Continuous) | Yes (Continuous) |
| Viewing Area | 12.5 sq. in. | 9.22 sq. in./ 59.48 sq. cm |
| Weight | 21 oz./ 595 g | 18 oz./ 510 g |
| Warranty | 3 Years | 3 Years |
Since a welding helmet is all about your convenience and safety while on the job, some explanations won't hurt. Let's get at it.
Lincoln Viking 3350 Review

Product Features
This refurbished product is tested and certified to look and work like new. The refurbishing process includes functionality testing, basic cleaning, inspection, and repackaging. The product ships with all relevant accessories, and may arrive in a generic box
As an Amazon Associate I earn from qualifying purchases
Viking 3350 is supposed to suit welders' needs during TIG and MIG (regular and pulsed), stick, and Flux-Cored welding. Other applications include grinding and gouging. Despite being much like Digital Elite, the Viking helmet is considerably different regarding its specs.
Lens and Shade
Lincoln's patented "4C" lens technology may read like something beyond the usual, but it is NOT. Does it mean "True Color"? Based on my findings, the lens comes with a broad range of colors and hues to make it easy for the user to see clearly in both dark and light states.
I am not entirely sure if the lens technology is good enough to help one differentiate between orange and red on every occasion. However, you cannot dismiss Lincoln's claim that color saturation and imperfections cannot stand in one's way to get a clear view of 12.5 sq. in. where the arc, base material, and puddle might be lying.
But then again, there is a catch to the so-called "perfect 1/1/1/1 optical clarity". The rating could be well-founded with regards to blurriness, shade consistency, and distortion, if not for angle uniformity, one critical challenge you might encounter while dealing with an arc.
Read More: 2X4 Auto Darkening Welding Lens
Control, Mode, and Sensor
Located on the helmet's left side is an industrial-grade switch button that is connected to the lens. All you need is a press and 3 seconds of delay to switch from the weld to the grind mode and vice versa. Don't worry about accidental activation because the switch is designed to prevent that for you.
The helmet has four arc sensors and nine shades (#5 to #13) along with a grind mode (#3.5). The delay control feature complements the product's usability as you can choose from 0.1 to 1 second. The continuous sensitivity control becomes handy when you have other people working close to your spot.
Color And Design
Lincoln Viking 3350 series have an amazing product line up. Some of the coolest looking welding helmets you can get without worrying much about the quality. Lets take a quick look –
Switch Speed
According to the operator manual, the switching speed of the lens is 1/25,000. No doubt, this is almost the fastest of all, but I've found mixed opinions of its actual action time. Some users think the speed is 'all show and no go' while many believe the speed is 1/20,000 on most occasions, and that is okay.
Comfort
They say the headgear has a 'form-fitting' style to it. I would prefer calling it a helmet with a pin for orientation adjustment and hence an appropriate resting position. While the head supports could be associated with optimal distribution of balance and weight, the helmet feels a little heavier than the Digital Elite model.
The front headband is rotatable, and the rear headband comes positioned strategically to offer good support. The backpad is flexible enough to get you rid of the obvious pressure point while working on a day-long project.
Source of Power
Inside the helmet is a CR2450 solar cell battery which means you're going to see an extended life, thanks to its chemical stability. Oh, the battery is replaceable.
What Is Included?
The package includes a helmet bag, two inside and five outside cover lenses, and one battery. A sticker sheet is also available for those who love to work on the aesthetics. The bandana may not seem to add much to it, but you'll still love to have one as it offers some protection to your head top against sparks.
>>> Check the latest price here <<<
Miller Digital Elite Review

As an Amazon Associate I earn from qualifying purchases
Being one of the leaders in the industry, Miller's helmets including this one meet the recommended standards such as ANSI Z87.1+ and "CSA (Cat®– CE, AS NZ)". I guess this compliance doesn't exactly reveal everything. Keep reading for the information that you need to know before actually paying for this helmet.
Lens and Shade
What is the use of having a variable shade lens if it doesn't allow for enhanced functionality and improve your welding productivity? Well, this helmet comes with separate shades for two different types of applications such as,
Cut: Shade #5 to Shade #8 (Labelled as Cat® #5 to #9)
Weld: Shade #8 to #13 (Labelled as Cat® #9 to #13)
It means you can choose your shade preferences considering the very method (TIG, MIG, or Flux-Cored) you're adopting. Make sure you choose either shade #10 or #12 while TIG welding. You'll get a viewing area of 59.48 sq. cm or 9.22 sq. in.
Control, Mode, and Sensor
The digital control panel allows the welder to adjust the variable shades, delay control, and brightness or sensitivity. You'll see an automatic power control (on/off) that triggers the lens as an arc is struck.
The helmet includes four separate arc sensors which technically gives you four different modes to use. Besides the typical 'weld' and 'cut' mode, the grind mode and the X-Mode are definitely indicative of a modern auto-darkening helmet.
If you have anything to know about the grind mode, I have a complete article on this mode. The X-Mode offers an interesting support by keeping the lens functional facing bright sunlight as it prevents even the smallest amount of light from darkening your lens prior to starting the operation.
This mode can also detect the arc continuously, no matter if the sensors got already blocked by anything. All these benefits make the X-mode kind of desirable rather than optional.
Switch Speed
Apart from the smart controls and other technological advancements of this product, its switch speed (1/20,000 sec.) easily outperforms most of its competitors. You don't want to have eye fatigue just because your helmet doesn't move fast enough between the light and the dark mode. Faster switching is possible, but 1/20,000 sec. should be ideal for day-to-day applications.
Comfort
The X6 headgear mounted on the helmet features a bunch of settings to let the user adjust the fit as required. There is a pivoting top that adds to your comfort. I think its weight (18 oz. or 510 g) is not at all overrated because most helmets feel heavier than this one.
Source of Power
Inside the package are lithium batteries which have 3,000 hours on them. The helmet also has a solar mode to collect the required energy and contribute to extended battery life.
What Is Included?
In addition to the batteries, there are two inside and five outside cover lenses, one magnifying lens holder, and a bag. Miller offers 3-year warranty service for this product. Nothing short of a package worth buying!
>>> Click the latest price here <<<
Additional Read: Best Air-Fed Welding Helmet
Final Verdict
If you believe in everything that product brochures say, Viking 3350 gives you more reasons to buy it than Digital Elite. In practice, one is more useful than the other only by a small margin. Bear with me a little longer, so I can explain.
The Viking helmet offers a larger viewing area, faster switching speed, and functional delay control compared to the Elite model. You can pair a cheater lens with the gear to have an enhanced view of your work and improve the final welds. You can also use a hard hat to make sure that your head receives full coverage.
On the contrary, the Miller helmet has the X-Mode to offer which is an added advantage while working on a bright, sunny day. It feels slightly lighter on your head and lets you handle a long day of welding and fabrication tasks.
All the benefits and extras that come with the Lincoln helmet account for a higher price but not necessarily as much to put it off the balance. Thus, Miller gets the 'more affordable' tag.
I can only hope you have no confusion about the usability of both helmets at this point. But if you do, feel free to send a message, so I can assist you further.
Happy buying!