Plasma cutting is oftentimes more about accuracy and fine edges than about deeper and speedier cuts. This very idea makes buyers cross a lot of choices off their list and leads them to bide their time looking for a high-quality unit which allows them that much freedom.
If the exact same thing occurs to you, Lincoln K2807-1 Plasma Cutter may save you a lot of trouble from weighing each option out there on the market. It's neither a cheaply built nor a fancy-pants solution to your concerns.
Bring it to your workplace and use it as recommended. Common experience says you'll have little to regret except the lack of an HF start.
This Lincoln Tomahawk 625 review goes on about all the features and important details so that you can get reliable insights before purchasing it.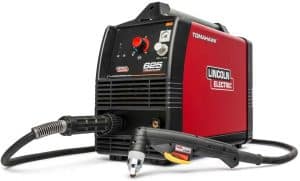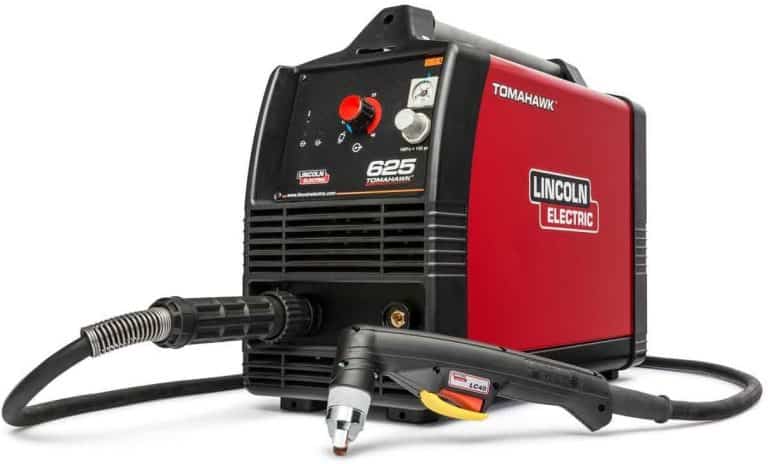 Check Price & Reviews on Amazon
Introducing Lincoln Tomahawk 625 Plasma Cutter
According to the advertisement, Lincoln Tomahawk 625 is a well-equipped plasma system for industrial applications. With cut thickness up to 5/8 inch and severance up to 3/4 inch, the unit is rated for a duty cycle up to 35% at 40 amps.
The full package includes an LC40 hand torch with a 20 ft. (6 m) cable, air regulator with pressure gauge, clamp, cable, consumables, power cord, water separator, shoulder strap, and owner manual.
Tomahawk 625 is costlier and higher-end version of the Tomahawk 375 Air Plasma Cutter which offers lower cut thickness and capacities yet a similar duty cycle.
Additional Read: Top 3 Lincoln Plasma Cutter Reviews
Product Features
Occupational Health & Safety
Country of Manifacturer: Poland
Manufacturer: Lincoln Electric
As an Amazon Associate I earn from qualifying purchases
Who Is Tomahawk 625 Plasma System for?
The unit's mechanical and electrical strength may encourage anyone to use it on virtually any plasma cutting project. But for optimal performance and longer lifespan of the torch and consumables, recommended applications are stated below. Those who look beyond the following works should look for more powerful and heavy-duty models.
Onsite maintenance at auto/metal workshops
Construction sites with light workloads
HVAC tasks, especially air ducting installation
Workshop where demolition actions are a regular necessity
Problems You Might Face
When affordability is important to you, the parts that need to be handled with caution while using the machine are its consumables. Also, the preheat temperature settings need to be done correctly while attempting to cut through specific materials.
Using the Preheat Temperature
On most occasions, you won't have to bother about using the preheat temperature control function. Metals like heat-treated aluminum and high carbon alloy steels require resistance to crack and hardness, and this is where this particular feature can be employed.
You should keep up 70°F (21.1°C) as the preheat temperature for 1/2-inch thick plate. It's just a standard adjustment. Higher preheat temperatures are desirable when you see cracks or extreme hardness on the cut face.
Improving the Consumable Life
The consumables used by a plasma cutter are never meant to last for years. But the following recommendations may help you improve the situation.
Use additional inline filters to ensure clean air supply to the unit.
Try to start cutting right from the plate's edge to minimize the buildup of dross.
Reduce the time and number of pilot arc initiation without/before transferring it to the metal.
Use the recommended air pressure settings.
Try to avoid piercing while you can. If you need to do it, hold the torch at 30° angle from the plane keeping it perpendicular to the metal. Transfer the plasma arc, and maintain a perpendicular position for the torch to the material. Start actions maintaining parallel movement.
Don't use consumables from other manufacturers.
Pros
A lightweight unit with standard cutting performance (Regular: 1/2-inch, Maximum: 5/8-inch, and Severance: 3/4-inch)
Continuous Output Control for enabling the operator to focus the arc to handle variable metal thickness
Touch Start System for effective arc initiation using no high-frequency method
Rapid Arc Restrike for cutting through gaps, expanded, and other metals at a great speed
Preflow/Postflow timing for enhancing operational efficiency and material throughput
Front-Mounted Purge Control for allowing the user to control the rate of airflow without starting the arc
Over-current and thermostatic protection systems for efficient and safe operation
Parts-in-Place mechanism to prevent the wrong installation of the torch and consumables
Separate LED indicators for power status, output, and thermal status
Internal air separator for ensuring the flow of clean and dry air
Cons
Poor results from cutting aluminum or thinner material
Consumables to be likely to wear pretty fast unless recommended rules of usage aren't followed
Lincoln Tomahawk 625 Review: Features and Benefits
Sure, you want to have a lot from a model like this, and it also boasts some notable specs. Keep reading to understand its functions and advantages in detail.
Cut Thickness and Capacities
You can rely on the machine for standard and contact/drag cutting and gouging. Its cut thickness has already been mentioned, yet how thick it can cut actually depends on what metal you choose. The same is applicable to the speed.
Aluminum can be cut at a 10-20% faster rate than mild steel and 30-40% than stainless steel. Again, cutting mild steel should be 10-20% faster than stainless steel. Maintaining optimal cut quality is easier with steel than with aluminum.
Smart Control and Safety Features
If plasma cutters were, by all means, known for their smart features only, Tomahawk 625 would be on the top spot in its price category. Below is a list of all its features and control options.
Rapid Arc Restrike
Purge Control on Output Dial
Preflow/Postflow Timing
Continuous Output Control
Thermostatic Protection
Over Current and Voltage Protection
Over Voltage Protection
Air Regulator
Internal water separator
Air Pressure Gage
Parts-in-Place mechanism
Each of these components and systems has its particular function to carry out for the ultimate convenience of both enthusiasts and serious professionals.
Pilot Arc and Touch Start
The unit uses a pilot arc based on a touch start method which is a less favorable choice than non-touch pilot arc. But, the method is one of the oldest start techniques and is still in use with satisfactory results.
Duty Cycle and Power Efficiency
Rated duty cycle of the unit is 35% at its maximum output which is rated at 40 amps. At a slightly lower output, the cycle can be extended. You can maximize even further keeping the output at 24 amps which may not be adequate for most of your projects. As far as power efficiency is concerned, the unit has been designed to be just like any modern plasma cutter.
Final Verdict
Moving forward to the stage where you want to decide, you have to draw a contrast of the product's overall potentiality and the price you're about to pay for the machine.
Affordability is something of a far-fetched idea in this regard, but the concerns for quality and smooth cuts on mild and stainless steel are not. But with an aluminum workpiece, you can't expect an awesome result. So, buying Tomahawk 625 can be a mix of win and compromise if that's what you're ready to accept.
Click here to check the latest price of K2807-1 Plasma Cutter!