Unless you've been living under a rock, you'd see concrete structures everywhere. They are the base of modern civilization. From little structures in your backyard to massive skyscrapers in the city- everything needs concrete.
But there's a problem, concrete has a high compressive strength but its tensile and shear strengths are not remarkable. To make up for it, we use reinforcement steel bars, a.k.a rebars. This gives our structures the stability we need.
And by welding it, we can use it in numerous ways. The 3 major ways you can weld a rebar is through Arc welding (stick metal arc welding), Flux core welding, and Gas welding (MIG). There are other methods but these are the most widespread ones.
I'll go into details down below, so do me a favor and scroll a bit for me, please!
What is a rebar?
Rebar, also known as reinforcing bar, is a common steel bar that is used in concrete construction. It is available in a variety of sizes and grades, and it can be either smooth or deformed.
The most common grade of rebar is Grade 60, which has a yield strength of 60,000 pounds per square inch. Rebar is an essential component of many construction projects, and it plays a vital role in ensuring the strength and stability of buildings and other structures.
What is the purpose of welding rebars?
Rebar is used to reinforce concrete because it has a high yield strength and low ductility. This means that it can resist a lot of force without becoming permanently deformed.
And when rebars meet welding, you have infinite possibilities in your hand. You can create many different creative designs by welding rebars and making your own masterpiece. By welding rebars, you can join them and use them for bigger structures, or bend them to create unconventional shapes.
This opportunity of going outside the box and pushing your creative boundary is what makes welding a rebar such a lucrative work.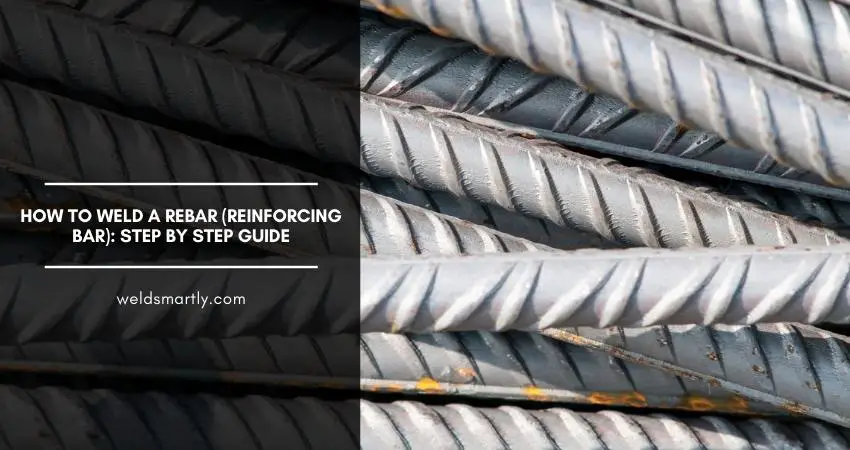 How To Weld A Rebar: A Guide For Everyone
First of all, you need to realize welding is a serious work. Unlike other work, you don't get a second chance. If you mess up a little it'll cause heavy damage. I'll briefly explain what you need to do:
Find the right rebar
Identify if it needs preheating
Determining the correct filler
Selecting the correct weld
The welding process
According to DIN EN ISO 17660, the practices for welding a rebar are the following:
SMAW (Stick/Arc)
MIG Welding/GMAW (Gas)
FCAW (Flux Core)
Friction Welding
Pressure Butt Welding
Resistance Spot Welding
Projection Welding
Oxy-fuel gas pressure Welding
Out of all of them, the SMAW, MIG and FCAW methods are most used by the industry.
1. How To Select The Correct Rebar For Welding
To ensure your welding goes smoothly, the very first step is to get your hands on a good reinforcement bar. Let me be straight with you. All rebars can't be welded. You need to be vigilant and find the right reinforcement bar that can be welded.
For the purpose of welding, we can classify rebars into weldable rebar and non weldable rebar. The difference mostly lies with the property of the steel.
Non Weldable Rebar
Steels with high levels of carbon are brittle, and this makes them unsuitable for welding. When exposed to big loads of stress, it will eventually break. This is the reason we don't use rebars that have high alloy. And you should steer clear of them too.
Weldable Rebar
In short, weldable rebars are those which have low alloy. Compared to other types, only this type doesn't require any special care, making it ideal for welding operations without taking too many precautions or considerably complicating construction projects in general.
To put it simply, check the materials specifications (for example- ASTM A615, A616, A617), as well as the carbon composition of your rebar to determine whether it can be welded. High alloy or steel with high levels of carbon are unsuitable for welding, but low alloy rebars are ideal for welding projects.
Now, you can determine which kind of reinforcement bars you can weld.
2. Does Rebar Need Preheating?
Prior to welding, you need to preheat the steel to ensure the weld joint is strong. It's also important to consider steel's carbon equivalent or its welding ability when considering steel. If the number is higher, then you'll have to preheat them more before welding, i.e. your welding machine will have to work harder to weld.
The opposite of that also applies.
3. Finding The Correct Filler
While rebar welding may seem like a straightforward task, it is important to choose the correct filler in order to ensure a strong and durable weld. You'll need to choose different fillers depending what method out of the aforementioned three you're gonna use.
For SMAW the most common type of filler used for rebar welding is E7018 low hydrogen electrode. This electrode produces a weld that is resistant to cracking, providing a long-lasting and reliable connection.
In addition, E7018 electrodes can be used in a wide range of temperatures, making them ideal for use in both cold and hot weather conditions.
Similarly, ER70S-6 is the most used for Gas welding.
When choosing a filler for rebar welding, it is important to consider the specific needs of the project. Just follow the instructions on AWS D1.4 Table 5.1 which specifies which welding rod you need to use for welding a rebar.
For example, if you have a A615 reinforcement steel bar of grade 60, you need to have a 90 ksi welding rod like the E9018 for SMAW, or a ER90S-G/E90C-XXX for GMAW/FCAW.
If you have to work with two dissimilar metals, you gotta consider the welding rod on the basis of the metal with higher strength (ksi).
By selecting the right filler, it is possible to produce a high-quality weld that will provide years of reliable service.
4. Selecting The Correct Weld
It's possible to weld steel bars in a lot of different ways. AWS D1.4 calls for lap joints, butt joints, and splices as examples.
Furthermore, welders need to parallel and perpendicular all the faces. (Ref: ASTM A184/A184M).
5. Welding Process of a Rebar
Welding a reinforcement steel bar is an important process in many construction projects. So, make sure you tick all the boxes I've mentioned earlier before you start.
We already established the three most popular ways to weld a rebar. For this blog post, we'll use the MIG welding procedure as it's the simplest one in my book. Here we go:
First, hold down the pieces of rebar with a heavier piece of metal. Make sure you've put it down on an even plane so that it doesn't move around.
Place the welding rod in front of the part where you wanna weld the metals together. Make sure to choose the correct items for the job, the directions from AWS do a comprehensive job of telling what to do and what not to.
Ignite the torch and at the beginning just tap the area. Take intervals, but every time make the exposure to heat longer.
You'll notice the steel will begin to melt, this means you're closer to the end. The process will continue until both sides have melted into each other.
Use the filler to melt and fill the remaining gaps.
Turn the rebar around and do the same.
And that's it, you've learnt how to weld a rebar.
Rebar Welding Tips
When it comes to welding a reinforcement steel bar, there are a few things you need to keep in mind:
First, make sure the area you're welding is clean and free of debris. Any dirt or grime on the surface can weaken the weld.
Second, when you're ready to start welding, be sure to use a low setting on your welder. Increase the heat and pressure gradually or you could risk ruining the weld. This is the ideal welder setting for rebar.
I've found out that it's better to grind the tips of the bar where you want to join them, this makes it easier to weld them together.
Similarly, if you wanna weld at an angle, grind the tip so the tip becomes inclined.
An improperly welded bar could weaken the structure. The following tips will prove to be incredibly helpful in making sure you don't miss a beat.
Start practicing!
I've seen people do all sorts of things with a rebar. It's unbelievable. It's not straight anymore, they're making angular shapes, bending it to an arc, and lots of other interesting forms. You can see tons of these on pinterest or instagram.
And now since you know how to make a rebar, you can do these too. So come on now, show us your masterpiece.