All welders have probably experienced a situation where their weld cracked, either while the weld was still hot or after it had cooled down. Each type is caused by different factors, and it's important to understand the difference between them so that you can find the remedies for each.
There are two main types of cracking- hot cracking and cold cracking. Each type occurs under different circumstances. Hot cracking is the result of not having enough toughness to deal with higher temperatures, whereas cold cracking occurs when the metal cools down faster than it should, trapping the hydrogen in the heated area.
In this blog post, we'll take a closer look at each type of cracking and explain how to prevent it from happening.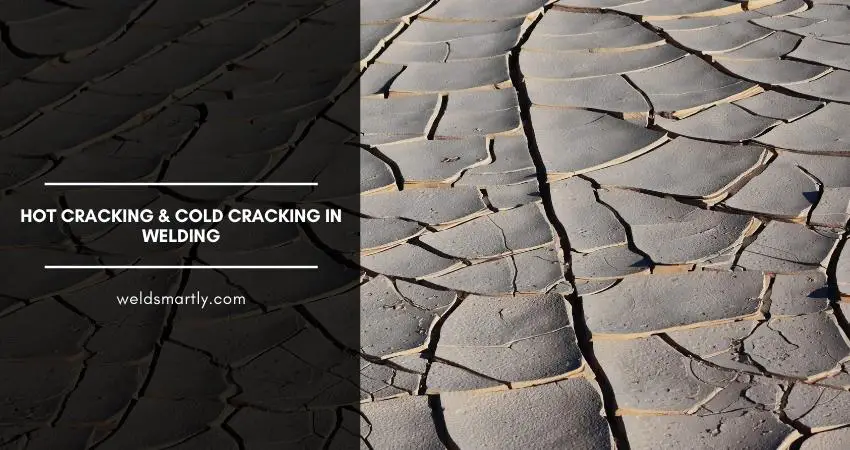 What is hot cracking?
Hot cracking is a form of crack which occurs during the welding process. This crack occurs because of a lack of ductility at a higher temperature. The most common place for hot cracking is the center of the welding zone.
Besides, if you have a high amount of elements which have a pretty low melting point then these elements can create a crack. Elements like sulfur & phosphorus in steel have a low melting point. These elements push to the center of the weld bread during welding time. Eventually forming a centerline crack.
Hot cracking can be broken down into 2 different categories. One is solidification cracks when it happens in the weld metal. Another one is liquation cracks which form in heat-affected zones (HAZ).
What causes hot cracking?
There are factors that cause hot cracking. The first one is the amount of force or strain on the weld pool is way too high which leads to hot cracking.
The second one is the blockage or inadequate amount of supply of weld liquid or filler material preventing zones that were reached.
Third, some forms of impurities are still present in the weld zone. For example, if elements like phosphorus which have low melting points are present in high amounts in the base material, they'll be pushed to the center and then cause cracks.
The final one is the extreme level of high temperature (e.g. 1200 degrees celsius)
How can you prevent hot cracking in welding?
As you can see the whole thing is backed by science so you can use that scientific knowledge to minimize & prevent hot cracking by following the methods below:
Reducing the overall heat input during welding. Cut off the amount of strain that was put onto the solidifying weld base metal. Choose your base materials very carefully.
Try to maintain the proper width to depth ratio on weld beads. An ideal width to depth ratio is 1:1 or 1.4:1.
Follow the perfect welding procedure and make sure welding parameters are correct.
//www.youtube.com/embed/LnbXein_1hk
What is cold cracking?
Cold cracking is a form of crack which occurs days or hours after the welding & solidification part is complete. Due to the nature of cold cracking, it can make the whole weld fail. By the time this crack is detected, it has most probably rolled out of the market which makes it far worse than a hot crack.
This is also termed hydrogen cracking or delayed cracks.
What causes cold cracking?
Cold cracking occurs because of the presence of hydrogen, involvement of sufficient sensitive material & a higher level of residual stress.
Welders often go for quick cooling of the metal which makes the hydrogen trapped inside the heat affected zone (HAZ) which generates high-level internal stress leading to form a crack.
Metals that come with high cooling rates plus high carbon content are prone to cold cracking more. In simple terms, a faster cooling rate will give you more cold crack.
Hydrogen will eventually leave the metal, for that reason structural code D1.1 states you should inspect the weld 48 hrs later after you're done.
High residual stress is also a cause for cold cracking, but we can't do anything about that. The best thing to do is mitigate the other factors.
How to prevent cold cracking in welding?
To prevent cold cracking you can follow different ways"
Cold cracking can't happen if there is no susceptible microstructure like martensite which is the source of hydrogen & residual stress inside the welding zone.
You can easily prevent martensite from forming by preheating the base material. As a result, the cooling rate of the weld area & heat-affected zone decreases a lot.
It would be excellent to choose low hydrogen filler metals. You can also do post-weld treatment to cut off the residual stress. Heat blankets are also a good option.
Frequently Asked Questions
Which is worse: hot cracking or cold cracking?
Cold cracking is definitely worse than hot cracking. With hot cracks, you at least have a chance to detect them early on and take corrective action. With cold cracks, they can often go undetected until it's too late and the damage is done. Cold cracks may take hours or days before appearing, making them difficult to repair once they're discovered.
In what other name does hot cracking go?
Hot cracking is also called liquation cracking or solidification cracking. It is a type of failure that can occur in metals during casting, welding, or other high-temperature processes. The crack often propagates very rapidly and can be very destructive.
What causes Hot cracking in austenitic stainless steel?
There are many possible causes of hot cracks in austenitic stainless steels. One common cause is the presence of low-melting eutectics containing impurities such as sulfur(S) and phosphorus(P), and other alloys such as titanium(Ti) and niobium(Nb) .
In Conclusion
Proper welding technique is key to preventing hot and cold cracking. You must use the right welding parameters for the material you are welding to ensure the best results.
As a welding precaution, welders should avoid contamination in their work area, and make sure their work surface is clean. Using these tips, you can stop hot and cold cracking in your welds and make them last a long time.