Anyone who believes that plasma cutting should be a comfortable job wants a well-built unit that doesn't require a lot of adjustments and manual intervention just because precision and quality of cuts are intended.
Finding one of those machines isn't much of a challenge when an appliance like Everlast PowerPlasma 60S is available with all the automated controls and features plus versatile cutting approaches. The unit doesn't come at so cheap a price like a couple hundred bucks, but the trade-offs are just fine for users with little to vast experience in the job.
In this Everlast PowerPlasma 60S review, you'll find out how many of your plasma cutting preferences can be fulfilled using the machine.
Additional Read: Everlast Plasma Cutter Review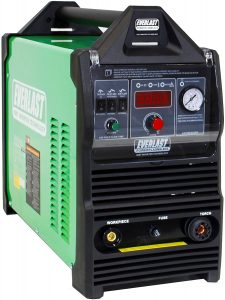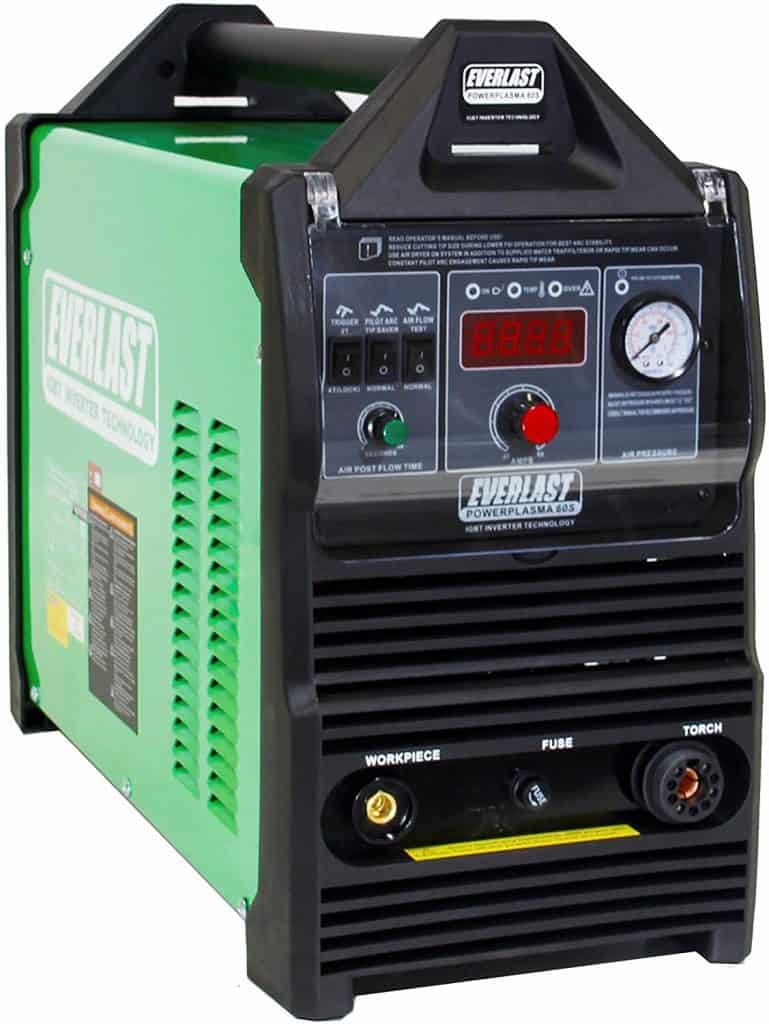 Check Price & Reviews on Amazon
Introducing Everlast PowerPlasma 60S Plasma Cutter
Product Features
Blowback start starts arc without the need of High Frequency which can interfere with surrounding electronics
Easy starting with Blow Back Pilot arc allows easy cutting of rusty and painted metals
Adjustable postflow timer for maximum consumable life
Suitable for use with 11,000 W "clean power" generators.
IGBT modules from Infineon (Siemens) improve reliability and performance while reducing overall weight
As an Amazon Associate I earn from qualifying purchases
It's a 60 A plasma cutter that incorporates a smart combination of power and technology. With a blowback torch style and regular 3/4″ cut thickness, the unit offers ease and efficiency in different operations from basic to demanding plasma cutting and metal piercing actions.
PowerPlasma 60S comes in a more affordable package than PowerPlasma 62i with the same cut thickness, duty cycle, and most other tech specs except the latter being more efficient in gouging applications.
Who Is PowerPlasma 60S Plasma Cutter for?
Everlast claims to have made the unit suitable for uses on a wide variety of home and commercial projects, but its efficiency is best achieved when used at home shops, small farms/ranches, HVAC repairs, CNC projects, pipeline tasks, and automotive shops.
With strict awareness and plasma cutting skills, you can use it for commercial fabrication, shipyards, and factories but within a limited scope.
Problems You Might Face
With this unit, few things could go wrong; thanks to the many adjustable and customizable features! However, you should have preparations for dealing with cutting and overheating issues. A couple of solutions have been given below.
Using an Air Dryer and Taking Care of the Air Compressor
The built-in filter/regulator can't remove all of the moisture since it's basically a fine sediment filter and a water trap. So, you have to get an air dryer and try to install it between the regulator and the air compressor so that it stays as closer to the cutter as possible. By doing this, you can minimize popping, spitting, and other cutting issues while preventing quick consumable wear.
Humidity levels of workplace environments may vary, but an air compressor always produces some moisture, which is why you should drain it on a daily basis. Also, make sure to choose exactly the same quality of air that is suitable for automotive painting.
Managing an Overheated Condition
In the event of an overheating issue, you need to allow the machine to cool for at least 15-20 minutes prior to resetting it. Shutting down the overheated cutter right before starting cutting again isn't a good idea.
You can reset the machine by turning the power switch off and on again when you see that the overheating situation has passed. For overheating and operational safety, avoid running the unit removing the covers.
Check Price & Reviews on Amazon
Pros
Excellent cutting performance in terms of thickness, speed, and material supports
Digital meter and Step-less adjustment for adjusting and controlling the amp setting as precisely as required to get past the factory-fixed presets
Extended duty cycle complemented with the thermal overload protection and warning light for stopping plasma operations for safe cooling
Adjustable Post Flow system for improving torch and consumable life
Airflow test to ensure constant airflow for air pressure setting without igniting the torch
Low air pressure management system for stopping the cutting operations as the air pressure goes down
Torch-TIP saver system for limiting the continuous arc time to prevent the consumables from wearing too fast
Torch trigger lock for locking the arc to improve plasma functionality during long cuts
Air pressure gauge for helping the user verify if the air pressure is correct
Quick connect connectors for quick torch and clamp and easy storage/ transport
Cons
A little heavier for those wishing to carry it single-handedly
Potentials for poor performance upon reaching the maximum thickness for clean cuts
Unusually frequent fluctuation of the duty cycle under hot/humid conditions
Everlast PowerPlasma 60S Review: Features and Benefits
Apart from the typical cutting ability and performance, the unit provides a lot for discussion which takes you to the next sections where each of the key aspects of the product has been explained precisely.
Cut Thickness and Capacities
Unless you're accustomed to unleashing only the maximum cut thickness a plasma system offers, the following information should bring you the satisfaction one can expect from a moderately powerful unit.
Recommended thickness for regular uses: 3/4″ (15-20 inches per minute)
Clean cuts up to 1″ (8-12 inches per minute)
Severance cut thickness up to 1 1/4″ (3-5 inches per minute)
Pierce up to 1/2″
Note: The cut quality and speeds are subject to vary depending on the size of the orifice, travel speed, and the height of standoff.
Material support is as good as it can be since you can work on aluminum, copper, mild steel, stainless steel, nickel, nickel alloys, titanium, and any metal that contains cast iron.
Duty Cycle and Use of Generator
The duty cycle is rated for 60% at its maximum amps output, meaning that you'll be able to have it in the operational state for 6 minutes uninterruptedly in a 10-minute window of time. Once the unit passes the six minutes, it requires rest for four minutes before being back in action.
You need a 15,000 W generator with less than 5% Total Harmonic Distortion (THD) to run the unit on. Make sure to check this requirement before picking a generator as a power supply.
Torch and Start Type
You aren't going to miss the conveniences of pilot arc, but in place of HF start, a blowback start style has been included. It might feel better to have HF start, but blowback has its advantages – no effects on the surrounding electronic appliances and nearly the same speed of start. Arc failure may happen but only rarely.
Adjustability and Safety Features
If adjustability and safety were considered as the key selection criteria, the 60S plasma cutter would outclass most of its rivals. Here's a quick overview of all those features.
The Digital Meter provides accurate readouts to let the user adjust the amp settings particularly for a job without the limitations of factory-fixed presets.
The Thermal Overload Protection System provides warnings and prevents the operation as long as the machine takes to cool.
The Air Pressure Gauge sits in the front of the unit to let the user check on the air pressure conveniently. There's a light-based warning system in place to notify the operator of low air pressure and interrupt the cutting action in case the air pressure goes below the recommended limits.
The Adjustable Post Flow Function offers semi-automated systems for necessary settings.
The Air Flow Test helps maintain a constant flow of air for air pressure adjustment without igniting the torch.
The torch has a Trigger Lock that keeps the trigger locked on saving the user the hassle of holding the trigger while cutting. It allows room for improving functionality for long cuts.
Check Price & Reviews on Amazon
Final Words
Now that you can figure out the way the PowerPlasma 60S stands out, it's time for you to seek a solid takeaway. Well, here it is.
The product's ideal usability is best demonstrated in situations where the humidity and temperatures are within the required limit. Also, the metal to be cut should be 3/4-inch or slightly thicker.
This plasma system won't disappoint you if you're comfortable maintaining congenial surroundings and avoid tinkering around the workplace. It offers an edge to people who appreciate being able to utilize automation for faster and more flexible plasma cutting performance.
Click here to check the latest price of PowerPlasma 60S!