The Eastwood 175 MIG Welder is loaded with innovative features. Be a DIY enthusiast or a professional one, this will get done with all your welding works easily.
MIG welding is one of the easiest welding methods to perform. The Eastwood 75 is a MIG welder that's capable of doing a variety of welding works in a jiffy. It will help you avail the best finish in the quickest amount of time.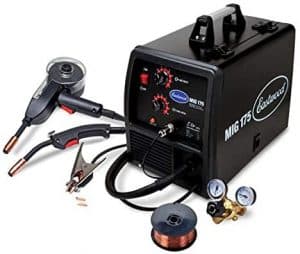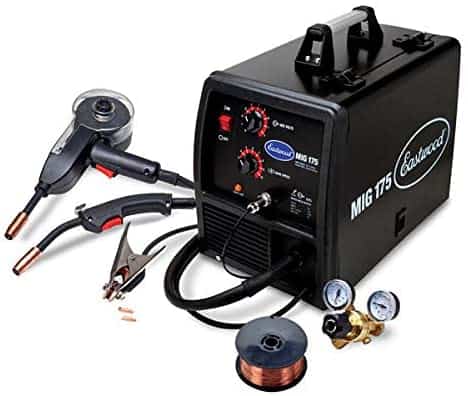 Check Price & Reviews on Amazon
Things to Consider Before Buying a Welder
Being a MIG welder, the Eastwood 175 MIG Welder is very easy to operate. If you're a beginner, you can purchase this baby without a shadow of a doubt. However, if you're looking for a heavy-duty machine for advanced welding tasks then this might not be the best option for you.
The right welding machine will make all your welding tasks a piece of cake. You need to consider several factors before making the purchase.
Material
Make sure the welder that you opt for is suitable for the type of material you usually work on. MIG welders are suitable for aluminum, alloy, steel, etc.
Portability
This is one of the most vital factors that you should consider while buying a welder machine. These machines are available in different sizes and weight limits. Make sure the one you opt for is suitable for all work sites.
Duty Cycle
The duty cycle means the time until the welder can be used before it needs to be shut off to cool down. The longer the duty cycle the better. As that will give you more time to work on the weld uninterruptedly.
Voltage
A machine with a higher voltage will let you work with greater efficiency. Thick materials need a machine with a high voltage rate to provide clean outputs. Make sure you opt for a dual voltage or high voltage machine to get an efficient result.
Presenting the Eastwood 175 MIG Welder
Product Features
Welds Aluminum, 14 Gauge To 1/4" With Included Spool Gun
Welds Mild And Stainless Steel, 24 Gauge To 5/16"
Ships With Regulator And Hose For Optimum Mig Welding
Can Also Be Used For Flux-Core Welding
30-175 Amp Welding Range;Powered By 220V Current
As an Amazon Associate I earn from qualifying purchases
If you're new to the welding world then a MIG welder is a must-have for you. It's super easy to learn and you can weld different metals without a hitch.
The Eastwood 175 has a welding range of 30-175amps. This machine will be an excellent addition to your collection if you want to step up your metalwork game. It's suitable for hobbyist, however, we don't suggest it for heavy-duty use.
The penetration may not seem as smooth as you may experience with a Hobart or a Miller. However, it results in smooth cuts for up to 1/8-inches to 3/16-inches.
Pros
Budget-friendly price tag
Suitable for novice and beginner welders
Power is enough to weld stainless steel, aluminum, etc.
Durable
Includes 3-years manufacturer warranty
Comes with spool gun and gas regulator
Cons
Not suitable for heavy-duty welding works
Short duty-cycle life
Eastwood 175 MIG Welder Review: Features And Benefits

Durability
The Eastwood 175 MIG Welder has quite a durable construction and it'll last you a while with proper care. You may use it as an alternative many name brand out there. With proper care, this baby will last you a long time.
Size
The welder has a size of 10.75x17x15.75-inches with a weight of only 62lbs. It's suitable for most auto and home welding tasks. Well, you may not be able to carry it around to the weight but you can easily keep it around the worksite.
Performance
The performance of the welder is excellent for the price. It can cut through a ½" weld in just two passes and works equally well on ¼" plates. It runs through the plates like butter and results in smooth efficient cuts.
It can weld stainless-steel 24 gauge to 5/16-inches and weld aluminum 4 gauge to 1/4-inches with the spool gun. You'll get a regulator and hose to make the most from your welding session.
Motor
The drive roll mechanism is the powerhouse for the MIG welders. This welder is designed to provide a phenomenal wire feed without slipping on the wire. This will ensure that you don't need to redo over the welds and get a flawless finish on the very first run.
Control
There are control knobs on the machine. These lets you control the amperage and the output voltage with the optimum amount of penetration. You can also adjust the wire speed according to the task to ensure the ultimate wire fill on the wire pool.
The precision drive motor and the paired-up control will result in better weld compared to many other pricier options out there.
Duty Cycle
It has a duty cycle rate of 130A@30%. This feature overheats protection that is extremely necessary for MIG welders.
The Eastwood 175 features an auto shut-off system that will turn off the machine when it gets too hot. This will help to prevent damage and internal problems due to high temperatures. This is also effective for welders with a short duty cycle.
Accessories
The welder comes with a spool gun, regulator, and a hose. The MIG gun can be set up easily without any hassle.
Voltage
The Eastwood 175 MIG Welder can be powered using any 220V household power outlet. It has an amp rating of 175A. You can weld many different metals such as aluminum, stainless steel, etc. with this MIG welder.
Warranty
The welder comes with a 3-years manufacturer's warranty. This is standard for most welders out there. However, you'll not be eligible for the warranty if you purchase the product from a reseller.
Make sure you buy it from a renowned seller with "sold Eastwood" to avail of the warranty. If you face any during the warranty period, you can ask for repair or replacement.
Wrapping Up
Choosing the right welder can be overwhelming, especially for beginners. The Eastwood 175 MIG Welder is certainly one of the finest MIG welders out there. That too at an affordable price tag.
This one is a great choice for beginners and also for the professionals who want a more compact model in their collection. There are not many setbacks with the device and it's needed a great buy for the price.
Make sure you buy it from an authorized seller to avail of the warranty. You can buy the product from here.