Welding is one of the industries with potentials for a steady growth over the next few decades. Where a freelance welder expects $30–$40 per hour and a reputable service provider makes in excess of $70,000 in annual profits, you can try and start your own business. The first thing you want to do is cost out all steps.
An independent contractor needs at least $4,000 to start with. A portable welding business can be launched with $15,000. A production business requires upwards of $400,000. Certification, registration, and other costs can be up to $2,000. For training, you need $8,000 or more.
These numbers may not be precise for everybody because the nature, size, objectives, and other variables must be factored into the overall budget. Let's go into the details of cost to start a welding business.
Category of Welding Business
Knowing the scope of your business helps you determine how much you'll have to spend. In practice, there are three different categories of welding businesses:
An Independent Contractor Business
A Portable Welding Business
A Commercial Welding Shop
Beginning your journey as an individual welding contractor won't cost as much as setting up a mobile welding business. Building a shop to handle projects on a commercial basis involves a considerable investment.
Where Will Your Spend the Money?
Whether you want to run a mobile or a solo contracting concern, it cannot get underway without you fulfilling certain requirements which include:
Welding Certification and Education
Essential Equipment and Accessories
Personal Safety Outfit
Power Supply and Vehicle
Insurance and License
With all these taken care of, you can call yourself ready for running your own welding business. However, for a commercial welding business, you have several other aspects which also call for budgetary considerations.
Shop and Supplies
Employment of Staff
Accounting and Legal Expenses
Tax and Other Costs
Marketing and Promotional Expenses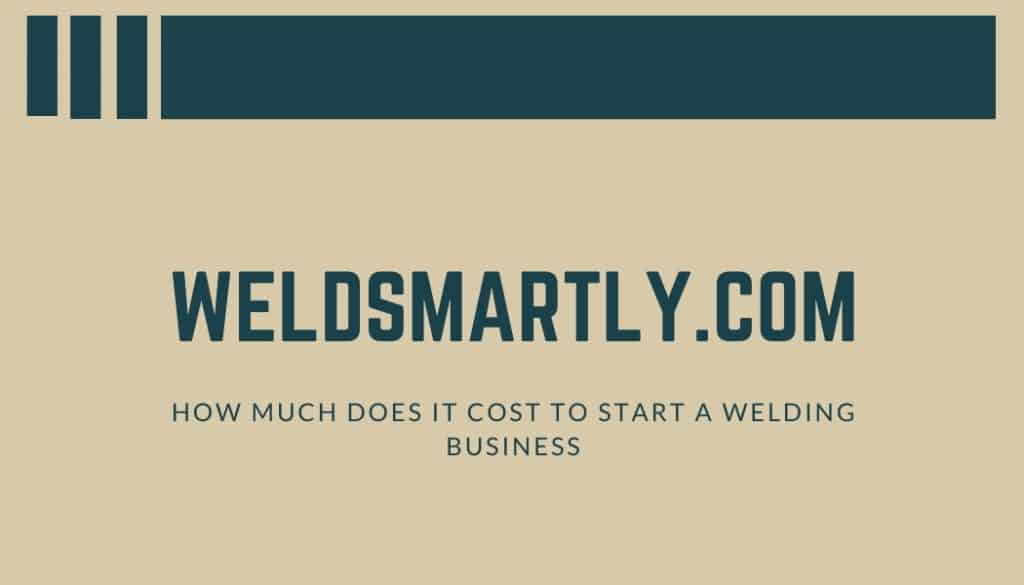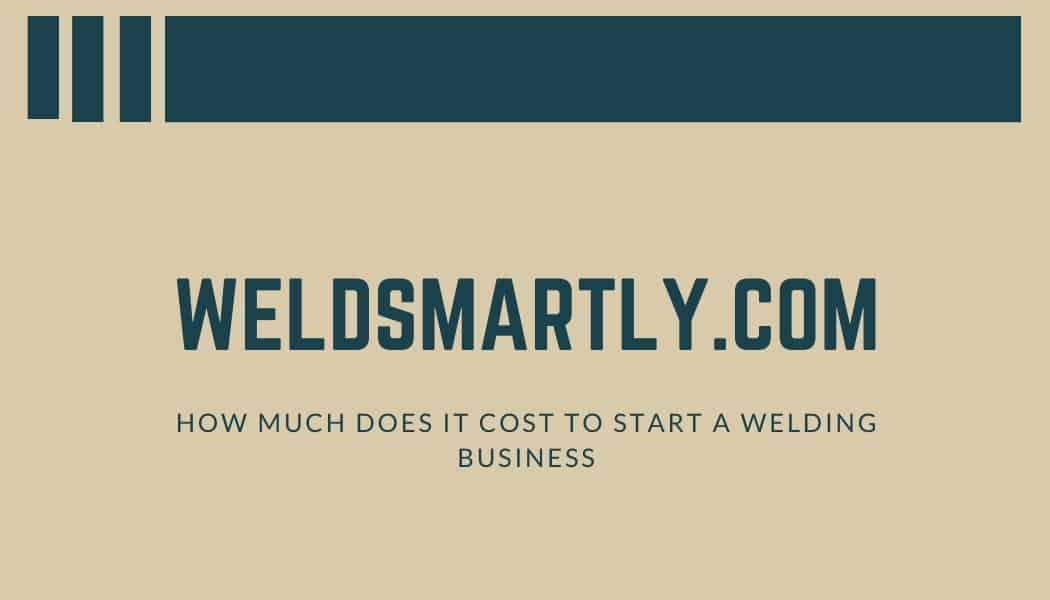 Cost Breakdown for a New Welding Business
Once you've identified the particular areas where the money will go; you want to make an estimate, and that is what I'm going to help you with.
Education and Certification: $8,000 to $100,000
Welding is a trade that requires specialization and skills which can be earned through training at any formal school or college. Tuition fees wildly vary from state to state and institution to institution. The program you want to opt for is another factor that adds up in this case.
After the completion of the education, you should complete an apprenticeship and earn yourself a certification. Each of these steps comes at a cost. Look at this list.
Training Programs at Technical Schools or Community Colleges: $5,000 to $15,000
Associate's Degree: $2,500 to $30,000 excluding books, meal, and accommodation
Bachelor's Degree: $40,000 to $100,000 excluding books, meal, and accommodation
Apprenticeship: $0 to $1,500
License Fees: $20 to $250
American Welding Society (AWS) Certification: $50 to $2,100
You might want to keep this expense out of your budget. Honestly, I think you can do that. But you should pursue this path if you are interested in making a living as a skilled welder. Some companies and projects make it compulsory for contractors to have the above credentials while others don't.
People who are only looking to start solo can learn the trade and gather as much experience as possible without going formal.
Welding Tools: $2,500 to $4,500
The list of items can be huge, but I guess nobody would be willing to throw a million bucks just to start being a welder. It is wise to gather only the essentials and pick up more as things progress.
| | |
| --- | --- |
| Equipment and Tools | Cost |
| Welding Machine, Oxy-Acetylene Setup, Shielding Gas, Torch | $1,500 to $3,000 |
| Workplace Arrangement (Welding Table, Curtain/Screen) | $200 to $250 |
| Marking and Measuring Tools (Calipers, Squares, Levels, Compasses, Dividers, Measuring Tape, Precision Rules, Soapstone, Sheet Metal Gauge, Metal T-squares, Permanent Markers, Automatic Center Punch Set) | $120 to $150 |
| Clamps (C-Clamps, Pipe Clamps, Bar Clamp, Cable Pullers, Bessey Clamps) | $80 to $100 |
| Cutting, Breaking, and Power Tools (Angle Grinder, Portable Band Saw, Hacksaw, Chipping Hammer) | $400 to $500 |
| Smoothing and Cleaning Tools (Metal File, Metal Brush, Tip Cleaner Set) | $15 to $25 |
| Organizing Tools (Storage Racks, Supplies Bag) | $80 to $100 |
| Other Handy Tools (Magnets, Framing Jig, Pliers, Flat Bars, Flashlight, Calculator) | $100 to $120 |
| Accessories and Consumables (Wire, Electrode, Angle Grinder Wheels, Wire and Electrode Feed, MIG Nozzle Gel) | $100 to $150 |
Listed above are all the tools to get you started. The figures are just estimates based upon the current market prices which are subject to change.
Moreover, industrial machinery should be chosen for portable and commercial businesses, which means the cost will go up significantly. I'll discuss it in another section.
You can have some of them at a fraction of their actual costs if you can get in touch with someone who is about to sell used items. But try to avoid used welders and power tools unless you are on an extremely tight budget.
Personal Protection Equipment: $300 to $800
According to the Occupational Safety and Health Administration (OSHA), welding jobs keep over half a million employees under the exposure to life-threatening hazards. So, you want to take a close look at the table below.
| | |
| --- | --- |
| Safety Wear | Cost |
| Auto-Darkening Welding Helmet and Shade Lens | $60 to $350 |
| Welding Leathers | $70 to $100 |
| Sleeves | $12 to $25 |
| Shoes | $70 to $150 |
| Gloves | $15 to $40 |
| Heat Shield/Back Hand Pads | $10 to $25 |
| Safety Glasses | $15 to $50 |
| Ear Plugs | $5 to $20 |
| A Mask or a Respirator | $30 to $50 |
| Grinding Visor | $15 to $60 |
The cost of personal protection equipment (PPE) can be much higher than this when you'll need them for a few more people. A commercial shop has at least 2-3 sets containing one piece from each type.
Generator, Rig, and Vehicle: $5,000 to $20,000
A portable power supply system may not be required every time you start a machine, but having one will allow you to work anywhere. Some welding machines come with built-in generators and therefore, the price can be higher than the ones without such a system. A unit with decent specs should cost $500–$1,200.
A used truck with a rig trailer makes more sense to me than a brand-new four-wheeler that costs around $20,000. Look for the local ads for an affordable deal ($5,000–$6,000). An unused truck parked in your garage is also okay.
Additional Read: How To Setup A Welding Rig Truck
Business License and Permit: $150 to $200
If you want your business to have a legal identity, you should get it registered with the local authority. For a welding business permit, the cost is $150–$200.
Contact the licensing board in the state you're applying from and schedule an exam date. You must pass the exam which will require you to demonstrate your knowledge and skills. A license is what lets you register a business name and make it eligible for taxes.
Insurance: $100 to $3,000
A liability insurance brings you the assurance that you'll receive coverage to meet fees required by the legal defense, court proceedings, and other financial damages in the event of an accident or unwanted incident on the job. After all, I don't see how a hundred bucks can be a big deal.
The next thing I would like to inform is worker's compensation insurance which is essential when you have employees working for your company. You may need to pay $2,000–$3,000 as the annual premium the first time you get a policy. For individual contractors who run a portable business, this expense is not necessary.
Marketing and Promotion: 7% to 12% of Gross Revenue
The U.S. Small Business Administration (SBA) recommends that small businesses pay anywhere between 7% and 12% for advertising and marketing activities. Don't fret over this right away!
There is no legal compulsion. I can tell you about some people who pay only a couple of hundred bucks each month, and they're getting a handsome return. It is all about your strategy.
Additional Cost Factors for Commercial Businesses
Whatever I've told you so far applies more or less to any size of the business. With a larger sum to use, you can always go beyond a freelance or portable business. I mean a B2B establishment by this, and there come more considerations to make.
Shop and Supplies: $100,000 to $200,000
Review your plan (number of employees, machinery, and other items) and determine what size of a shop you really need. Most people look for a shop rental because owning a well-decorated welding shop takes the lion's share of your expenditure.
Some of my acquaintances have turned their abandoned garages into small shops. The idea is simply amazing, especially when you must stick to your limited finances.
To keep the day-to-day activities in our shop going uninterruptedly, you'll need some supplies such as cold-rolled sheets, metal plates, etc. A self-employed welder can avoid keeping them, but a welding and fabrication shop should have them in stock from the early days of operation.
Ongoing Costs to Be Added to the List
You should keep these expenses out of your initial budget, but don't forget these affairs are the key to keep your business up and running. So, a little preparation will be beneficial.
Staff Recruitment: $110,000 to $135,000 (Yearly)
The number of employees to be hired is what determines how much to have ready in hand, at least for six months. The figure I mentioned here should cover for 3 employees who are willing to work at $15–$20 per hour plus other benefits.
Tax and Miscellaneous Costs: 30% to 40% of Gross Income
It may seem intimidating for you, but that is the regulations set by the IRS and local bodies. There are worries about property taxes too. But it is okay to put this thought aside.
I would say, "You don't need to pay taxes before you start earning." Moreover, there are legal ways to receive deductions. Both individual welders and small businesses should keep a part of their revenue aside for this purpose.
Accounting and Legal Cost: $18 to $20 Per Hour
Although it is easy to avoid legal hassles, an accountant or tax consultant can help the client business save hundreds, if not thousands of dollars in tax money. Instead of hiring one of those professionals on a regular job, you can have someone help you and charge by the hours worked.
Final Words
Did I make it difficult for you to reach a final decision? Well, I would rather conclude in a pragmatic manner.
Assuming that you already have what it takes to be a welder, I can suggest something between $4,000 and $6,000 for an independent welder.
An additional $10,000 should be enough to get you higher-end equipment, a heavy-duty truck, and effective advertising techniques for a movable welding business.
Think on a grander scale, I mean add another digit and then multiply a few times. You'll be looking at $400,000–$500,000 to bring a production facility into reality.
That'll be all from me for now! Don't hesitate to ask further questions. Good luck!