For those interested in arts and crafts or maybe some DIY projects in their garage workshop, a MIG welder is a great tool to have. However, I faced some basic problems with most of the MIG welders.
I have seen that most of the MIG welders that are available in the market are not ideal for beginners. They are quite complex to operate. Even a professional can face a hard time using the welder.
Also, most MIG welders don't come with thermal overload protection. Thermal overload protection is extremely important for any power tool. It protects the tool from excessive heat, sudden upstroke in the electrical voltage, etc.
So, I was looking for a MIG welder that can offer me these features. And fortunately, I found one. In this Chicago Electric MIG 170 review, I'll review this MIG welder and explain why this one is the best choice for any beginner.
So, let's get started!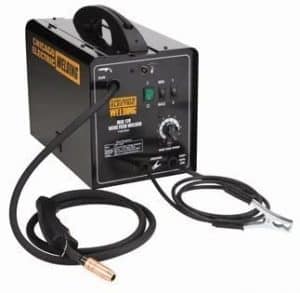 Check Price & Reviews on Amazon
Things to Consider Before Buying a Welder
Before we start bombarding you with tons of reasons on why you should consider the Chicago Electric MIG 170, we would like you to understand why you should go for it and if it is the right one for you.
There are a handful of things you should consider before buying a welder. These include –
Skill Level
Portability
Duty Cycle
Features
Skill Level
When it comes to welding, you cannot just go for the best. The best requires skills and experience that everyone does not have. For example, if you are a beginner, you can't just settle for a TIG welder. It's too difficult to use and requires a lot of skill to use properly.
Instead, choosing a STICK or a MIG welder is your best option. They are relatively easier to master and cheaper than TIG welders. On top of that, MIG welders do a fine job at welding even though their skill requirement is low.
Portability
If you run a repair shop then portability shouldn't be a concern to you. But for DIY craftsmen, this can be a blessing. This is also same for home workshops. You don't know when you are going to have to move and carrying a 100 lbs. beast is going to cause a lot of trouble.
Duty Cycle
This determines how long you can work with the welder and how long it needs to cool down on a 10-minute work time. For example, if a welder has a duty cycle of 40%, then it means that it can be used for 4 minutes and needs to cool down for 6 minutes after use.
Features
For new users, having a featureful device is very important. Features help elevate the user-friendliness of a device. And for welders, they are more than just necessary. For example, the Chicago Electric MIG 170 offers constant voltage, thermal overload protection and a welding cable with gun.
Presenting The Chicago Electric MIG 170
As an Amazon Associate I earn from qualifying purchases
The Chicago Electric 170 is designed for the inexperienced, the beginner. It is a great tool for those looking to getting involved with welding. It comes pre-setup for MIG or flux core welding. All you are required to do is add the shielding gas while using.
This low user requirement is what sets it apart from all other welders in the market. Ease of usage paired with a decent number of features and a great value makes the Chicago Electric MIG 170 the perfect device for newbies.
Pros
Inexpensive
Quite portable
Decent duty cycle
Ease of use
Thermal protection
Cons
Small cord
Not suitable for use outside USA and Japan (Does not work with 120v outlets )
Check Price & Reviews on Amazon
Chicago Electric MIG 170 Review: Features & Benefits
Ease of Use
Chicago Electric MIG 170 is extremely easy to use. It is pre-setup out of the box and only requires you to add the shielding gas and choose a wire. That's it. Comparing with other MIG welders, you can't ask for an easier welder than this!
Thermal Overload Protection
Running a welder beyond its duty cycle can cause damage to the machine. To prevent this outcome, the Chicago Electric MIG 170 has a built-in mechanism to shut down if the thermal value reaches critical levels.
This is one of the reasons why this MIG welder is extremely beginner-friendly. Beginners often forget about the duty-cycle and don't know when to stop the welder, or for how long to cool it. As a result, if the welder doesn't have a thermal overload protection, soon it will get malfunctioned.
That's why Chicago Electric MIG 170 is a blessing for the beginners.
Portable
The Chicago Electric MIG 170 is what you might call one of the lightest welders in the market. It is also very compact in size. So, you can easily move around with the welder if you need to work in a different place.
Both professionals and amateurs want portability in their welder. The more portable a welder is, the easier it will be to carry the welder and operate it.
Duty cycle
For a compact and inexpensive device, the Chicago Electric MIG 170 has decent duty cycles. The duty cycle is 20%, 60% and 100% at 110-amp, 60 amp, and 30 amp respectively.
Duty cycle means how long a welder can be used and for how long it needs to cool down. A 60% duty cycle means, the welder can be used for 6 minutes and then it needs to cool down for 4 minutes.
A higher duty cycle allows you more time to operate the welder and less time is required for the cooling down process.
Wrapping Up
Most MIG welders don't offer thermal overload protection to the users. This can create a lot of hassle for beginners. Also, some of the MIG welders are really complex to operate. Chicago Electric MIG 170 solves both of these problems.
Firstly, this MIG welder offers a solid thermal overload protection. It means, even if the beginners don't operate the welder the way they should, nothing catastrophic is going to happen.
Secondly, everything comes pre-setup for you. There is no hassle of setting up the welder yourself. All you need to do is add the shielding gas along with other components for all welding applications.
So, I hope you are pretty much sold on the idea that this Chicago Electric MIG 170 is one of the best MIG welders for the beginners. If you want to check out the latest price on Amazon, click here.