In terms of technology, the world is growing at a rapid pace, so is the commercial diving industry that incorporates these technologies to enhance their outputs. One such industry that welcomes this revolution is welding. And even in branches of welding, one that is shining the most is the underwater welding market. Recently this specific sector became the sixth fastest-growing career path in the U.S.A.
Sounds lucrative doesn't it? Well, you can start today by joining a welding school. It's crucial to keep factors like school location, financial assistance, program length, job placement assistance, cost, etc while choosing your underwater welding academy.
In the United States, there are some of the best underwater welding schools that offer comprehensive programs that award internal certificates upon completion. Enrolling in one of these schools could be life-changing!
Best Underwater Welding Schools: Top 10 Training Schools
Welding is not an easy job, it's not like you can just hand people a new tool and expect them to do magic with it. For this job, you'll need serious skills, ultra-level safety measures for you and your partner, extreme courage and willpower. Your schooling will take you a long way.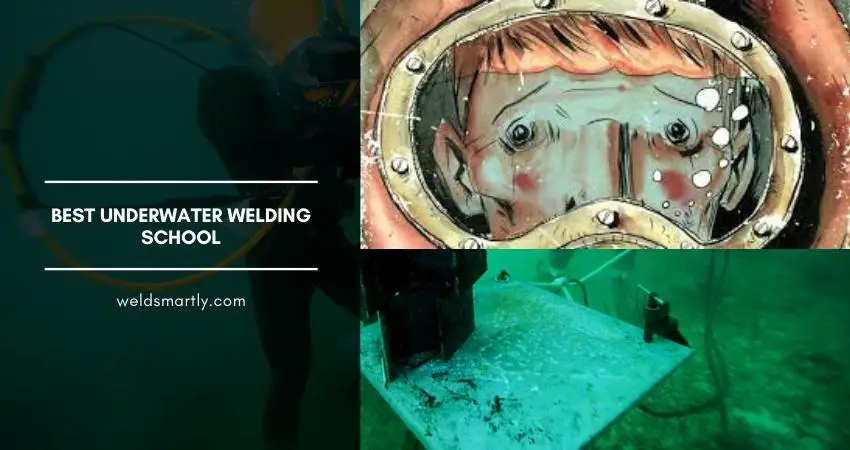 It's crucial to keep factors like school location, financial assistance, program length, job placement assistance, cost, etc while choosing your underwater welding academy.
You don't have to check each and every school in the entire US, I've done all that research for you. All you need to do is read the following list to decide which program you want to enroll in.
1. Diver's Institute of Technology
Offering a core underwater welding program that comes with 13 separate certifications, the Divers Institute of Technology is undoubtedly one of the best underwater welding schools. It's located in Seattle.
Due to the first U.S based diving school plus respect in the welding industry, you can stay relaxed about getting jobs all across the globe. Besides, you will go through intensive training for four weeks.
During the training period, you will dive to 165 feet depth of open water to get a real-world experience which will increase your confidence to a whole different level.
Besides, they also have a practice pool & 11,000-gallon training tank. You will learn all the latest diving techniques along with the hands-on training required for welding plus burning inside this huge tank.
Moreover, you will also learn to dive into 11 unique hat configurations in this institute. This specific training would require you to go through a commercial driver program for seven months.
Furthermore, this amazing institute offers varieties of commercial diving certifications, Entry Level Diver/ Tender certifications, Hazardous Materials certifications, and much more.
In terms of collaboration, the Driver's Institute of Technology collaborates with world-famous companies like Atlantic Diving and Welding & Alaska Mobile Welding Diving & Salvage, etc.
If you want to see yourself as an ultra-level underwater welder then this institute would be a great one!
2. National University Polytechnic Institute
The National University Polytechnic Institute is a highly reputed institute which was established in California state.
Along with their commercial diving program that offers an underwater welding program, you will get a high-quality education from highly experienced industry experts during the program.
After the completion of the program, you as a graduate will get your underwater welding graduate certificate. And in term of acceptance this certificate is highly appreciated & valued in the whole U.S.A.
Not only that, you won't have to stress out much while searching for a job because their certificate has an excellent value in the commercial diving industry.
The classroom for students are highly facilitated & for diving purpose, this institute has a 44,000-gallon tank where you will get hands-on underwater welding training.
Moreover, you will be able to learn & sharpen your technical skill plus equipment handling more swiftly due to training in Coronado Bay & offshore diving vessels.
Overall, this school will ensure your job security while making you a high demanding professional for the diving company.
3. Hydroweld the USA
Hydroweld USA school is located in Miami, Florida where students will be able to take different types of programs related to weldings. The best part is they offer both dry & wet welding courses.
Along with the affordability of the diving course, this school will help to get jobs all over the globe. One thing you must keep in your mind is that if you want to join the underwater welding course then a commercial diving certificate is a must.
For student practice, this school has a 45,000-gallon training & research tank. Starting from welding, cutting, welder qualifications, welding procedures, hydro arc-gouging & more things are included in the training program.
Besides, this institute also has a research & development department that works with a wide number of welding organizations. Not only that, but they also try to improve commercial diving technologies to the next level.
You can complete the ten-day course to receive the Welder Performance Qualification Test which matches the D3.6 AWS class B standards.
4. The Ocean Corporation
You will be able to take Ultimate Diver Training plus underwater welding courses which will make a full professional enter the underwater welding sector.
This welding academy has gained the trust and increased its reputation in the welding industry by producing top-notch skilled workers since 1969.
It's more desirable for commercial diver because it's situated in Houston, which is close to mighty Gulf of Mexico and is a highly desirable place for commercial diving jobs.
Besides, this academy will ensure that you can deal well in versatile situations in commercial diving and offshore oilfield diving projects after the completion of underwater welding training.
Moreover, your skill will be so much on point due to the training that things like offshore survival plus safety and underwater nondestructive testing would become easy on your grip.
Along with that, you will receive your rigging certification right after the successful training. After the strenuous training , a learner will become good in both surface & underwater welding plus cutting, hazardous environment intervention, etc.
Finally, for the newcomer's practice, this academy has training facilities such as 2 hyperbaric chambers, 1 diving bell & 1 dive tank.
By the time you complete the coursed, you will receive ADC Entry Level Tender/Diver, Topside Welding for Commercial Divers, and Unrestricted Commercial Diving Tech Institute
5. Commercial Diving Tech Institute
This institute has a big name in commercial diving sector. And, it is one of the famous plus cheapest commercial diving academies which is located in Florida.
They offer a wide range of diving programs that are recognized both nationally & internationally in the professional field. You will enter this academy as a normal person & leave it fully prepared for an underwater welding job.
Besides, you will also be able to get a DCBC certificate from this school that's highly recognized & valued on the global level.
This certificate will make you qualified for performing tasks at the maximum recommended depth all over the world. After completing the 900 hours & five months course you will earn it.
Moreover, as part of the training, you will get an important certificate like OSHA HAZMAT, Job safety hazard analysis, mag particle, Non-destructive testing, Ultrasonic inspection, & other underwater welding certificates.
Furthermore, you can also take the short course which is a total of 625 hours of training known which makes you highly eligible for a fresher commercial diver. Finally, after the three month long courses you would be fully prepared to start your career as an underwater welder.
6. South Louisiana Community College
Undoubtedly one of the most prominent academics in the U.S is the South Louisiana Community College which provides top-class courses. The 750 hours long practical class will shape you up to become an excellent entry-level diver.
Moreover, you will be able to earn the certificate of Technical Studies in Commercial Diving in only seven months. This reputed academy will give you a wide range of certificates after completing the program successfully.
The primary certificate you get is the Entry-Level Tender/ Diver Certification which is accredited by ADCI. Furthermore, you will also receive ACDE Commercial Diver Certification, API Approved Rigging, DAN Diving First Aid for Professional Divers, SafeGulf &  Water Survival/HUET.
Due to the extensive training, you will learn proper safe working protocols, top to bottom deep understanding of hyperbaric environments, using the underwater tools precisely.
If you aim to work for a renowned company with the best-learned skills, the South Louisiana Community College will help you get there.
Finally, knowledge learned from this academy will give you enough confidence which will make it easy for you to show your skill from the first day of the underwater welding job.
7. CDA Technical Institute
CDA Technical Institute is a producer of a large number of commercial divers in the diving industry which was founded in Florida. This first-class institute offers a campus housing facility for its students.
This renowned & prestigious institution has a group of highly experienced instructors who prepare the student for dealing with various working conditions. Regarding the certificate, you can stay relaxed as it is globally recognized due to the accreditation.
Besides, they also provide dry welding, wet welding & hyperbaric welding along with all the relevant stuff that is needed to become a full professional underwater welder. You will get international standard-level underwater welding training in this school.
Getting a job would be easy for you because their certificate is highly valued by the International Marine Contractors Association. During training, the CDA technical institute will provide a 20' orientation tank and clearwater pool, training on low-visibility sports & swift-moving tidal waterway that includes Trout River.
8. International Diving Institute
Offering a campus housing facility, the International Diving Institute is well known in the welding industry. It's located in South Carolina's Old Charleston Navy Base.
This school provides great support regarding multiple financial assistance and scholarship options.
You will go through extensive training for 640 hours where you will learn all in & out of the underwater welding.
Due to the accreditation from the Association of Diving Contractors & Lloyd's Register, you don't have to worry about entering the job market. However, if you want to get the AWS welder certificate then you must have to be a licensed commercial diver.
After completing the 80 hours course, you will take part in a test with a Lloyd's Register Surveyor to pass the training.
9. Santa Barbara City College
Founded in 1909, the SBCC is also a good place to learn to weld.
You can get a Marine Diving Technology certificate from this reputed academy. In the 16 credits marine technology course, you will learn the basic principles of advanced underwater diving, underwater cutting plus welding.
If you want to see yourself in a better position in the commercial diving industry then the SBCC skills Competency Award is not enough. After completing the commercial diver program, you will get ANSI & ADC certification.
Though you will be ready to enter the underwater welding job sector, if you want more security then you should go through more specific & extensive training.
One of the best things about this institute is that the career center of this institute organizes job fairs to let their students explore opportunities.
10. Divers Academy International
The Divers Academy International is the last underwater welding school on our list. Due to supplying commercial divers all over the world, this academy holds a powerful reputation in this industry.
As part of the 6 months long extensive training, they provide facilities like decompression chambers, diving helmets, ultra-equipped technical labs, classrooms, specially made onsite open dive quarry, etc.
You can obtain different certificates like ACDE, ADCI, ANSI, etc. One of the best things is that AWS approves the Certificate of Completion which increases job safety.
If you want to be among the top-rated underwater welders then you must complete the advanced level D3.6 AWS qualification field test.
Another good thing about this school is that it's sponsored by the famous Lincoln Electric. This company ensures that the students are equipped with the latest & top-notch technology which is taught by ultra experienced instructors.
Things to keep in mind when choosing an underwater welding school
If you search for a welding school, it's not hard to find one. But what's important is that you choose one that has the quality to make a skilled professional out of you (with your effort, of course)
You will see that there are several underwater welding academies or institutions available that offer a variety of programs with proper certifications & required facilities. Don't rush this, find out everything about them.
After all, it's a big step in your life so you must make good calculations by keeping the following factors  in mind:
School Location
Welder diving school plays an important role due to multiple logistic implications. Living far from the school means you need to manage accommodation by yourself or pay for the school's accommodation facilities. In both ways, it would be a bit costly.
Besides, the hardcore diver training will be extremely tiring, so traveling to school from far distances would be quite challenging.
Plus, getting admitted to a school that is located in a place where most of the underwater welding jobs are available simply increases the chance of getting hired.
A wide number of underwater welding companies hire those who got their certificate from the local institutes close to them. Because naturally, these graduates will have a deeper real-time understanding of the local situation during their training.
Cost
Underwater welding program is indeed an expensive one. The global average tuition cost  is close to $15,00 while in the U.S average tuition cost is close to  $17,000.
Multiple factors determine & alter the underwater welding training cost. And, that includes the facilities offered by the institute, highly accepted certification plus career opportunities.
Along with the tuition fees, you will need to bear the cost for books, equipment, housing & all the living related cost.
Tuition Assistance Facilities
Due to the high cost, it becomes next to impossible for most students. Many reputed training schools provided Assistance Programs & grant financial help to middle class students.
Before selecting your training school, contact their finance office to ensure that they will support you in a way that will meet your needs.
Program duration
It is worth mentioning that most underwater welding training is much less time consuming compared to other professional arenas. Long courses will take 35 weeks, while most of the underwater welder training would require 25.5 weeks.
However, if you want to hit the pinnacle level of skill in this sector then 88 weeks long extensive training are there too. Longer courses mean more skill and in-depth learning.
Don't go for a program that does not fit your needs, time, career plan & living plan. Take courses that you can complete and move to a career path without much hassle.
Assistance during job finding
Right after completing the underwater welding training course, you need to secure a job for yourself. A prestigious school will give you an advantage as they have a lot of connections.
So for the best outcome & probably a secure future, you must choose a school that helps you in finding employment where you can prove yourself with the skills.
Luckily many reputed institutions help their students find the appropriate job. Job placement assistance reduces the burden of the uncertainty of employment after the completion of the program.
One of the best advantages of getting a job immediately after the course will give you the chance to practice more, learning regularly through working & sharpening skills day by day. With all that, you will also earn an outstanding underwater welding income.
Underwater Welding Types
Often, when people think of diving, they imagine diving in the blue ocean, playing with fishes and the hues of blue reflecting in your eyes; but diving isn't just a leisurely activity. There's an entire career just made out of diving. In fact, activities like commercial diving take place all over the world both offshore and onshore.
Underwater welding is one of the segments of commercial diving where you have to do more than just weld. You need physical fitness as well as awareness of what's going around you. If you make yourself capable, a world filled with amazing opportunities awaits you immediately after you get your certification.
Inland Diving
There are plenty of lakes, dams, rivers, and more that require drivers for versatile jobs & situations. You will have to deal with high currents where the visvility level would be extremely poor. Not only that, traveling would become a part of your life.
A significant amount of your job will be tasks like underwater constructions, water intake maintenance, performing bridge inspection, building & repairing of dams plus bridges, sometimes even ships.
Offshore Diving
These divers perform a wider range of duties in the deep sea, off ships plus on platforms all over the globe.
Your responsibilities will be tasks like building oil structures, salvaging shipwrecks, fixing oil rigs & pipelines, salvaging old oil structures, and different categories of subsea structures.
Without any doubt, it's an ultra-hardcore tough job that is also dangerous. However, due to the complexity this will give you back a good amount of hard cash! Your work location can be located at places like West Africa, the North Sea etc.
Unlike many technical gigs, the offshore diving job is quite limited. The working season starts from April and it lasts until November. Apart from this time the weather normally remains pretty harsh and strong currents plus dangerous waters make it impossible for working.
Potential Dangers of Underwater Welding
Though commercial diving is a highly desirable career path, it comes with high compensation due to the risk involved in this career. Underwater welding is one of the most dangerous professions with the highest fatality rate, and I'm sure you don't need any demonstration to understand that.
Divers have to be fully aware of any kind of electric shock so they have to wear protective special equipment for safety.
Besides, the chances of facing an explosion on site are significant due to the use of gas in the welding process. Another common problem people face is decompression sickness even after full precautions. On top of the line, the possibility of drowning remains due to the failure of diving equipment or divers' mistakes.
Underwater Welding Career Salary Expectations
Though it does not take much time to learn underwater welding to become a master in this field takes years. Let's both the earning of a rookie & veteran underwater welders in the following:
Rookie
The global statistic indicates that the expected salary of freshers after the training would be yearly close to $25,000 per year.
An underwater welder who works in the offshore setup can expect a salary level that ranges from $40,000 up to $60,000 per year.
While onshore underwater welders can earn up from $25,000 up to $40,000 per year.
Veteran
Even with 3 years of experience and as a veteran you can expect a working salary increase to the next level.
In an offshore setting, a veteran underwater welder can earn from $75,000 up to $100,00 per year. On the other hand, an onshore veteran will be able to earn within a range of $50,000 – $80,000 per year.
Additional Read: How long does it take to become an underwater welder
Join Your Favorite Underwater Welding School Now!
Underwater welders are one of the most well paid jobs in the US. Skill is a major player in this sector, but so is being aware of your safety.
There are many threats & risks in this job including electric shock hypothermia, explosion, delta P hazards, etc. So, to become a top-level expert in this field, training helps out a lot. That's where welding schools do their job, they drill the necessities in you.
Choose the institute that you feel is most supportive & beneficial for your career and move forward with a bright future! I hope you will be able to find the best underwater welding school on our list.