Spot welding usually involves the use of heat to connect metal surfaces. You have to generate it directly and utilize it from the metal resistance to the electric current flow. But when it is about batteries, a random spot welder does not do it because the heat may become too much and cause unprecedented accidents.
To prevent that from happening, you should buy the best battery spot welder to join several batteries together with utmost safety. Anyhow, you may not find one lying in front of you as you will have to take account of the piece you work on, which may be either mobile batteries or AA batteries.
The point is to find a spot welder secure enough for you to accomplish your projects, avoiding unnecessary injury risks. Why don't you join me on the hunt to discover that in this article? It has got 10 reviews with a buying guide and FAQs!
So, let's get started with the reviews!
10 Best Battery Spot Welder Reviews
1. Mophorn 737G – Best Pulse Spot Welder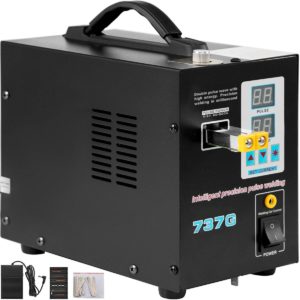 Mophorn has become hugely popular in recent times because of its versatile devices, standing out among the average ones in the market.
I put this battery welding machine on the top of my list because it can work in every type of thorough electrical projector. It can support a welding thickness ranging from 0.01mm to 0.15mm, pretty lower than that of others. Plus, the welder is a bit less powerful, and its portable and compact design makes up for that, contributing to its versatility.
Although the thickness range is lower, the welder can still generate high accuracy in its welds. The credit goes to its 50A-800A current output for that. It comes with a foot pedal. So you can use it with that or the welding head.
Mophorn has the best pulse spot welder. The LCD panel in this one will show you the current and pulse quantity while working with it. You can also set them easily and quickly. The machine is compatible with different battery packs, polymer boards, and batteries, button batteries, stainless steel mesh and hardware, Apple phone cameras, etc.
Mophorn offers a radiator and a cooling fan with the welder to help you cool it during operation. Besides, there is a one-year warranty to keep you free of worries.
Reasons to get
Versatile and precise performance
One-year warranty
High compatibility
Included cooling fan and radiator
Efficient LCD panel
Reasons to avoid
Not suitable for heavy-duty projects
2. Stark – Best Portable Spot Welder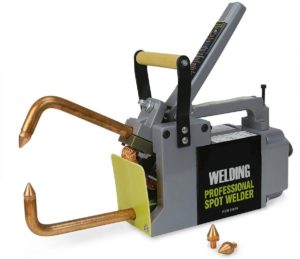 The Stark spot welder machine is a budget-friendly machine that delivers excellent welding performance. Its single-phase design enables it to weld various metals perfectly.
The brand used a simple mechanism to build the spot welder, making it the best battery spot welder for quick material insertion and fast welding.
When it is about replacement tips, this device comes with an additional pair of different uses. You only have to twist them when you want to replace them. Furthermore, its straightforward lever systems are essential for proper welding application and performance. Your job is to apply adequate pressure on its lever.
On another note, the welding tips are resilient, made of high-quality steel to give you thick and fine welds.
The machine is air-cooled, suited to weld with steel, uncoated mild, stainless sheet steel, and cast iron. Additionally, there is a handle attached to make the machine portable. You can take advantage of that by transporting your welder to different job sites.
Here are some specifications for you. The current level is 240V, the output voltage level is 2.5 kVA at a duty cycle of 50%, and the amp count is 16. The height, width, length, and throat depth are 7.5", 4.5", 18.5", and 6", respectively.
Reasons to get
Portable design
A systematic lever function
Replacement tips available
Single-phase design
Fast welding performance
Reasons to avoid
It weighs 29 lb, which may be too heavy for some.
3. Sunkko – best spot welder for 18650 batteries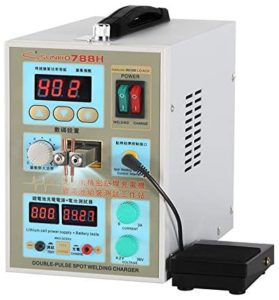 If you have not heard of Sunkko before, its rechargeable spot welder is worth considering if you need something built for heavy-duty use.
You have a welding thickness ranging between 0.05 mm and 0.2 mm, which is standard for most people. And if you are wondering which battery types it supports, this one is compatible with 14500 and 18650 batteries, the most prevalent types nowadays.
While the entry-level battery spot welding machine can handle a wide range of welding tasks, it does not specify a current output rating. However, the battery spot welder not only does spot welding, but it also does battery charging and testing, making it a first-class all-in-one workstation for dealing with batteries.
Speaking of welding, you can use its foot pedal or a push-up head. The 10-pound rectangle welder has a circuit breaker (40A to 60A) to help avoid tripping out. Last but not least, there is a one-year warranty offered with the product.
And oh! I almost missed this. Apart from the foot pedal, you will get two pieces of fuses, a pair of charging cables, two pairs of welding rods, a hexagon wrench, four nickel strips of standard size, and more items with the package. This is a must-have, right?
Reasons to get
Impressive thickness rating
Powerful performance
Standard size
Inclusion of additional tools
A one-year warranty
Reasons to avoid
The instructions are not that helpful.
4. Handhold Yaeccc 737G Battery Spot Welder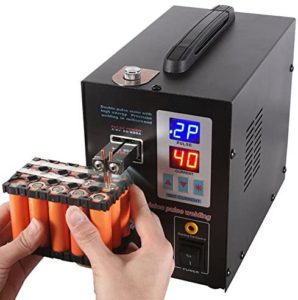 If you have a tight budget but want decent welding performance, YaeCCC has the perfect battery spot welder for you. I would especially recommend it because it provides proper value for the price it comes.
The thickness rating stays between 0.05mm and 0.20 mm. You can switch between them using the microcomputer within the device, delivering excellent precision and efficiency using only the necessary level of power.
Another outstanding feature of the battery spot welder is its 50A-800A current output, ideal for producing high-quality welds. Its maximum power is 1.5 KW with the current output for the welding performance. You can earn a productive work cycle of 20 pulses in less than a minute. Despite the low price, this YaeCCC product comes with a one-year warranty.
Reasons to get
Highly affordable
Reliable performance
A built-in microcomputer to change thickness rates
A one-year warranty
Reasons to avoid
The size may be too large for some.
5. Sunkko 790A Battery Spot Welder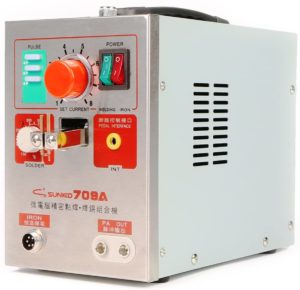 Sunkko offers higher-end spot welders, including typical performance metrics with extra functionality that you would anticipate at such a steep price.
Sunkko 709A is a multifaceted and customizable spot welder with many control choices.  While the thickness varies from 0.05mm to 0.20mm, Sunkko, unlike most other battery spot welders, has a range of temperature of 150 – 450 degrees, allowing you to operate on a broad battery range.
With the combination of its 50A-800A current output, you can consider the battery spot welder as an excellent choice for industrial use. One of the most distinctive features of this rechargeable spot welder is its three modes: a foot pedal, a push-up head, and a mobile welding pen to ensure maximum adaptability. Since this is a superior product from Sunkko, it has the company's usual 1-year warranty.
Reasons to get
Flexible and customizable
Wide temperature range
Perfect for industrial use
Three different welding modes
Maximum adaptability ensured
One-year warranty
Reasons to avoid
High price, not budget friendly
6. LFJD 737G Pulse Spot Welder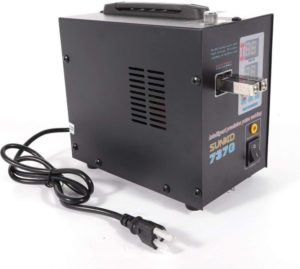 Do not feel upset if the price of the previous spot welder is beyond your budget. Since all we will talk about is the best battery spot welder machines, they come at different prices. The one from LFJD is not a costly product, but its performance is still remarkable.
Beginning with the welding thickness, the battery spot welder can produce spot welds extending from 0.05mm to 0.2mm. You can quickly make a number of welds before the work cycle refreshes since the cycle rate is around 20 pulses per minute.
With a 110 voltage level and 50A-800A current output, the welder can serve you at your home without extra adapters. The weight is only 4.3 KG, and you can take it anywhere.
However, there is no warranty available with the welder. The reason is its manufacturing company is still a small and new one. But you can avail of their after-sale service for free.
Reasons to get
Reasonable price
Praiseworthy performance
Multiple control options
Lightweight and easy to use
No requirement for additional adapters
7. SUNKKO 737G+ Battery Spot Welder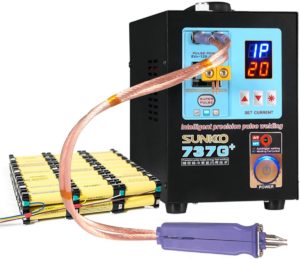 This is the third Sunkko product I chose as the best battery spot welder because of its adaptability with 14500 and 18650 lithium batteries. This is particularly the best spot welder for 18650 batteries.
The design and function both are as amazing as usual, fitting for the welding processes of battery packs. Moreover, you can conduct a welding process with many optional methods. Plus, the size of the battery pack has no limitations here.
The 737G+ is available with a soldering function to let you solder efficiently at 300 degrees Celcius temperature. And that too without having to worry about overheating. The machine has the exceptional cooling capability and an integrated and intelligent temperature sensor. They work as per the machine's internal temperature.
The thickness range separates this Sunkko product from the other two. It is 0.03mm to 0.30mm. On the contrary, the nickel welding thickness spans from 0.03mm to 0.15mm.
Reasons to get
Wider thickness range
Optional methods for use
No battery pack size limitations
Standard cooling capability and temperature sensor
Not heavy-weight at all (15.32 pounds)
8. Mophorn 709AD Pulse Spot Welder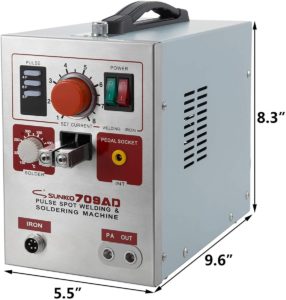 The second Mophorn battery spot welder on my listicle has LED light functions. It even comes associated with fixed tips for accurate fixed welding. You can solder one-, three-, and six-row batteries with much precision while enjoying fast battery welding.
It presents a two-in-one welding pen to prevent flashover welding and make one-hand operations possible. The pulse quantity mechanism is the same as that of the other Mophorn spot welder. It makes your work more fluent with its customizable features.
An additional one-kg nickel-plated still strip will be there with the entire accessory kit to pave the way for you to use it for multiple applications.
How much is the price? Well. Of course, I fancy it was lower. But I also wish you made a move to get it because you would surely love its performance and service!
Reasons to get
Swift battery welding with high accuracy
Capable of soldering different battery sizes
Capable of pulling off one-hand operations
Flexible pulse quantity mechanism
Suited to comply with many types of welding applications
Reasons to avoid
Although the spot welder is not overpriced, it is beyond many users' budget range.
9. Dzhot51 High Power Battery Spot Welder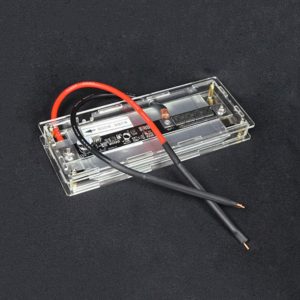 This spot welder machine may be the most different product today. It is a lightweight device that will come in handy during any 18650 lithium battery assembly process.
The circuit with a 12V battery has a spot to store lithium batteries, nickel sheet welding, and nickel-chromium batteries.
The welding thickness extends from 0.1 mm to 0.15 mm. The current output is 300A, and the voltage level is 3.7v to 4.2v.
Dzhot51 charges an incredibly low price for this spot welder. If you have decided not to buy this one, I insist you visit the link below and have a look at it. It might change your mind!
Reasons to get
Compliance with 18650 lithium batteries
Storage for batteries
Very budget-friendly price
10. Lenco Autobody Dual Spot Welder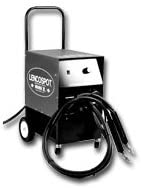 Lenco Autobody Spot Welder is the best battery spot welder for professionals aiming to generate factory-quality welding results in their garages or workshops. The machine is easy to operate, requiring you to use the electrode guns and turn the button on. The rest will be the welder's to do.
The welder works at a voltage level of 208/230V with the highest welding capacity of 20 gauge. It will give you quality welds with fine finishings. At the same time, it has clamps for making the operation easier, meaning you will enjoy operating with it in difficult areas having limited access.
The machine's appearance may not look attractive to a lot of you. But it carries magic within itself, featuring a solid-state timer, a control panel, easy portability, storage space for tools, a unique construction, and others. Plus, it will not require you to buy wires or gases to run it. Just buy it, and you are ready to go.
I will not beat around the bush. The price of the spot welder is sky high, compared to that of the ten others. But that is legit for what it is and what it does. For absolute professional-grade results, this is the price you should pay.
Reasons to get
Excellent quality with dependable performance
Factory-quality spot welds
A bunch of unique features
Spacious storage for tools
A streamlined construction
Movement flexibility
No wires or gases needed
Reasons to avoid
Not the best one for hobbyists or beginners
Buying The Best Battery Spot Welder: Factors To Consider
Those working on different electrical circuits may often solder and weld many connections together. Although most are pretty simple, I cannot say the same about battery welding connections. The reason is a battery spot welder demands a lot of thought put into its purchase.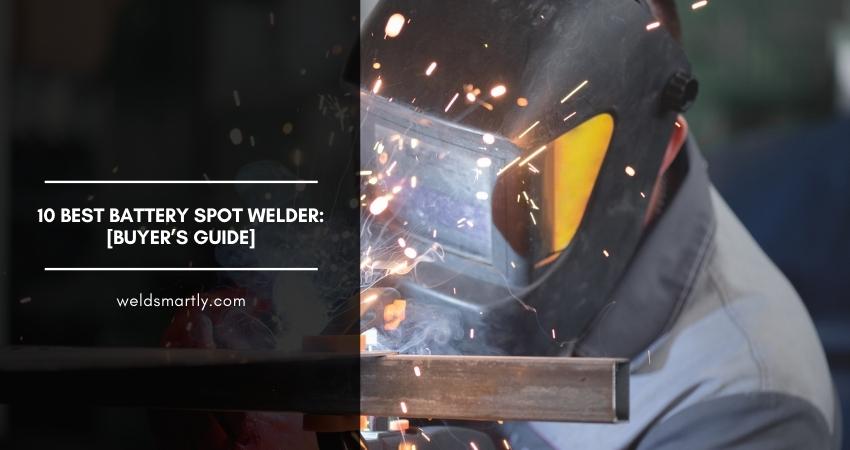 I wrote a buying guide to give you a hand there. (You are welcome!)
Welding Thickness
Batteries have different sizes, for which you need to alter your welding size accordingly. Remember that that is possible when the welder supports various thickness ratings or welding sizes. Most comply with the thickness range from 0.05mm to up to 0.20mm. And that should do it in almost all cases, allowing you to use the same one for many wire and battery types with comfort.
Temperature Range
Although many battery spot welders do not have a mentioned temperature range, few do. And that can give you some idea of their performance. That includes a 100-400 or 150-500 degree Celcius temperature range. Keep in mind that higher brackets are better as they let you work on most solder metals and batteries.
Work Cycle
Every welding machine has a rating called work cycle to inform the user about its work duration during some given time. A battery spot welder typically has a cycle of 20 pulses per minute. That would get you to spot weld many batteries effortlessly before the work cycle refreshes itself. That is a huge advantage you would love.
So, when you pick the best battery spot welder, make allowances for its work cycle.
Welding Current
However thick or thin connections you use a battery welder for, you would have to make them safe to stay intact and last for extended periods. For that purpose, it is vital to use powerful battery welders to spot weld every wire type on every battery type fittingly.
An easy method to check is to see the amount of welding current your machine offers. Usually, the given range is 50A-800A, a lot higher than you will actually need to make connections for electrical circuits in the majority of the cases.
Supported Batteries
A crucial thing to think about while proceeding with your purchase decision is the compatibility of your welder with the batteries to be welded. Although many batteries are available presently, the most widely used ones are 14500 and 18650 batteries. So most battery spot welders accept these batteries with some other kinds.
Accessories
You will need lots of extra accessories to use a battery spot welder. Luckily, most welders come with a collection of equipment in their packages, including a foot pedal, welding needles, a battery holder, fuse tubes, nickel platings, screwdrivers, and wrenches.
The best spot welder should come with a variety of additional tools. That will add more value to it and facilitate you to use the welder right after unboxing it.
Controls
Having a quality battery spot welder will not help much if the essential controls are not there. Therefore, you must see what control options a manufacturer offers you. Along with standard switches and dials, some models feature display modules to ensure that the power output is correct for your welder.
Look for these functions when visiting the shops. Remember that the availability of the controls of a welder is as important as its performance quality.
Warranty
Here is the ugly truth about battery spot welders. They are not cheap. So you should expect your welder to stay operational for a long time. Hence, it is wise to check if your chosen welder includes any warranty. Most of them are available with a twelve-month one, a pretty attractive offer.
Frequently Asked Questions
Welders, beginners, in particular, may already have gathered some questions. Here is where I addressed some of them to answer.
How do battery spot welders work?
They involve heat and pressure application to the area of welding. Copper-alloy electrodes transmit current through the materials to get melted and fused. The current stays off when the pressure solidifies the weld to form the joint.
How much is the highest temperature of a weld zone for spot welding?
Welders use welding time and current to take their metal to a maximum welding temperature of 2550 Degree Fahrenheit.
What is the voltage level required to spot weld?
50V AC is the requirement for regular small welding sets, while it is 80V AC for the specials.
Can spot welders shock me?
They can, to a slight extent, and that too rarely. It is highly uncommon to get lethal shocks. The chances will be even slimmer if you are careful.
Is there any metal I cannot spot weld?
Most metals are suitable for spot welding. The exceptions are zinc, silver, lead, and copper.
Can one solder to batteries directly?
That is not a good idea. You might get it done on the battery's one end, but the opposite end with a plastic or rubber prevents electrolyte leakage while acting as an electrical insulator. Direct soldering can damage that seal.
Can I use tape as a substitute for soldering?
Nope. That is not the way to do it. You might use metallic glue.
Final Verdict
Humph! Reading 10 reviews is not a cup of tea. There are many options available. And being presented with ten of them does make it easier but can still leave you with confusion. So I tried to pinpoint some of them here.
For the best professional performance, go with Lenco if you have the budget. It will break a leg when you put it at work. It has marvelous features and mechanisms to give you solid output.
If you want the best pulse spot welder, look into the first Mophorn welder. But if you are more into the best portable spot welder, Stark Professional has the right one for you.
The best spot welder for 18650 batteries is the first Sunkko product I reviewed. Other than that, you can also check the second Sunkko and the Dzhot51. Dzhot51, again, has the best lightweight spot welder after LFJD.
Finally, my personal favorite is the LFJD one because it has all the essential features, more or less. It is easy to use, has a reasonable price, performs decently, and weighs little.
Now you find your personal favorite based on your expectations, the products' features, and the buying guide provided above. Good luck purchasing the best battery spot welder!